Interviews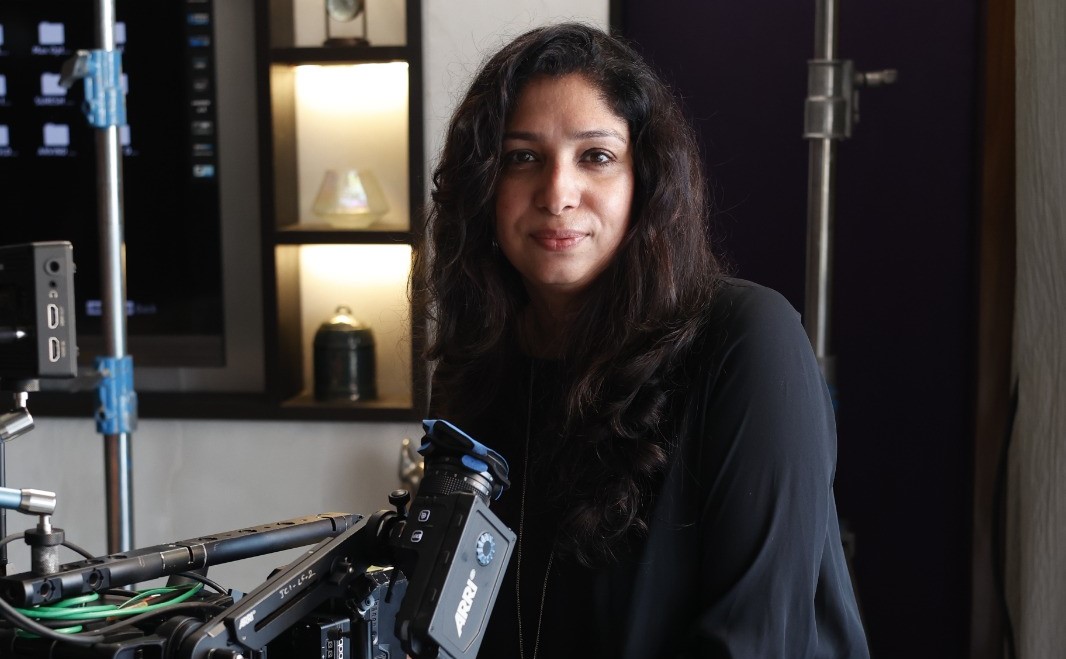 Aug 27, 2023
"I hope to carve out a niche within the existing framework of content to tell stories of strong female protagonists" – Sonya V. Kapoor
Right from the time she was in school, Sonya V Kapoor was sure about the fact that she wanted to tell stories that leave an impact. After spending several years in the talent management space, Sonya is back to pursuing her primary passion, filmmaking.
A couple of months back, 'Ek Chup', a short film written and directed by Sonya released on Disney+ Hotstar and received a lot of accolades. The film, which featured Joy Sengupta and Mona Singh in principal roles, dealt with the issue of domestic violence. In the near future, Sonya wants to bring several stories to the forefront that not only entertain the audience but inspire them as well.
In this interview, Sonya talks about her journey as a filmmaker and entrepreneur, why she gravitates towards scripts that revolve around social issues, wearing multiple hats, favourite filmmakers, upcoming projects and more.
'Ek Chup' started streaming on Disney+ Hotstar in November last year. Ever since it has been released, the short has been getting a very good response. The film dealt with the issue of domestic violence. In an interview, you had stated that you like to pick subjects that revolve around issues plaguing our society. Is there a particular reason behind it?
I guess that's who I am as a person. At the end of the day, we are women living in a patriarchal society. While growing up, I saw different kinds of things happening in the society which were extremely problematic. Because of that, I tend to work on subjects that talk about social justice. I am a feminist at heart. The stories I tell as a filmmaker should come from within. There is an inborn creative tendency to align yourself with topics or causes that resonate with you. Through my films, I want to speak about social justice. 
You have made several documentaries in the past but 'Ek Chup' marked the beginning of your journey as a filmmaker in the fiction space. How was it directing seasoned actors like Joy Sengupta and Mona Singh?
Mona and Joy were my first choices. The minute I offered the script to them, they said a yes. Mona said she was very inspired by the script and being a woman, could relate to it. Even Joy believes in the cause and was happy to be a part of a narrative like this. Since we were making a short film on a limited budget, we had to be well-prepared. We did workshops with them before the shoot and I understood how both of them functioned. Apart from being brilliant actors, Mona and Joy are dedicated professionals as well. I had to just nudge them in the direction I wanted to.
You were in the sixth grade when you realized you wanted to write and direct films. How did you get into the talent management space?
That happened very organically. I had my own company and we were making documentaries for National Geographic and Discovery and soon started working in talent management, though it was different from what I was doing, it was still in the line of media. I thought it would be interesting to explore something different and that is how my journey in talent management began. Everything that we do in life adds to our growth. While working in the talent management space, I interacted a lot with actors and got to know about the kind of work they wanted to do. I also got a deeper sense of how they think and operate. Now, when I am working actively as a producer and director, I know how to reach out or connect to them.
You have a company named M5 Entertainment which is producing content for films and web and also involved in talent management.
We are producing films and shows and managing celebrity endorsements. We don't manage actors exclusively. We are like a matchmaker between brands and actors. One of the verticals of M5 Entertainment focusses on celebrity endorsement. Now, we are building up this content vertical.
How do you strike a balance between being an entrepreneur and a filmmaker?
It gets tough at times because you are wearing multiple hats. I guess things fall into place when you have the right team. Time management is very important. Once you are able to manage your time properly, you can do a lot of things.
Recently, Parineeti Chopra came on board as an investor and brand ambassador for a particular brand. This deal was managed by your company. Does the company towards creating a bridge between brands and celebrities?
Yes, that's precisely what we do. The celebrity endorsement space in India is evolving every single day. In Hollywood, certain things had been in place for a long time. In India, a structure started getting formed just a few years back. Actors have multiple avenues to grow now. Earlier, they would do a film and then, wait for another film to come their way. Now, actors are not just doing ads or endorsing brands, they are also investing in brands on a long-term basis. When they do that, it is a win-win situation for both the celebrity and the brand. We work towards providing these opportunities to actors.
Is there a filmmaker whose work has inspired you?
I have been hugely inspired by the films of Jean-Marc Vallée, the Canadian filmmaker who passed away a while back. I am hugely inspired by women like Reese Witherspoon who have been changing the industry with the kind of vision they are bringing to the table.
What are your plans for the future?
We are already in the process of producing two web shows. We are also putting together a feature film. We plan to make content for both theatres and digital space. The stories that I would love to tell are the ones with female protagonists and ones that have not yet been seen and must inspire and entertain people. Right now since the lens of storytelling is skewed to male protagonists, I hope to carve out this niche within this framework. Of course at the end of the day, the aim is to do interesting and entertaining stories in the near future and put it out into the market for people to enjoy cinema. There is a lot of scope for growth in the industry. We will work towards filling a lot of gaps that exist at the moment.
Disclaimer: This story is auto-aggregated by a computer program and has not been created or edited by filmibee.
Publisher: Source link