Movies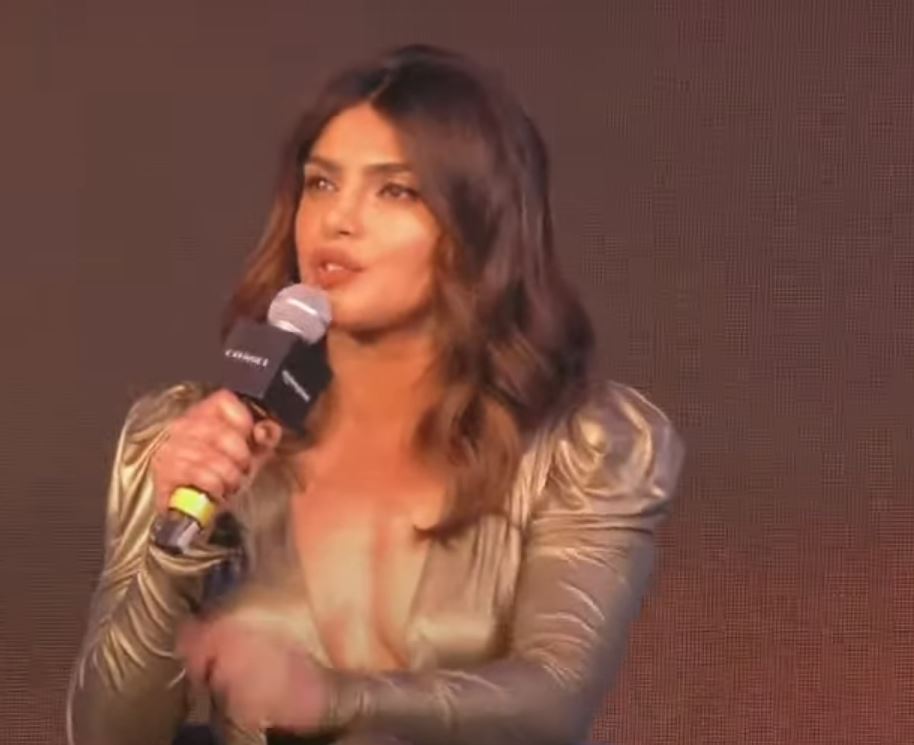 Apr 4, 2023
I can't work with people who I don't like anymore – Beyond Bollywood
The international star also explains the reason behind her 'cornered in Bollywood' statement. Akshay Kumar, Shah Rukh Khan, Salman Khan or Karan Johar, who is the Indian artiste talking about?
By Mayur Lookhar
Priyanka Chopra Jonas created a storm when in a podcast she claimed that she felt cornered Bollywood and hence quit it for Hollywood. Few days after that comment, Chopra showed up for the press conference of Amazon Prime's international series Citadel [2023] in Mumbai on 3 April. The Indian artiste, who migrated to Hollywood, has now said that she no longer works for people who she doesn't like.
Chopra made this comment when asked about that one thing which convinces her to do a project – is it the director, story?
"I think for me, what would be non-negotiable [smiles] it is actually very true. I can't work with people who I don't like anymore. I have to admire, look up to people I'm going to work with. I have been doing this for a very long time," said the international star.
She adds, "I want to be excited about going to work, inspired by, when I go to work. That has become non-negotiable for me. So, when I meet people whom I'm going to work with, I take notes on a little pad. This is truly something that I do as I have evolved."
Later during the presser, Chopra was asked about why she chose to make her 'cornered in Bollywood' comment now.
"When I was on the podcast, I was asked about the journey of my life, I spoke about when I was young – 10, 15, to when I was 22, 30, 40 years old. I was talking the truth about my journey. I think now I was confident enough to talk about that phase of life," Priyanka explains, "Today, where I am, I was okay enough to kind of articulate enough what I felt. I've had tumultuous relationships with… what occured. I forgave, I moved on and made my peace with it. I guess that is why it was easy for me to talk about it in a manner, and a safe place."
Though she never went public with her past relationships, Chopra has been linked with co-stars like Akshay Kumar, Harman Baweja, Shah Rukh Khan, at different point of time in her life. Around 2018, Khan had reportedly upset super star Salman Khan after she opted out of his film Bharat [2019]. Rumour has it that upsetting Khan further distanced the Hindi film industry from Chopra. Is Chopra referring to that phase in her life? Karan Johar's name had also dragged up, but Chopra was spotted hugging him during the recent launch of Nita Mukesh Ambani cultural centre. Since she used the word relationships, naturally fingers will be pointed to the men she was romantically linked with in the past.
Back in early 2000s, Chopra was rumoured to be close to AkshayKumar. When things went haywire, Kumar had allegedly demanded director, producer Sunil Darshan to drop Chopra from their film Barsaat [2005]. Darshan refused and it was not Chopra, but Kumar who walked out of that film with Bobby Deol stepping in.
The rumoured Shah Rukh Khan and Priyanka Chopra affair made noise during the 2011-2013 phase. There were murmurs of even a secret wedding in London. Those rumours died a natural death. In 2016, Chopra started talking to American singer Nick Jonas and year later, they confirmed their relationship. The Indian-American couple eventually tied the knot on 1 December, 2018. They have one daughter Malti Marie.
Disclaimer: This story is auto-aggregated by a computer program and has not been created or edited by filmibee.
Publisher: Source link