Interviews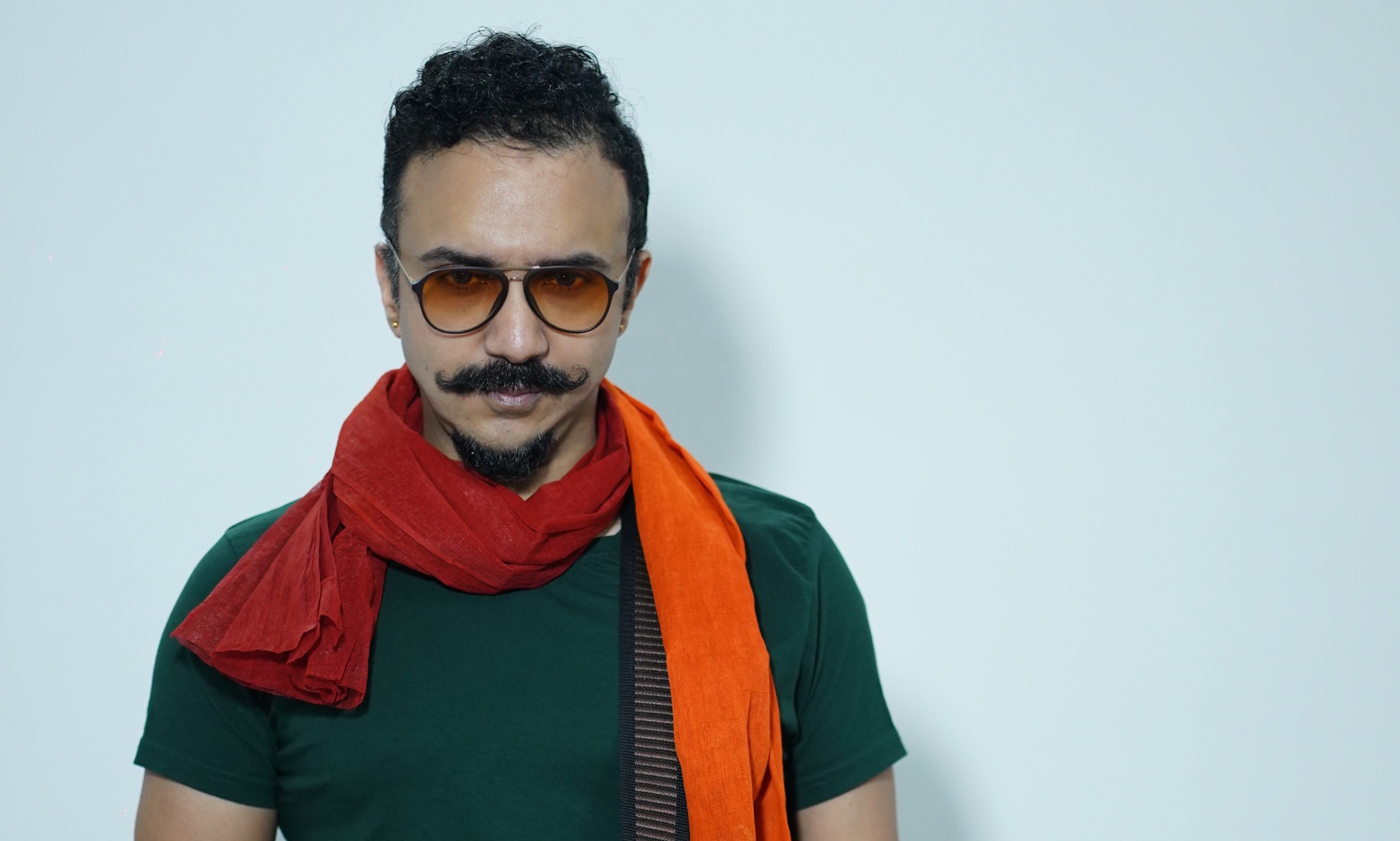 Jul 23, 2023
"I am looking forward to do a lot of work in films now" – Ram Sampath
For more than two decades now, Ram Sampath has been providing quality music in different spheres like films and advertising. While Ram embarked upon his journey as a composer in the '90s with television commercials and Indipop albums, his journey in film began with Ram Madhvani's English language film 'Let's Talk'. In the film space, Ram tasted commercial success with the soundtrack he put together for Rajkumar Santoshi's 'Khakee'.
Ram went on to put together the score and compose songs for several notable films including 'Delhi Belly', 'Talaash', 'Fukrey', 'Raman Raghav 2.0' and 'Raees', among others. However, some of his experiences in the Hindi film industry led him towards break from films. Ram is now back to composing for movies and is keen on working with like-minded individuals in this space.
In this interview, Ram talks about his eventful journey as a music composer, getting back to composing for films with the Netflix original film 'Kathal', issues with the film industry, work in advertising, standing up for one's rights, launching a production house and more.
Though you composed a song ('Raat Rani') for 'Modern Love Mumbai', an anthology series, 'Kathal' marked your return to the movies. Apart from composing the songs, you also did the background score for the film. How was it getting back to composing for films?
'Kathal' was a very special project for me as I was coming back to films after a while. I have now decided that I will work only with people I connect with. Guneet (Monga, co-producer of 'Kathal')is an old friend & she came to me with the script. I enjoyed it & felt I could add some value. I met Yashowardhan Mishra, the director of the film, and liked the fact that he was extremely articulate and empathetic. He is somebody who wants to convey heavy ideas with a deft touch. As mainstream artists, our primary objective is to entertain, but there has to be some depth in the content you are trying to create. The script of 'Kathal' had all these qualities. The film had as much scope for the score as it had for the songs.
Around three years back, you gave an interview in which you stated that you were dejected by the way things worked in the film industry. What made you take the extreme step towards taking a break from films?
We have veered away from the roots of how we create music for our films in the first place. The golden period of Hindi film music was when we made songs that touched the hearts of the entire nation. This was the era when the makers believed in hiring a team that would comprise of one composer and one lyricist. Once you get a composer and lyricist on board, you have to trust them and give them enough space to do their best. You have to let the film have a singular, musical soul. If I don't find that trust, I don't enjoy the process. I don't have a problem with people licensing my older songs and using them in their projects. They did that with 'Angry Indian Goddesses'. I don't enjoy being a part of multi-composer albums.
In the same interview, you had stated that Aamir Khan Productions was the only production house you enjoyed working with in the film space.
Once they get a composer on board, they trust them. They give the composer the freedom to shape the musical sound of the film. It's one of the production houses that carries the legacy of how the Indian film industry got things right in the past. Aamir is a very smart and collaborative producer. Aamir Khan Productions is a solution oriented production house & there are many more like these on the rise. Guneet Monga and Achin Jain's Sikhya Entertainment is another production house that is doing very interesting work. They are funding and fuelling the right kind of stories and talent. Interesting things are happening across the industry. I admire Ronnie Screwvala as a producer. Siddharth Roy Kapur is also a great producer to work with. Whenever Vishal Bhardwaj produces something, it turns out to be very interesting. The films and the music coming out of non-Hindi industries is very interesting.
When T-Series created a full-fledged song out of 'Paas Aao Na', the jingle you had composed for a toothpaste brand, they didn't even credit you for it. 
It's typical of the industry and it's disrespectful. This itself should give you an idea of how we are treated on a regular basis. When you create something new, you are in a state of vulnerability. You are trying to create something meaningful. One's goal should be to create music that stands the test of time. When I am creating a song today, I hope that it works thirty years from now as well. The industry doesn't seem to have any respect for this particular aspect of music. Fortunately, I am now getting the opportunity to work with people who believe in me and are willing to give me the space I need as a composer & an artist. I am happy to get back to scoring music for films. I am also a producer now. We are producing a series for Netflix with our new production house, Rangeela Pictures. It is a company founded by Puneet Krishna, Vineet Krishna and me. The show will be out towards the latter half of this year.
'Raees' had one of the best original scores created for a Hindi film in recent years.
For me, it is all about the process. The everyday music making process has to be fun. On 'Raees', we decided that we will do a lot of stuff live. It was an absolute pleasure to be recording all these great musicians and putting together a score which was a hybrid of electronic and organic instruments. They had plans to release the score separately but didn't do that for some reason.
In an interview, you had stated that one of the things you will be always proud of is the amount of music you have heard. Did that play an important role in shaping you as a music composer?
For me, listening is key. It is very, very important. That is how you learn music composition, production and arrangement. Every genre has its secrets. You have to plunge into all the different genres to extract those secrets. Listening to music is like meditation to me.
Another thing, I believe, that played a vital role in your journey as an artist is the training you had. You trained in Carnatic vocals for 8-9 years. After that, you learnt Hindustani classical vocals for three years. You also underwent some training while trying to learn the piano. How important, do you think, is training for a musician?
Training enables you to have many sides to you. You have much more to offer and get to have a longer career. If you don't train, you only have a few tricks up your sleeve & you run out of ideas very soon. While everybody out there doesn't have to be super-trained, having a little bit of training always helps. These are, of course, not rules. There are always notable exceptions.
You became a professional composer at the age of 16-17 when you were in the twelfth grade. At that time, you didn't own any gear. The first keyboard you bought was the Yamaha PSR 2000 from a store in Ghatkopar, Mumbai. How was it like taking your first steps into the industry as a professional?
It was a tough journey. For the first few years, I was doing everything possible. Once I had to learn 200 film songs in order to play at a filmy party in the early '90s. I've even played Malayali film music for a regional 'orchestra' at that time. My main passion at that age was playing with my rock band, but I did so many things back then. Playing in different bands & scenarios helped me learn a lot about different styles of music. It's one thing to be listening to a certain type of music and another thing to be learning that music. While my parents were very supportive, buying the kind of equipment you needed to have to get into the industry was daunting. We didn't have that kind of money. It took me a while to earn that money bit by bit. 
Your grandfather, T.V Ramanujam, was the founder of the iconic Shanamukhananda Hall in Mumbai. Did he inspire you in any way?
Unfortunately, he passed away when I was in my early teens. He, therefore, didn't have much of a role to play. Interestingly, both my grandparents were named Ram. My maternal grandfather's name was Ramacharya. He was hugely supportive of my decision to make a career in music. He was a huge influence in my life. I used to call him ajja. He was a very kind soul and taught me a lot. My father is from Tamil Nadu and my mother hails from Karnataka.
You started your career as a composer in advertising and you continue to have a flourishing career in this particular industry. There was a time when a few advertising agencies didn't take you seriously as they thought you were too young to work as a professional composer. How do you look at your journey in the advertising industry?
I will be eternally grateful to the advertising industry as it helped me make a career out of music. The Indian corporate sector works in a very professional manner. It got corporatized long before the film industry did. The film industry was still paying everybody in bags of cash. There was a bit of underworld involvement as well. There were no contracts. I was not happy with the way the film industry was functioning back then.
I very naturally veered towards advertising. It was already corporatized and therefore, safe. I got to work with a bunch of people who were brimming with great ideas all the time. One of the biggest sources of talent for the film industry has been the advertising industry. A large number of people ranging from A. R. Rahman to Prasoon Joshi, KK to Rakeysh Mehra & Nitesh Tiwari started out in advertising and then worked in films. We were a bunch of people who wanted to get into films but were waiting for it to become a little more organized.
You always wanted to carve a career in films?
It was definitely one of the things I wanted to do. We grew up on some phenomenal film music. They were the gold standard for Indian pop music. Working on films is a different kind of pleasure. I equally enjoy the process of working on songs and the score.
Two of the most notable albums you did in the Indipop space in the '90s were 'Loveology' and 'Tanha Dil'. These two albums featured Shaan as the vocalist. The entire 'Loveology' album, interestingly, was created using a single keyboard. How was the experience of working with Shaan on these two albums?
We were just two kids having fun! Shaan and I met at a studio where I was the in-house music arranger-cum-programmer-cum-engineer (laughs). Shaan was a budding singer. We had an immediate connection and got along very well with each other. We had similar ideas on what could be an interesting album. The ideas changed drastically from 'Loveology' to 'Tanha Dil'. I did 'Loveology' when I was 18 or 19 years of age. 'Loveology' was released a couple of years after we finished working on it. 'Tanha Dil', however, released as soon as we had all the songs ready. After working on 'Loveology', I felt the next song from the album should have a more accessible filmy emotion. There should be a song that is able to move people. We didn't produce it the typical filmy way though.
'Tanha Dil' is probably the only song in Shaan's career which he has sung without a smile (laughs). Our friend Sabal Shekhawat directed that video. Atul Churamani was the A&R on the album. Most people weren't convinced about 'Tanha Dil' being the lead song on the album. It was Atul who backed us and I will always be thankful to him for that. At that time, they either wanted a thumping dance track or a pop act. Zoheb Hassan was the reference point given to us. I felt we needed to create a new reference point.
You were a part of a rock band called 'Colour Blind' in the '90s. Now, you perform to your original tracks with your band which is called the Ram Sampath Experience.
Colour Blind actually happened between 'Loveology' and 'Tanha Dil'. As far as the Ram Sampath Experience is concerned, I perform with a band and a bunch of incredible Rajasthani folk artists. For me, being on stage is a natural progression to making music. The beautiful thing is that when you go to the stage and play your own music, but It's also a lot of fun to collaborate with Indian folk artists on stage as you don't know how things are going to unfold. Indian folk artists are brilliantly unpredictable. They will change the song mid-way or they will change the tempo. It's the most fun you can have as a musician.
The first film you composed music for was 'Let's Talk'. 'Khakee' happened after that. The film had a very commercial soundtrack but offered a lot of fresh sounds as well. How did films happen?
Ram Madhvani (director, 'Let's Talk') was from the advertising world and we had worked together earlier. As far as 'Khakee' is concerned, Raj ji reached out to me as I had built a reputation for myself in advertising. A funny thing that used to happen those days was that everybody was hunting for the next Rahman. Advertising composers were always looked out for. I was the new guy in the advertising space who was doing a lot of work. I was in demand and that felt great at that time (laughs). I really enjoyed working with Raj ji on 'Khakee'. Raj ji and Sridhar Raghavan (writer, 'Khakee') made a wonderful team. Sameer ji, who wrote the lyrics, was a pleasure to work with. 
Do labels call the shots while the music of a film is being made?
Technically, I am working for the producers of the film. I am working with the director to shape the sound of the film. That's what happens on a healthy project like 'Kathal'. I worked for Sikhya Entertainment and collaborated with Yashowardhan and Ashok Mishra ji, (the lyricist & co-writer of the film)  and worked towards creating the kind of songs and score that would do justice to their vision and the script. I had a similar experience while working on 'Delhi Belly' and 'Talaash'. Back then, those were the only two film projects in which I got complete creative freedom.
On a project that goes wrong, you don't know who's calling the shots. A lot of stakeholders become a part of the decision making process. There are a lot of people with agendas. They keep rejecting material on the basis of vague responses. It's like sending a bill to the Lok Sabha and then waiting and praying. You just hear things like "nahin, yeh kaam nahin kar raha" ("no, this is not working"). It's a very bad space to be in. At one point while working on 'Khakee', I was caught in a crossfire between Bhushan Kumar and Raj ji. Bhushan wanted a Nadeem – Shravan kind of sound. Raj ji, on the other hand, wanted the album to have a Rahman-ish sound. Being a newcomer, I was not able to convince them that there was a Ram Sampath way in the middle. I loved both A. R. Rahman and Nadeem Shravan. I didn't have a problem with either. However, one had to do what was right for 'Khakee'. We zeroed in on the elements that were working and ones that were not. The only way to solve this problem was to give them what they wanted which was a big commercial song. 'Aisa Jaadoo Daala Re' was officially the first song that I ended up making for the soundtrack. It was a strategic move. Once I got that out of the way and they felt I was capable of making commercial music, the journey got a little easier.
After delivering a successful soundtrack like 'Khakee', one would have expected you to sign a bunch of films. However, that didn't quite happen back then.
Most of the time, I had people giving me CDs of songs they wanted me to rip off. I didn't want to work like that. Exceptional people in the industry were very few. I barely came across people who were willing to back something that doesn't have any reference from before. I bided my time and waited for the right projects to come my way. I always felt that my journey would be my own. I am not so worried about raking up the numbers. Even if it's a slow journey, it has to be fulfilling. 
One can, perhaps, write a book on the making of the music of 'Delhi Belly'. Shankar – Ehsaan – Loy were supposed to do the film initially. Abhinay Deo, who had worked with you in advertising, recommended your name for the film. It was the most inventive soundtrack to have come out at that time.
One of the most interesting miscommunications allowed me to keep working on the film. The film had been shelved but they had missed out on informing me the same. I kept working on the soundtrack blissfully unaware of what was happening. Working on the film also made me realize that the process rewards you. If you do your work sincerely and detach yourself from any kind of expectation or reward, things will fall into place.
While watching the film, I realized the songs had to be in Hindi. I managed to find a space for interesting songs to be used in the film. The characters were very interesting and what was really amazing is that all the characters spoke in the language they were comfortable in. It was a very smartly written film. I made songs based on how I read the film. When I started working on the film with Akshat, our working title was 'Delhi Belly Songs of Heartbreak and Hipshake' (laughs). I worked with lyricists who I felt would be able to contribute interesting ideas to the album.
 It was through a chance meeting while working on the soundtrack of 'Peepli Live', that I managed to play Aamir the songs & it's through the songs that he found a way of marketing a semi-English film to a desi audience, so it ended up being a pivotal moment in my life.
For the TV show 'Satyamev Jayate', you created a bunch of soul-stirring songs across two seasons.
'Satyamev Jayate' was an opportunity of a lifetime. It's a privilege to compose a song like 'Chiraiya'. I had composed the mukhda of 'Chiraiya' for 'Khakee'. It was to be used in the scene where a mother witnesses the loss of her child. I just had the mukhda of the song ready. Eventually, we ended up using 'Maula Karam O Karam' there. When I started working on 'Chiraiya' again, the whole song came out at one go. I remember playing the song to Aamir and his eyes welling up with tears. He heard it without the lyrics. Swanand wrote some terrific lyrics for the song. We wanted the song to have a healing impact on the listeners. The realities that came out while doing the research for that episode were quite heavy. That set the tone for the show.
As far as the title track is concerned, we didn't want to go down the regular way of making a patriotic song. We wanted to make a love song for the country. That's where the title track of 'Satyamev Jayate' emerged from. I love playing it on the stage. Prasoon Joshi never repeats an idea. I'm very fortunate to work with such people.
You worked on many films that either got shelved or didn't get released. From the Abhay Deol – Genelia D' Souza starrer 'Rock The Shaadi' to UTV's 'Fillum City', there were many such projects.
Those are years of my life. There must have been 8-9 films which I did the entire music for and they never released. That has been the most heart-breaking part of working on those projects. However, I also realize that it's a part of the process of being a film composer in India. It's also the reason why many composers prefer working on bigger films as they don't get shelved.
Sona Mohapatra and you own Omgrown Music. The both of you have played a key role in putting several intellectual property laws in place and ensuring they are being adhered to. The advertising industry, in particular, in has benefitted greatly from your initiatives. In 2008, you had filed a case against composer Rajesh Roshan for plagiarizing a jingle composed by you for a cellphone brand and creating a song out of it ("Break Free" – 'Krazzy 4'). You won the case and it, in a way, prevented many such incidents from happening in the future.
One of the cornerstones of the industry has to be mutual respect. As an industry, we are not very cognizant of IP and we tend not to think of ourselves as world players. By now, we should have been playing on the world stage. Maybe, we are a couple of decades too late. Thankfully, we have filmmakers like S. S Rajamouli who are taking us to that level.
You have to respect people who are creating a piece of art out of nothing. The most important people in our industry are our writers and creators. There is a blank sheet of paper and they come up with the first ideas and put together the first draft. I have a lot of respect for writers and my closest friends in the industry happen to be writers.
I remember this story of the legendary duo Salim – Javed getting their name stencilled on the poster of their film because they were left out of the credits. That's the kind of pride you need to take in your work. Producers should be cognizant of these things as well. Respect is not limited to paying people on time. Credits should not be negotiable. You have to credit the people whose original idea led to a project being made.
OTT platforms, thankfully, have brought in a certain pride in creators. They have started empowering the creators. Now, the creators have another avenue apart from films. It's a boom time for creators and technicians who are very skilled at what they do. A lot of my friends are packed for years in advance. They are getting so much work that they can't possibly take everything up. It's very heartening to see that. One of the things I am really proud of is how far original score (or what we incorrectly call, background score) has come in the Indian film industry. The art of film score has gotten really better. For the longest time, composers who put together the score for a film didn't get enough recognition.
Now, producers and labels are releasing OSTs on streaming platforms.
Releasing an OST along with the songs is extremely important. It helps the audience understand how film scores work. People like Hans Zimmer have become superstars based on their scores. One term which many composers get irritated by is the background score. It's not background score but original score. That's the right term for it. All the greats, including some of the people I looked up to like SD Burman, RD Burman, Ilaiyaraja, A R Rahman and Ennio Morricone. That's part of the reason I prefer doing both. I equally enjoy the experience of creating and putting together the score for a film.
There was a time when you were at the other end of law. Palash Sen from the band Euphoria accused you of lifting the tune of his song 'Satyamev Jayate' for the title track of the TV show 'Satyamev Jayate'. While both were patriotic numbers, there was no similarity in the tunes. What were the kind of thought running through your mind when this incident happened?
I was upset for about an hour and then, I let it go. When you become a target for this kind of thing, there is nothing you can do. You can respond legally and ethically. Beyond a certain point, I felt the best thing to do would be not to give the fire any oxygen. When you ignore such things, they die their own death.
The 'Krazzy 4' incident finds a mention in one of the books prescribed in business schools. A lot of composer back then wouldn't have had the guts to take a stand against the injustice meted out to them.
When this incident happened, we had our own company. Originally, it was called The Mint and later, we renamed it as Omgrown Music. With Sona as the producer and my partner, we had built up a sizable amount of intellectual property that we would license to corporate India. It was a fantastic time. I was excited to see the corporate space in India understanding the value of intellectual property because they were already working with the world. They had understood that intellectual property has its own value. We could now license music and if it does well, they would come back to us and relicense that music for the brand. It was heartening to see the way corporate India was going about its business practices. Companies like Tata and Reliance. I still license the Tata Safari theme after all these years. When the 'Krazzy 4' incident happened, I felt it was a violation of everything we had built over the years.
As a composer/ creator, you are a freelancer. There is no pension plan. This was the reason why the west created these institutions that would offer residual income to creators so they have some stake in the success of their work. Corporate India understands this principle. We were succeeding and other composers were following suit. A new system was coming into place. This violation destroyed everything we had put together over the years. We had to defend it and fight for the principles we stood for.
Apart from being an accomplished singer, your partner Sona Mohapatra is also an MBA who comes from a marketing background. She worked in the corporate space for a while and her expertise played an important role in strengthening Om Grown Music.
Sona is one of the sharpest minds I have ever known. She is my partner in Om Grown Music and has struck a lot of deals for the company. She understands the way the corporate sector in India works. She knew how to convince people to give our rights and move into a system of licensing. We are very proud of what we have managed to achieve. We are also grateful to people like Piyush Pandey, Agnelo Dias, KS Chakravarthy and many other names from the advertising industry for backing us. They stood with us when we were trying to get this off the ground. These things take centuries to change.
When it comes down to money, everybody tries to protect their interest. It's so difficult to bring about that shift in people's mentality. To lose that overnight would make no sense. It is something we are very passionate about. It is also something we can leave for the future generation to refer to. Licensing your music can help you tremendously. Slowly, this can happen on OTT platforms as well. Composers might be able to license their music to OTT platforms and if it does well, they can get a stake in it. Even now, Hindi film music composers have no stake. Everybody who has worked towards creating a song should get a stake in its success. There is a lot that needs to be done in this space.
What is that one thing about Sona Mohapatra you like the most as an artist?
She has this quality which I call the 'Sona Filter'. When she sings a song, it becomes a Sona Mohapatra song. I think personality is very important in art. While versatility is important, you like an artist because of their personality. You love to see them being the best version of themselves. That's what you enjoy the most. Sukhwinder Singh also has that quality. He has his own distinctive style and makes every song he sings his own. Sona lives for the stage. When she is not on the stage, she is dreaming about performing on stage.
While working in the advertising space, you might have faced certain challenges as well. You might have to adhere to strict deadlines on most occasions. There was a time, during your initial years as a composer, when you ended up recording thirteen jingles in a day.
Apart from making the jingle, you need to sell them as well. I remember, on a particular day, I made seven jingles for the same client. Each of those jingles had to be different from each other. Through these experiences, I learnt how to produce things differently. By listening to different types of music, you learn about genres, styles and the building blocks of each type of music. When you are growing up, you like certain genres of music and are not too fond of a few. However, as you mature, you realize every kind of music is special.
Out of the countless jingles you have composed so far, which one remains the closest to your heart?
There is one jingle which I recall the most these days. That's probably because I miss KK. In the '90s, we had done this jingle for Hero Honda called 'Desh Ki Dhadkan'. KK had just released 'Pal' and I had done 'Tanha Dil'. I worked extensively with KK in the advertising space. I have so many beautiful memories of him. We used to have a ball primarily because KK had a great sense of humour. It never felt like work while recording a track with him. It was like meeting a friend and having a great time with him.
There was a studio in Santacruz, Mumbai called Spectral Harmony. It moved to Andheri later. In that studio, in a single day, we dubbed one of the songs from 'Tanha Dil', hung out with Vanraj Bhatia who had come with Shekhar Kapur to record a jingle and met Ismail Darbar. He was introduced to me by Biswadeep Chatterji, the legendary sound engineer/ designer. Ismail bhai spoke about how he was working on his first film as a composer. That film turned out to be 'Hum Dil De Chuke Sanam'. When KK and I met a few days later, he told me that Ismail bhai had offered him a song but he was not sure about doing it as it was a very desi song and he was a rock singer. That song was, 'Tadap Tadap'! It is an incredible song with so much soul in it.
'Abhi Naa Jaao Chhod Kar' is your favourite Hindi film song. Out of all the songs you have composed, which one is your favourite?
That's very tough. I can't put my finger on a single one. I would love to compose music for a love story with music at its heart! That has eluded me so far. I ended up making a romantic number for animated elephants called 'Chaayee Madhoshiyaan' ('Jumbo')..
You are a trained vocalist and have lent your voice to many of the songs composed by you. Some of the notable songs sung by you include 'Bhaag D.K Bose' ('Delhi Belly'), 'Laakh Duniya Kahe' ('Talaash'), 'Hauley Hauley' ('Satyamev Jayate') and 'Yaari Yaari' ('Puraani Jeans'). Do you plan to explore yourself more actively as a singer in the near future?
I have been working towards that actually. I've crafted a bunch of pop-rock songs with some of my favourite collaborators & I'm excited about sharing them with the audience soon.
You have sung for other composers as well.
I have sung just two such songs, for friends of mine. I sang a song called 'Satrangiya Dil' ('Tutiya Dil') for Gulraj Singh and another song for Amartya Rahut ('Barbaadiyan' – 'Aurangzeb').
From Javed Akhtar to Varun Grover, you have worked with some of the finest lyricists in the industry. Do you give a lot of emphasis to lyrics while creating songs?
Working with such wonderful lyricists is part of the pleasure of creating songs. You have to make sure that the words are understood and connect with the listeners. I don't come from a Hindi speaking household. I learnt Hindi and Urdu by listening to Hindi films songs and watching Bollywood movies. The words mean a lot to me. I am not a fan of singers garbling up the lyrics. I tend to mix the voice a little louder on the songs.
'Qatl-e-Aam' from 'Raman Raghav 2.0, written by Varun Grover, had some truly imaginative lyrics.
When I read the draft of 'Qatl-e-Aam', I was truly amazed to see the verses Varun had come up with. 'Paani Ka Raasta' was the only song on the album to be composed first. The rest of the songs were written first by Varun. I remember being shocked while reading the lyrics for 'Behuda'. It was so visceral & gory, yet beautiful. Javed saab crafts things with precise detail & big emotions. I've only worked on 2 songs with Swanand Kirkire, but both of them, 'Chiraiyya' & 'Rupaiyya' from Satyamev Jayate, are incredible lyrics. Amitabh Bhattacharya is the most imaginative writer I have worked with, who has the most unique perspective on situations. We are working together on another film right now.
Now that you are back from a sabbatical, do you plan to compose for films more often?
I would love to work on films that have scripts that inspire me to create something interesting. The world's a small place now and people who like my work can reach out to me anytime. Kiran Rao's 'Laapataa Ladies' is up for release this year. I have done another film which should also be out this year as well.
Both you and your partner Sona Mohapatra and you took a stand on a lot of issues in the past. Do you think that resulted in the both of you losing out on a lot of work?
I think the arc of justice is always moving in the right direction. People want to do the right thing. By and large, the industry is self-correcting itself. We have many producers and platforms who are willing to do the right thing. I think we are in a very good place right now.
As an artist, I am platform agnostic. Whether you do music for a series being made for an OTT platform or a film being readied for a theatrical release, you want your work to reach the right audience. I still get contracts that are absolutely draconian. Nowadays, things can get solved with a conversation. Earlier, they would talk to us as if they owned us. Now, the producers talk much more respectfully. Things weren't like that even five years ago.
What are the kind of plans you have for Omgrown Music and Rangeela Pictures for the future?
The plan is slow and steady expansion. Right now, Omgrown is only releasing Sona and my non-film music. We plan to expand beyond that. We plan on signing interesting artists and releasing their music through the label. There is a lot of movement happening in Rangeela Pictures. We are trying to find and foster interesting talent and create diverse stories.
Disclaimer: This story is auto-aggregated by a computer program and has not been created or edited by filmibee.
Publisher: Source link