Interviews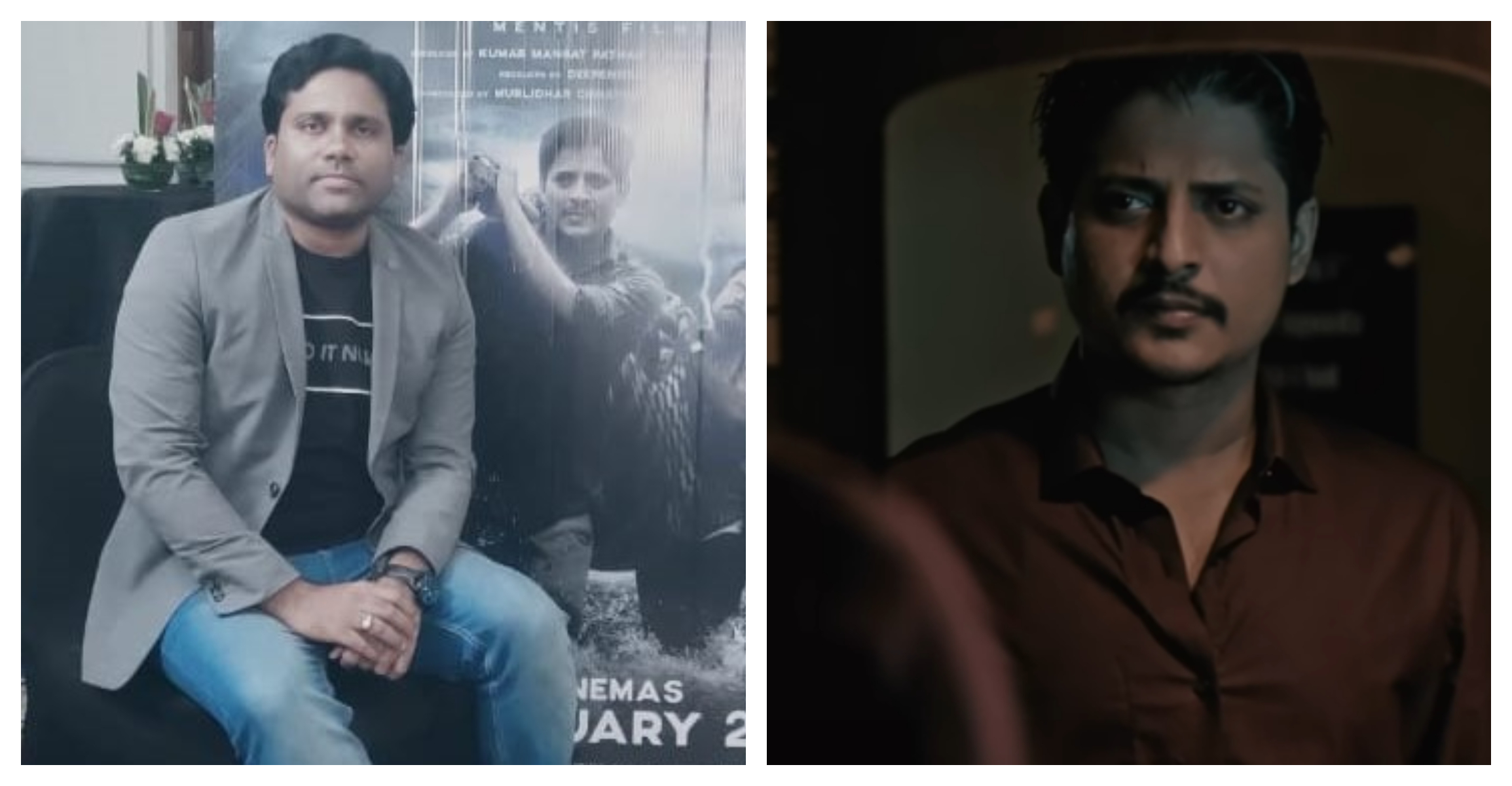 Feb 2, 2023
"I am hoping the Hindi version of 'DaMaN' gets a lot of love from the audience" – Vishal Mourya – Planet Bollywood
The release of 'DaMan' on November 4, 2022 proved to be a turning point for Odia cinema. There haven't been too many instances of an Odia film resonating with a national audience. 'DaMan' managed to achieve that and now, the film is all set to release in Hindi on February 3. While one looks forward to seeing how the Hindi version is received by the audience, the film has already done a lot of good for the Odia film industry which has been dealing with countless issues over the last several years. The film has been directed by Vishal Mourya and Debi Prasad Lenka and features Babushaan and Dipanwit Dashmohapatra in principal roles.
In this interview, Vishal Mourya, one of the two directors of the film, talks about making a film based on real-life incidents, shooting in challenging situations, the 'Pan India' phenomenon, receiving appreciation from the likes of Kamal Haasan, plans for the Hindi release, future of the Odia industry and more.
In 2020, Debi Prasad Lenka and you were making a documentary on the malaria eradication program organized by the Odisha government. That drove you towards wanting to make a feature film on the subject.
While shooting the documentary, we visited an area in Odisha called Swabhimaan Anchal which covers 151 villages. We closely interacted with the residents of these villages who belonged to different tribal groups. We had the chance to witness the kind of efforts doctors and government employees were putting in to resolve the issues people living in these areas were suffering from. We closely studied how the malaria eradication program was being implemented. We were highly inspired by the work that was being done here. We decided to tell this story by keeping a doctor at the centre of it. Apart from doctors, many other professionals have contributed towards the success of this program. DaMaN is the name of a program or initiative run by the government.
All the events you see in the film are based on the initiatives taken by the Odisha government. There was a huge movement in Malkangiri that inspired us hugely. District Collector Shri Manish Agrawal ji and malaria expert Shri Madan Mohan Pradhan ji were the two key people who drove this movement. Their efforts touched us and were one of the major reasons behind us making the film. We mostly come across films that show the government in poor light. While one has the right to criticize the government, we must also appreciate the good work done by it. When the government does something good, people get inspired. 'Daman' is based on true events and rooted in reality. Producer Jitendra Samal ji encouraged us greatly throughout the making of the film.
You shot 'DaMan' in some difficult locations which are not very shoot-friendly. How was that experience like?
We were particular about telling this story in a realistic manner. We wanted to shoot in real locations and in areas where these incidents have taken place. As we shot in remote areas, we had to face a lot of difficulties but it was worth it. The whole crew was very supportive. Even the locales were highly cooperative. We battled heavy rains and bad weather almost regularly. In many of the areas, there was no network. Sometimes, we would park our vehicles at a particular location and then, carry the equipment on our own and walk several miles to reach the shoot location. 
How was the experience of getting the film dubbed in Hindi?
The film released on November 4 and in the next 8-10 days, it crossed the boundaries of Odisha and reached out to people living in different parts of the country. When a lot of people demanded the film to be dubbed in Hindi, we took note of it and started working towards a plan. After weighing all the pros and cons properly, we arrived at the decision to dub the film in Hindi on November 20. When you are making a regional film, you have a limited budget at hand. We had to factor in the expenses that would be involved in getting the film dubbed in Hindi and distributing it across multiple states. None of us had the experience to release the film on a pan-India level. We went to Mumbai and started working on the process eventually.
We approached Sanket Mhatre ji to dub for Babushaan ji. Chandan Roy ji, too, was very supportive and agreed to dub for Ravi's character almost immediately. We were clear about getting the dubbing process done properly and not making compromises on that front. Recording the songs was quite a challenge. We did not want a literal translation of the songs. Dibyajeet Sahoo ji wrote some beautiful Hindi lyrics for the song in a very short span of time. The songs have been dubbed in Hindi by some of the most prominent names in the music industry including Javed Ali and Abhay Jodhpurkar. All the songs shaped up very well in Hindi. We had the chance to rectify and enhance a few things during the post-production process of the Hindi version.
'DaMan' happens to be that rare Odia film that has garnered recognition on a national level. What is that one thing about the film, you believe, helped it stand out?
Covid-19 and the lockdown changed viewing preferences greatly. Most people now want to consume good content. They are not concerned about the language in which a film or series is made. Content-driven films and shows are working across the country. The success of films like 'RRR', 'KGF 2' and 'Kantara' proves this point. Instead of looking for stars, they want to see great stories. Films like 'DaMan' have benefitted from this change in mindset. You have to make a film honestly. We had a lot of faith in our story. Babushaan is one of the best artists in our country and with this film, he will get a lot of recognition throughout the country.
As you rightly stated, the film has already made a lot of noise across the country. During an interview, Kamal Haasan and Prithviraj spoke about the film.
When such great people talk about 'DaMan', the entire Odia film industry gets a boost. It feels very encouraging to see such things happening. It validates the fact that the film has managed to make an impact. In the same interview, Kamal Haasan ji stated that the film industry in the east has largely remained unexplored by the rest of the country and it's high time that changes. Odisha has a very rich history of great stories and literature. So, we have a lot of good material to make films on.
Panorama Studios is releasing the Hindi version of 'DaMan' across the country. What are your expectations from the Hindi release?
Our fingers are crossed. I am hoping the Hindi version of 'DaMan' gets a lot of love from the audience in the theatres. We made a regional film on a limited budget and the entire country is discussing it. This itself is a big thing for us. If 'DaMan' works across the country, many Odia films will get a pan India release in the future.
Though there have been a few successful director duos in India, we don't see too many directors joining hands to work together. When and how did Debi and you decide to work as a duo?
I am from Gwalior, Madhya Pradesh. I studied engineering and then, started working in Pune as a software developer. I have always been always passionate about cinema and wasn't enjoying what I was doing. One fine day, I decided to quit my job and pursue filmmaking. I did a course in filmmaking in Pune and went to Mumbai to look for work. I worked in channels like Star Plus and Sony. While working on a show for Zoom in 2010, I met Debi who was working there as an editor. Soon, we became friends and realized that our cinematic sensibilities were quite similar. Both of us wanted to make films.
We got together and shot a few things together. Between 2011 and 2014, we struggled a lot and faced a lot of financial difficulties as well. We launched a YouTube channel and from the money we earned from it, we made a Hindi film called B For Bundelkhand. The film was made on a very modest budget and was based on the issue of farmers' suicide. We haven't released the film yet but it should come out on some OTT platform soon. We showed the film to some prominent people in Odisha. Mr. Anubhav Mohanty saw the film and asked us why don't such films get made in Odisha. We shared the concept of 'Biju Babu' with him. He really liked it and we eventually made the film with him. It was produced by Mr. Nila Madhab Panda.
When two directors work together, one can imagine creative clashes taking place between them.
Debi and I have a similar approach to cinema. I watch a lot of films and read books to keep enhancing my skills. I strongly believe that you keep learning throughout your life. Debi operates similarly. Both of us were equally keen on making 'DaMan'. If he doesn't like an idea shared by me, he tells me about it. I do the same. We have discussions and go ahead with something only when both of us are convinced about it. We worked on almost ten drafts of 'DaMan'. Before the film went on the floors, we were fully prepared. We discuss each shot extensively with each other. Working as a duo has worked very well for us. The process becomes easy when two people work together.
The Odia industry hasn't seen much growth in the last several years. What, do you think, has stopped the industry from moving forward?
I believe that education is the foundation of everything. It applies to filmmaking as well. I wish filmmakers work towards educating themselves. Sometimes, a good story doesn't translate into a good film. A well-made film, irrespective of its genre, will connect with the audience. Even if you don't go to a film institute, you can educate yourself by reading books and watching good cinema. If you represent local stories properly, they will reach out to a global audience. In the Hindi version of 'DaMan', we have left the dialogues of the tribal people untouched. We want people to know about the language and cultural ethos of Odisha.
What are you doing next?
Debi and I will be making films both in Odia and Hindi. The Odia films we make will be for a pan-Indian audience.
Disclaimer: This story is auto-aggregated by a computer program and has not been created or edited by filmibee.
Publisher: Source link