Movies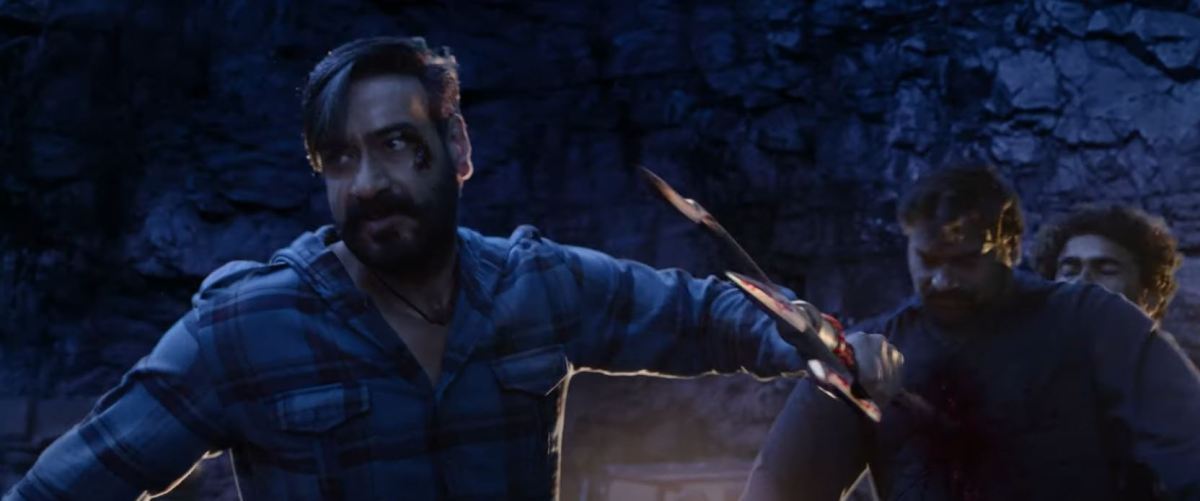 Mar 6, 2023
Heavily loaded on the larger-than-life style? – Beyond Bollywood
If compared to the original Tamil film Kaithi [2019], actor and director Ajay Devgn's Hindi remake Bholaa's look more heavy on its massy side.
By Mayur Lookhar
After setting the early buzz with two teasers, actor-director Ajay Devgn, Reliance Entertainment has finally unveiled the trailer of the action thriller Bholaa [2023]. It's the fourth Ajay Devgn directorial. The official Hindi remake of Lokesh Kanagaraj's Tamil film Kaithi [2019], Devgn's naturally taken the Hindi remake to up north, Lalgang, a town in Uttar Pradesh.  The core story appears to have bene untouched by Devgn and his writer Aamil Keeyan Khan.  Bholaa is looking to meet his young daughter, who lives in orphanage. He'd; eft her as in an orphanage when the child was an infant. The kid is not aware how after all these years, some is coming to meet her.
Unfortunately, for Bholaa, destiny has other designs. He soon finds himself in an unavoidable battle. The only way he can hope to see his daughter is by defeating the uninvited evil that comes his way.  The monsters here are cold blooded brothers Ashwatthama [Deepak Dobriyal] and Nithari [Vineet Kumar] and their Sika gang.  The first name Is synonymous with a powerful, gifted but cursed character from Mahabharata.  The name Nithari, though, rekindles memories of the horror of the 2006 Nithari serial murders.  With a punchline of "Khakee is my favorite food, I've devoured 11 of them thus far", Devgn's Nithari is a serial cop killer. The brutality of the antagonists adds a larger-than-life layer to these evil characters.
The only one who can stop them is Bholaa. He starts off as virtual nobody, a convict perhaps being pardoned and being transported to another region. With a catchline of 'ek chattan aur 100 shaitan' [one cliff against 100 devils], we don't need to tell you that Bholaa is going a mass action entertainer.  So, you are either going to be in or out of this larger-than-life world of Bholaa.
Bholaa has the poise of an Ajay Devgn, but larger-than-life powers of his divine namesake. Writer Amil Keeyan Khan and director Devgn haven't lost significance of faith. Bholaa wields the trishul (trident). The trailer has some fine punchlines by Devgn, Tabu and the 'constitution of lions' line by a henchman. However, maybe Nithari and Ashwatthama surprise you with their few English words. Hang on, English is spoken in many parts of India, and surely one can expect even bad guys from Lalganj to mutter the odd English word.
The hero and the villains have a larger-than-life persona, but maybe it's Tabu's cop character who will bring some sanity to proceedings out here.  It's gender reversal in the Hindi remake. Trust Tabu to throw more than a few punches.  It is nice to veteran actor Kiran Kumar in Bollywood. Amala Paul is a part of Bholaa's back story.
A trailer coming after two teasers, usually, it makes you ask, what's left to show in the trailer? The protagonists, antagonists, supporting cast, child artiste, glimpse of back story of Bholaa, even a henchman gets a footage.  Those who have seen Kaithi, will be keen to see how the Hindi remake pans out. Devgn promised that there are changes.  We hope they don't come at the cost of deserting from its original soul. The beauty of Kaithi was not so much the action, but the emotional connect through the many personal stories within a film.  Bholaa trailer perhaps shows that Devgn's film might be heavily loaded on the larger-than-life style. Action, dare devilry galore in the trailer which is a hit among target audiences, but maybe not so intriguing to traditional audiences.
The trailer evokes mixed views. However, it is not disappointing by any standards.  Action may not be everyone's cup of tea, but trust Bholaa to have adequate elements to attract the family audience too.
Bholaa is set to be released in theatres on 30 March in theatres in 3D. Watch the trailer below.
Disclaimer: This story is auto-aggregated by a computer program and has not been created or edited by filmibee.
Publisher: Source link