Web Stories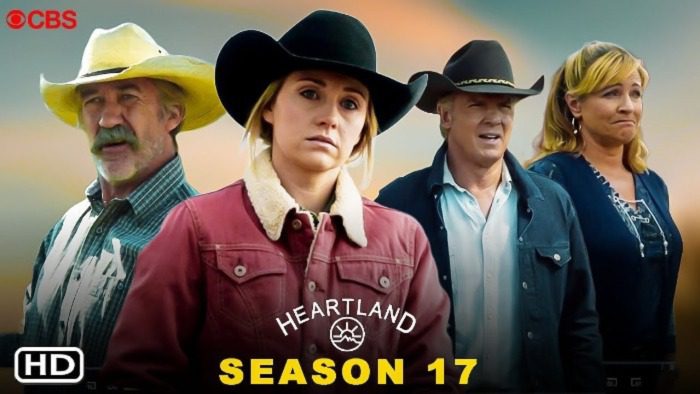 Aug 19, 2023
Heartland Season 17 Release Date, Cast, and Everything We Know
Heartland Season 17 Release Date, Cast, and Everything We Know: The upcoming season is set to premiere in the fall of 2023.
Heartland premiered on Oct 14, 2007. It is the longest-running one-hour scripted drama in Canadian television history.
Heartland Season 16 premiered on Oct 2, 2022, and concluded its 15-episode run on Feb 5, 2023.
According to CBC, Heartland season 17 officially started production on May 8, 2023.


---
Heartland is a well-known Canadian family comedy-drama television series based on Lauren Brooke's Heartland book series. The show centres on Amy Fleming and her older sister Louise "Lou" Fleming, as they live on the Heartland family ranch in Alberta with their father, Tim Fleming, their widowed grandfather Jack Bartlett, and hired farmhand Ty Borden.
The series premiered in Canada on CBC on October 14, 2007. The show currently has 16 seasons, each with 10 to 18 episodes. With Season 16 concluded on CBC on Feb 5, 2023, fans are speculating if the show gets a renewal for more seasons.
Will there be more seasons of Heartland? when will Heartland Season 17 premiere? What the upcoming season has in store? Who is the cast? Here's what we know.
Will there be Heartland Season 17? Renewal Status
Heartland's popularity has soared over the past few seasons. With the airing of its 139th episode on March 29, 2015, it surpassed Street Legal as the longest-running one-hour scripted drama in Canadian television history.
Heartland was the 5th most-streamed TV series in the United States in 2021. The show pounded an astonishing watch time of 29.5 billion minutes, which is way more than Netflix's most popular series like Lucifer (18.3 billion minutes) and Squid Game (16.4 billion minutes).
Heartland was also the fifth most-streamed series on its main streaming platform outside Canada, Up Faith & Family.  It is the only Canadian-made series to make the overall top-15 series watched by Americans across all streaming platforms. (Source: Nielsen 2023)
One of the prime reasons for this huge growth in viewership is that Heartland is a family show. You can enjoy it with the whole family without the worry of vulgar language, nudity, or violence.
Fans can rejoice as the series has been renewed. Heartland season 17 is officially on its way.
Heartland Season 17 filming status
According to CBC, Heartland season 17 officially started production on May 8, 2023. Production will likely last until the end of the year or into 2024.
As per new reports by CBC on June 9, 2023, the filming for the first two episodes of the upcoming season has wrapped up and the production is underway on the next two, to be directed by Chris Potter. He has been directing episodes of Heartland since Season 3.
Michelle Morgan will be directing episodes 1705 and 1706 of Heartland. Michelle is also no stranger to directing the series and you can see her directing work in Heartland episode 1610, "Lurking in the Shadows" from last season.
Is there a Heartland season 17 release date yet?
Fans are super excited about the upcoming season and they are eager to know when Heartland season 17 is coming out. As mentioned in the press release, Season 17 will premiere in the fall of 2023. The exact premiere date will be revealed soon.
Both seasons 15 and 16 of the show were announced in June and premiered in October. So, our best bet forHeartland season 17 premiere would be October 2023. However, we could see the new season as early as September if things go well.
How many episodes will be there in Heartland Season 17?
Earlier there used to be 18 episodes per season. However, the channel reduced the episode count to 10 per season for seasons 13 to 15. Amidst the growing popularity and demand for more content, CBC extended the latest season (season 16) with five more episodes.
However, the show will be back to its usual episode count. Season 17 features 10 one-hour episodes, the first of which will be the 250th episode of the series that debuted in 2007. Produced by Dynamo Films and SEVEN24 Films, Season 17 will premiere exclusively in Canada on CBC and CBC Gem this fall.
What will be the plot of Heartland Season 17?
The final episode of the 16th season titled A Light in The Dark saw Jack facing the truth about his rift with Al Cotter while Lou and Peter take the next step in their relationship. Georgie makes a decision about her future while Amy sees her own future in a new light.
There is a lot happening and it's difficult to predict what stories will be featured in Season 17. Whatever the new season brings, one thing is certain: the beloved family drama will be full of heartwarming moments and emotional storylines.
One possible plotline involves Lyndy becoming an increasingly important character as Amy's horse training assistant. We will see Lyndy growing up, handling horses and having fun and adventures with her buddies.
Season 17 is expected to address several relationships. Tim and Jessica may step onto the next stage of their marriage.  Lou and Peter might get remarried and there could be romance developing between Katie and Logan. It would be good to see what the future holds for Amy.
Heartland Season 17 Summary
Check out the official synopsis for season 17, as shared by TV, Eh?:
"In Season 17, Amy (Amber Marshall) and the rest of the Heartland family know better than most that while dreams can sometimes come true, more often life takes us in unexpected directions. The new season is all about embracing the unexpected. It's about new experiences and taking the path less traveled. In Season 17 the Bartlett-Fleming family will find themselves excited for the future and ready to embrace new adventures, challenges, and relationships. But no matter how much things may change, Amy, Lou (Michelle Morgan), Jack (Shaun Johnston), and Tim (Chris Potter) will continue to fight for what they believe in while staying rooted in the land that has been in the Bartlett-Fleming family for generations."
Heartland Season 17 Cast
Most of our favourite characters will be back to entertain you, including:
Amber Marshall as Amy Fleming
Ruby and Emanuella Spencer as Lyndy Fleming
Michelle Morgan as Lou Fleming Morris
Gabriel Hogan as Peter Morris
Shaun Johnston as Jack Bartlett
Jessica Steen as Lisa Stillman
Chris Potter as Tim Fleming
Michelle Nolden as Jessica Cook
Kerry James as Caleb Odell
Baye McPherson as Katie Fleming-Morris
Ava Tran as Parker Yang
Drew Davies playing Logan and Shawn Roberts playing Sam Langston are getting more screen space in the 16th season. We may see more of them in the next season.
Jessica Amlee's (Mallory) and Jake Church's (Jake) return this season has surprised many fans. It would be interesting to see if we will get to see more of them in the next season.
Alisha Newton (Georgie Fleming-Morris) hasn't featured in the new season yet. So, her presence is still questionable for the next season. Robert Cormier (Finn) won't be returning as he recently passed away due to injuries.
Amber Marshall shares, "It is hard to believe I have been part of 250 HEARTLAND episodes. When I look back and do the math, I've spent over 1700 days on set which is roughly 20,400 hours. I really can't imagine a better group of people to create something so special. We are all so proud of this show."
Is there any trailer?
Currently, production on Heartland Season 17 has started. Consequently, there isn't a trailer for it as of now. However, we promise to inform you as soon as we learn more. In the meantime, you can watch the trailer for Heartland season 16.
Check it out below?
Where to watch the previous seasons of Heartland?
Viewers in the United States can stream the first fifteen seasons of Heartland on Netflix. Netflix subscribers in the US need to wait a long before Season 16 makes its debut on the streaming service. Here's when Heartland Season 16 be on Netflix US. Here's our guide on how to watch Heartland from anywhere in the world.
Is Heartland based on a book?
Yes! Heartland is based on the popular book series of the same name written by Lauren Brooke. There are 25 books in the series published between 2000 and 2008.
Disclaimer: This story is auto-aggregated by a computer program and has not been created or edited by filmibee.
Publisher: Source link