Review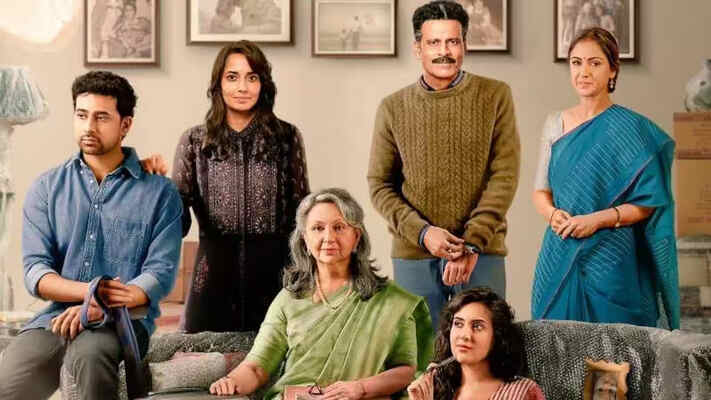 Mar 3, 2023
Gulmohar Movie Review (Disney +Hotstar)
Average Ratings: 3.71/5
Score:100% Positive
Reviews Counted:8
Positive: 8
Neutral:0
Negative:0
Ratings: — Review By: Komal Nahta Site:Zee ETC Bollywood Business
On the whole, Gulmohar is a well-made and well-enacted film for the gentry. Had it been released in cinemas, it would've found the going tough because of lack of several ingredients of a commercial film. But it is good that it has released on a streaming platform because the audience on OTT tends to accept 'different' fare more easily.
Visit Site For More
Ratings: 4/5 Review By: Saibal Site:NDTV
Admittedly, there are some plot elements here that rely overly upon happenstance, but that does not take anything away from the combination of warmth and clear-eyed discernments that underpin Chittella's unpretentious but hugely effective storytelling style.There is a great deal of beauty in the muted melodrama. There is just as much technical finesse in the film. It is perceptive and poignant in equal measure. With Sharmila Tagore, returning to the screen after a hiatus of more than a decade, and Manoj Bajpayee in immaculate form, Gulmohar is a treat all the way.
Visit Site For More
Ratings: 3/5 Review By: Alaka Site:Indian Express
Gulmohar is about fractured relationships, complex emotions and healing. The narrative dedicatedly follows that emotional trajectory, notwithstanding the plot holes. The movie, however, lacks the exuberance and intensity of Monsoon Wedding, which makes the latter hard-hitting and heartwarming at the same time. But then, as Tagore says in the movie, it's what it is "meant to be".
Visit Site For More
Ratings: 3.5/5 Review By: Sukanya Site:Rediff
Perhaps the complexities put forth are too easily resolved. Perhaps they were never so severe in the first place. It's a widely held belief that home is where the heart is. Gulmohar agrees and bares its own in doing so.
Visit Site For More
Ratings: 3.5/5 Review By: Shubham Site:Koimoi
Gulmohar is a personal movie that speaks of families and what makes them. Maybe put aside your judgemental gaze and give this one a try, it will only move you.
Visit Site For More
Ratings: 3.5/5 Review By: Dhaval Site:Times Of India
Gulmohar's narrative loses pace in a few places, but it will still keep you interested throughout. Watch the movie to revel in the stories and characters, and you will find many heartbreaking yet heartwarming moments.
Visit Site For More
Ratings: 4.5/5 Review By: Gautaman Site: News18
Beautifully scripted and excellently performed, Gulmohar comes as a lovely piece of work after a long time. Sharmila comes back to the screen after a decade, and as the mother torn between guilt of having been a party to the will and her immense love for Arun, she will remain in memory for a long time. Gulmohar, despite its large canvas, does not lend to any confusion. An immensely watchable family drama.
Visit Site For More
Ratings: 4/5 Review By: Shweta Site:India Today
After a long time, there's a Hindi film that will evoke a multitude of emotions. So, keep those tissue papers ready while you sit to watch this heartwarming film.
Visit Site For More
Also Try:
Highest-Grossing South Indian Movies
Top South Indian Movies of All Time
Gulmohar Story:
Set in present day New Delhi, Gulmohar tracks the final four days, leading up to Holi, of the Batra family as they pack their belongings to move out of their thirty-four year old family home. Amid the chaos of packing up the house, the film interweaves individual story-lines of various members of this house, who are recognizable characters to most of us, and portrays their interpersonal relationships, as we unfold secrets of the past, tensions of the present and uncertainties of the future. In current testing times, Gulmohar serves as a love song to the times that we are living in today and creating for tomorrow and explores the meaning of family and home – the only two things that have always mattered, more so now than ever.
Gulmohar Release Date:
3 March 2023 straight to Zee 5
Gulmohar Cast:
Sharmila Tagore
Manoj Bajpayee
Simran
Suraj Sharma
Amol Palekar
Gulmohar Director: 
Rahul V. Chittella
Gulmohar Producer: 
Vikesh Bhutani
Rahul Chittella
Shujaat Saudagar
Gulmohar Production Companies:
Star Studios
Autonomous Works
Chalkboard Entertainment
Gulmohar Distribution Companies:
Failed to release in theaters ended up on Disney + Hotstar
Gulmohar Runtime: 
2 Hours 11 minutes
Read More About Celebs:
Salman Khan | Shahrukh Khan |Aamir Khan | Ranbir Kapoor 
 Hrithik Roshan | Akshay Kumar
Rajeev Masand , Taran Adarsh, Komal Nahta , Anupama Chopra Reviews are awaited for this movie
Disclaimer: This story is auto-aggregated by a computer program and has not been created or edited by filmibee.
Publisher: Source link