Movies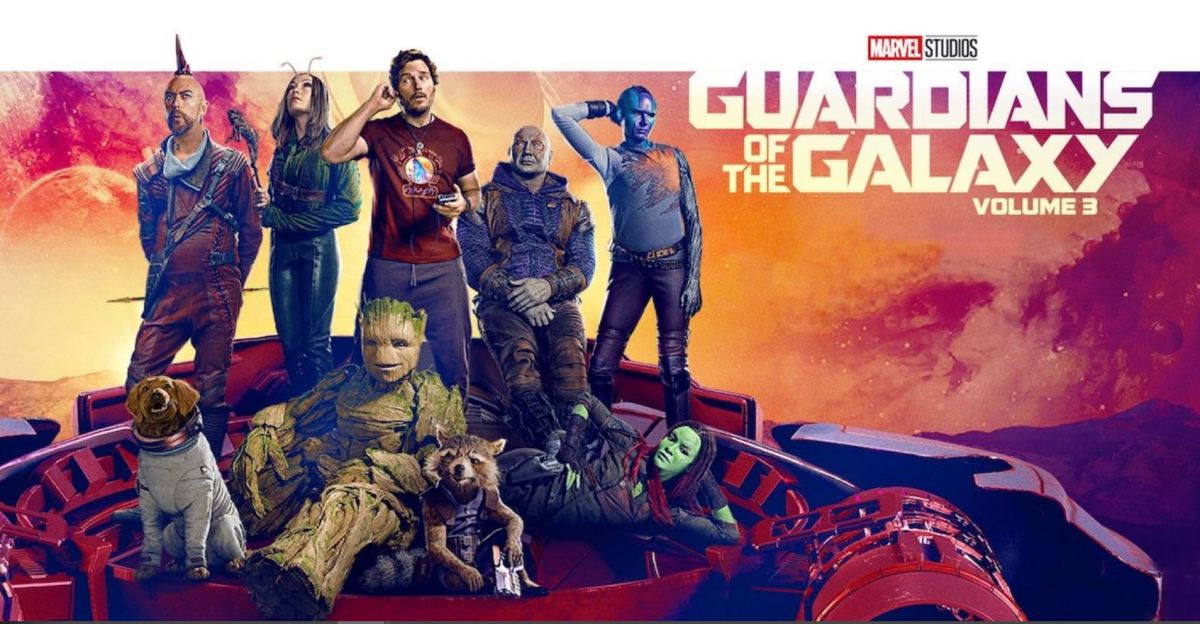 May 4, 2023
Guardian angels for the devil too – Beyond Bollywood
Although a superhero hero film, writer-director James Gunn's film scores high on moral and sentimental value. No fatigue factor as Marvel deliver an engaging, entertaining threequel.
Rating; 3 / 5
By Mayur Lookhar
As an ardent fan of the franchise, a six-year wait feels like an eternity. Marvel Cinematic Universe and writer, director James Gunn have completed the trilogy with Guardians of the Galaxy Vol. 3 [2023]. Fatigue usually creeps in from the threequel.
For close to an hour, we felt that Guardians of the Galaxy Vol.3 might suffer from it. Peter Quill alias Star-Lord and co. do their usual silly, funny things, but we feared that this popular franchise might drop the 'guard' here.  Much of this frustration stemmed from its 'High Evolutionary' antagonist. We come to him later. Vol.3 partly triggered the GOTG Vol.2 [2017] nostalgia. The primary conflict here [Vol.3] though centers around Rocket Racoon with Star-Lord and co. pulling all the strings to save their dying friend.
We say friend but this bunch has never been as thick as thieves.  The coming together of this bunch is more by default. In fact, most of them were baying for each other's blood when they first met. Fighting the larger evil, and some vested personal interest, brought Star-Lord [Chris Pratt], Zamora [Zoe Saldana], Rocket [voiced by Bradley Cooper], Groot [voiced by Vin Diesel], and Drax [Dave Bautista] together. Nebulla [Karen Gillan] badly wanted to kill her sister Gamora in Guardians of the Galaxy [2014] and Vol. 2 [2017], but she let go off the vengeance and eventually buried the hatchet.  Mantis [Pom Klementieff], who served the evil Ego (Quill's father) in Vol.2, eventually sided with the GOTG. 
Apart from being foe-turned-friends, each of these characters are renowned for their imperfections. Save for Peter Quill, the rest don't look like your conventional superheroes. They do and say silly things. Pass silly jokes on each other. The desi would label them as PJs [pakao (boring) jokes). Argue with each other. Each of them is scarred by past, even Groot. Chaos, confusion, madness galore when they are around. Jeez, but it's the imperfection that made them the darling of the Marvel masses. This is by far the most humorous franchise in the Marvel Cinematic Universe.
The color, chaos, silly humour, crazy action all combined to make GOTG a highly entertaining franchise. The threequel perhaps doesn't quite recreate the same thrilling, wacko experience of the preceding films but Vol. 3 is soul-stirring to the core.  Writer-director James Gunn moves with you with the poignant backstory of Rocket Racoon [Bradley Cooper] and his three inmates – the Otter Lylla [Laura Barton], the Walrus Teefs [Asim Chaudhry], and the rabbit Floor [Mikaela Hoover]. The quartet initially believed that they were destined for a better world but soon unearth that they were simply Guinea Pigs for the self-proclaimed God, High Evolutionary [Chukwudi Iwuji]. The latter's crazy experiments are bound to raise a debate in science labs on planet earth where animals are used as Guinea Pigs. Scientists will hit back at creative people pointing out how the world first needs to take animals off their menu. Should we all go vegan folks?
The opening hour has its moments but doesn't build consistent engagement. The antagonist High Evolutionary is likely to polarize views. Here's an evil masquerading as a God wearing the Black man's skin.  The white God Ego [Kurt Russell] built and destroyed planets in pursuit of power and utopia in Volume 2.  His creations were eye-catching. The world that the black God High Evolutionary creates in Vol.3 is perhaps weird, and not a sight to behold.  It begs the question whether a man with a black skin isn't capable enough of creating a beautiful, perfect world?  That's for viewers to decide, but maybe, the white man needed to be given a break from these goddamn roles.
That early haughtiness on Chukwudi Iwuji's face seemed staged. Much like the character, Iwuji's performance, too, blows hot and cold.  The Egos, the Grand Masters, the Thanos, at least have some charisma. High Evolutionary looks pretentious and is on a vanity trip from scene one. Thankfully, when the mask is eventually off him, what lies behind is no dark/white/blue man but pure face of evil.  In a crucial scene, Star-Lord mutters a hilarious dialogue to describe the man. Difficult to recall the exact words but Star-Lord's description included the world Skeletor-like.
The first hour feels academic. High Evolutionary is a senile antagonist. His creations strike you as dim wit souls. For all the hype around his impenetrable pad, the Guardians of the Galaxy find their way in it with relative ease. To be fair to James Gunn, the foot soldiers of many a powerful MCU villains have this 'come-hit-me' attitude – The Chitauri from Avengers [2012] take the cake here. The weak foot soldiers, though, are more acceptable in a GOTG franchise that eyes humour even in conflict scenes.
Vol. 3 picks up momentum in the final hour with riveting action, cathartic moments, banter and much improved visual effects. Jeez, it is Groot who draws the biggest whistles as he pulls off some breathtaking action moves. Mantis comes a close second as she displays ferocious strength in certain combat scenes. One cathartic moment is followed by another as Rocket, Drax, Star-Lord, Mantis and even Nebulla gets emotional.  Jeez is it too much schmaltz? To each its own, but it's the emotional connect that draws you to these fantasy characters.
Vol.2 suggested that Ayesha [Elizabeth Debecki], the High Priestess might be the chief antagonist in Vol. 3. but she meets her fate in High Revolutionary's destructive world. Rocket is left fighting for his life due to the opening attack by Ayesha's son Adam Warlock [Will Poulter]. At the end of it all, Guardians of the Galaxy emerge as noble souls who'd even guard the very devils that want them dead.
The chief antagonists are a little underwhelming but all protagonists are very efficient in their acts. Pom Klementieff is the surprise packet here. With the plot around Rocket, Bradley Cooper gives another tour de force in a voice over act. Maria Bakalova, who earned an Academy nomination for Borat Subsequent Moviefilm [2021], joins the franchise voicing for the pooch Cosmo: The Space dog.  Gunn changes the gender from the original [comic], but this is a character also partly inspired by Laika, the Soviet space dog.  Cosmo's psionic abilities saves the day for the GOTG and co. Much like Thor: Love and Thunder [2022], James Gunn, too, targets the child audience. The little adorable kids in the finale action are a sight to behold.
Desi audiences, who are often starved for good content, will once again bank on Hollywood, in particularly Marvel to satiate their appetite for quality cinema. Gunn's Guardians go all guns blazing in the final hour making it a memorable, sentimental and thrilling experience for the viewers.
Disclaimer: This story is auto-aggregated by a computer program and has not been created or edited by filmibee.
Publisher: Source link