Review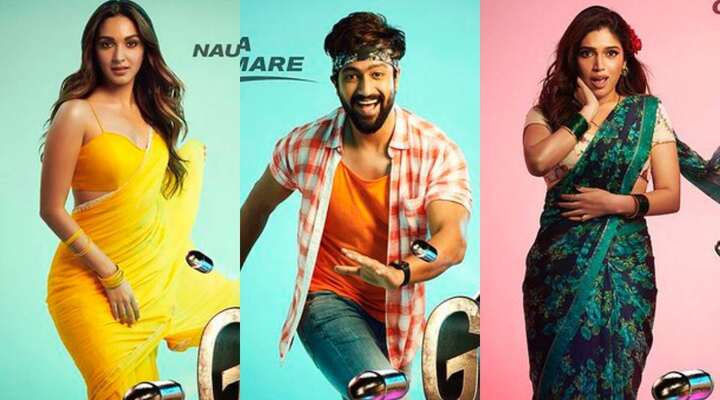 Dec 16, 2022
Govinda Naam Mera Review – Bollymoviereviewz
Average Ratings: 2.42/5
Score:40% Positive
Reviews Counted:9
Positive: 2
Neutral:4
Negative:3
Ratings: — Review By: Taran Adarsh Site: Twitter
Director ShashankKhaitan now delivers yet another entertaining fare for DharmaProductions: GovindaNaamMera… The comic-caper also proves that Khaitan has not limited himself to any specific genre.
Visit Site For More
Ratings: — Review By: Komal Nahta Site:Zee ETC Bollywood Business
Shashank Khaitan has written a good story and screenplay with so many different tracks. Although the drama at times looks a bit too convenient, the overall writing is quite nice. The suspense track is particularly interesting, and the revelation of the suspense is truly nice. If the dramatic, courtroom and family drama scenes are entertaining, so are the light scenes, especially in the first half. The bickerings between Govind and Gauri are very funny. Equally funny are the tracks of maid Manju and of Ajit and Sandy Dharker. Shashank Khaitan's dialogues are full of fun.On the whole, Govinda Naam Mera is an entertaining fare which can be enjoyed with the family.
Visit Site For More
Ratings: 3.5/5 Review By: Sonil Site:News18
Who isn't guilty of enjoying a little extra cheese and corn in their movies? This is the kind of low-brow humour you enjoy without pretensions. I truly enjoyed the inspired lunacy, the nonsensical narrative. It's not great cinema and definitely it is not perfect or extraordinary in any way. It is a good weekend watch with your family, partner or gang of friends with a paisa vasool feel.
Visit Site For More
Ratings: 1.5/5 Review By: Shubhra Gupta Site: Indian Express
This should have been a riot. It feels like each of these characters should have had a moment or two that they could own. What's the point of scam artists, trying to pull a fast one on each other, otherwise? But you are hard put to recall one stand-out sequence in the two-hour and some film, which starts feeling longer than it should almost as soon as it starts. A character, ostensibly living with the debilitating impact of a stroke, is set up for laughs. No kidding. Even the songs-and-dances, pictured on the agile pair of Kaushal and Advani, are forgettable. So is the film.
Visit Site For More
Ratings: — Review By: Anupama Chopra Site: Youtube
Govinda Naam Mera ends with someone giving a lengthy explanation of how the pieces of the puzzle fit together but frankly by that time I was past caring. I was missing Karan Johar's installment in Lust Stories, which was the first time we saw Vicky and Kiara together. That 33-minute short is way more fun than this film.the rest is a cacophony of banal characters stuck in outlandish situations desperately trying to draw some laughs
Visit Site For More
Ratings: 2/5 Review By: Tushar Site:India Today
Govinda Naam Mera is a letdown because it doesn't know what it wants to be – a comedy? a thriller? a romantic drama? It's neither here nor there. As a result, the experience, especially in the first half, is as messy as the film's script. Songs pop out of nowhere and do very little to add to the entertainment value. Dialogues are cringe worthy and sound like rejects from a stand-up show. Govinda Naam Mera is a khichdi gone bad and a classic case of too many cooks spoiling the broth.
Visit Site For More
Ratings: 2/5 Review By: Sukanya Verma Site: Rediff
Double-crossing partners, tattle tale domestic help, commission hungry agents well-versed in crooked dealings abound as Govinda Naam Mera tries so hard to be fun it forgets to have any. By the time the truth reveals itself, which we are pretty much pushed in a corner to learn, nobody cares.
Visit Site For More
Ratings: 2.5/5 Review By: Parina Site:India TV
Govinda Naam Mera, starring Vicky Kaushal, Kiara Advani and Bhumi Pednekar, is not just about comedy but is loaded with many twists and turns which makes it a quirky thriller. Although it becomes pretty predictable once the puzzle pieces start to come together, the film keeps you hooked until the end. A decent and entertaining watch for the weekend!
Visit Site For More
Ratings: 3/5 Review By: Shubham Site:Koimoi
Govinda Naam Mera is a harmless absurd comedy that doesn't take itself seriously but is also clever. You need to watch this for Vicky Kaushal and his range.
Visit Site For More
Also Try:
Ayushman Khurrana Upcoming Movies
Varun Dhawan Box Office Collection
Govinda Naam Mera Story:
The very charming Govinda Waghmare juggles his time and love between his wife Mrs. Waghmare and his girlfriend in this dose of chaos, confusion, and laughter.
Govinda Naam Mera Release Date:
16 December 2022 straight to Disney + Hotstar
Govinda Naam Mera Cast:
Vicky Kaushal
Bhumi Pednekar
Kiara Advani
Govinda Naam Mera Director: 
Shashank Khaitan
Govinda Naam Mera Producer: 
Karan Johar
Hiroo Yash Johar
Apoorva Mehta
Shashank Khaitan
Govinda Naam Mera Production Companies:
Dharma Productions
Viacom18 Studios
Govinda Naam Mera Distribution Companies:
Failed to release in theaters
Govinda Naam Mera Run Time: 
2 Hour 11 Minutes (131 minutes)
Read More About Celebs:
Salman Khan | Shahrukh Khan |Aamir Khan | Ranbir Kapoor 
 Hrithik Roshan | Akshay Kumar
Rajeev Masand , Taran Adarsh, Komal Nahta , Anupama Chopra Reviews are awaited for this movie
Disclaimer: This story is auto-aggregated by a computer program and has not been created or edited by filmibee.
Publisher: Source link