Movies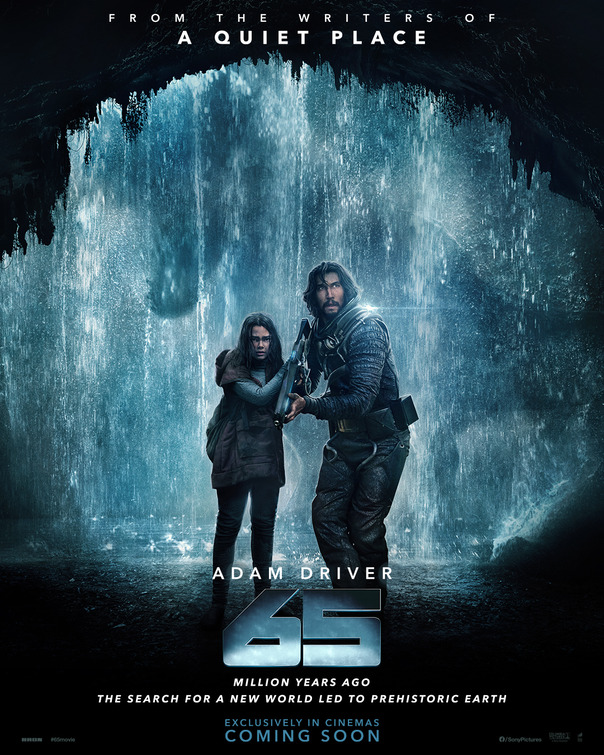 Mar 10, 2023
Going beyond the world that existed 65 million years ago – Beyond Bollywood
The dinosaurs are there, but Scott Beck, Bryan Woods give a whole new dimension to the creature, sci-fi space. Adam Driver, Ariana Greenblatt impress in a largely dual show.
Rating: 3.5 / 5
Creature, fantasy films are real escapism. You don't need to be in the mood to catch them. But if nature sets you up for one, it's all the more exciting. 48 hours and counting, this reviewer is intrigued by a leopard straying into the vicinity. The feline's presence has naturally set the cat among the pigeons.  Well, in Scott Beck and Bryan Woods' reel world, though, the cat here is the human. There are no pigeons but monsters who rule the land.
65 [2023] takes us into the time of the Jurassic age. Inspired by author Michael Crichton's Jurassic Park novels, Universal Pictures, Amblin Entertainment brought the dinosaurs back to life in a contemporary cinema. Three decades, and many films later, the dinosaurs have only got bigger in the millennium.  What does then Scott Beck and Bryan Woods have to offer?
Firstly, 65 is not any conventional sci-fi creature film. Writer-director duo of Beck and Woods turn back the clock 65 million years ago presenting planet earth as it was then, but they turn the history of mankind on its head.
65 million years ago, a spaceship crash lands into an unknown territory. The only moving being in this crash is the astronaut Mills [Adam Driver].  All his fellow passengers are dead. There's a moment where he harbors suicidal thoughts but then refuses to give in. Few seconds later, he finds that one of the passengers is still alive. That turns out to be one little girl Koa [Ariana Greenblatt]. Communication is a problem as the girl doesn't speak English. Soon, the duo unearth of the dangers and the creatures that exist in this unknown planet, which we now know as Earth. 
Having mankind 65 million years ago is fine, but surely back then, they couldn't be technologically as advanced as shown in Woods and Beck's film. It's here that the concept of 'heaven' comes in handy. 65's fiction speaks of civilizations in other planets that they term as heavens. Mills, and perhaps his sole surviving passenger Koa come from one such fictional heaven called Somaris. The heavens are enough to justify its 65-million-year-old science fiction. Not for a moment you feel odd about the hi-tech stuff, clothing.
The survival tale goes along expected lines, but it's the immersive screenplay, production design, background score that gives the viewers a sense of what it could be like to spend a day in the Jurassic age.  Beck and Woods cleverly weave in the final day of the Cretaceous period adding more drama to their sci-fi, creature, survival thriller.
It's our introduction to Adam Driver and Greenblatt. With a name like that, Adam was a natural fit to 65. Mills has left behind a wife and a daughter in Somaris for this space exploratory mission.  The crash-landing, casualties, only two survivors, one being a girl probably of his daughter 's age!  As Master Oogway from Kung Fu Panda says, "There are no accidents" The heavens chose Mills and Koa for this deadly trip. Driver impresses with his intensity, action but it's the paternal attitude that draws you to Mills.
Greenblatt speaks a different language. Credit to the writers, directors who don't use subtitles. The pictures and the emotions speak for themselves. Young Koa is very vulnerable in this hostile environment, but she, too, shows tremendous surviving spirit.
Driver and Greenblatt work as a tag team and their organic bonding builds further engagement. The directors haven't lost sight of Koa's tender age. Mills is firing all around to ward off the threat of the rampaging small reptiles. One such creature then drags Koa away be her hair before Mills saves the child.  Shaken by the reptile, Koa is equally rattled by the killing spree of Mills. The girl is so scared that she turns to a corner and doesn't even look back at Mills, who gives her time to calm her nerves.
For 30 years, we've identified the Jurassic age with Universal Pictures Jurassic Park theme franchise. The fatigue is natural. The last two films in the Jurassic World franchise left us disappointed to the point that we asked if it was time that these dinosaurs were put to bed? Sony Pictures, Sam Raimi, Columbia Pictures have breathed new life into the genre by simply placing two humans in the Jurassic age – 65 million years ago.
The climax wasn't quite perfect but 65 has enough thrill, impressive technology, abled cast to give a whole new dimension to this space.
65 [2023] is set to be released in India on 10 March.
Disclaimer: This story is auto-aggregated by a computer program and has not been created or edited by filmibee.
Publisher: Source link