Movies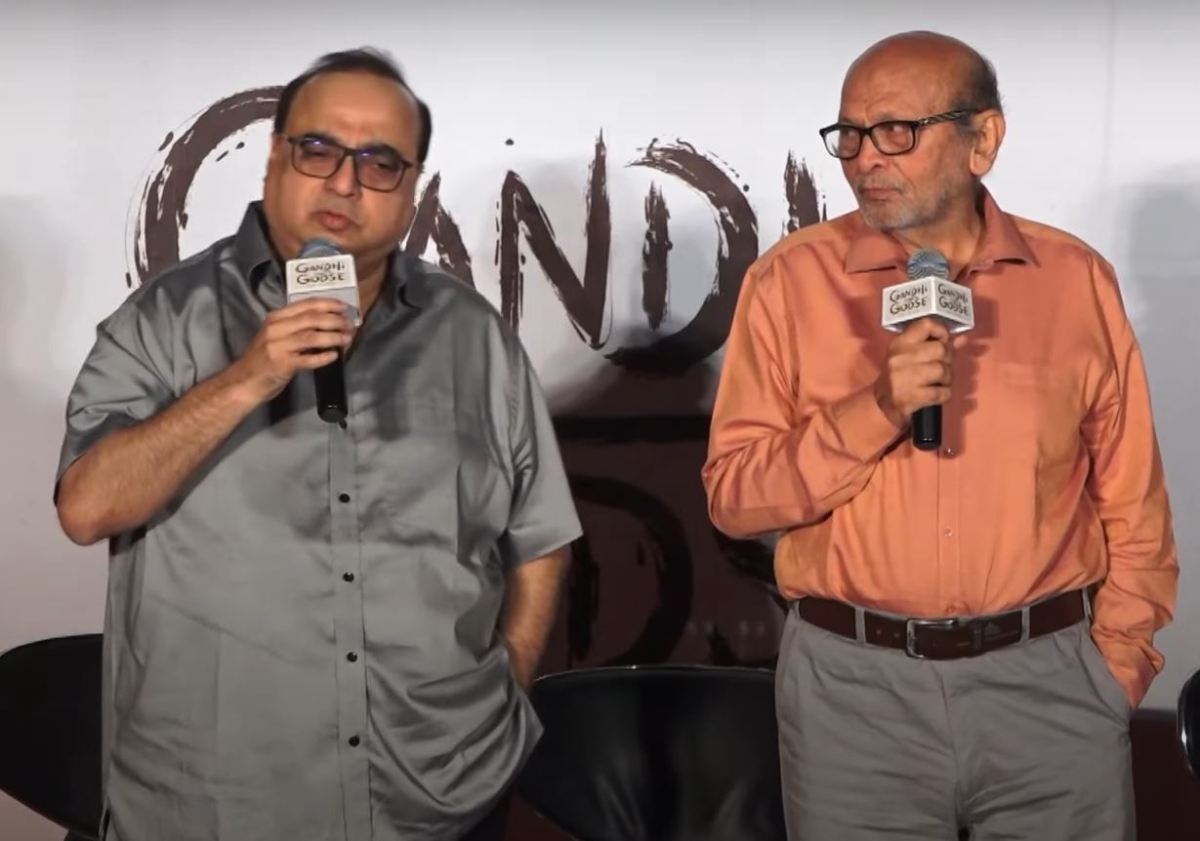 Jan 12, 2023
Gandhi was autocratic, sidelined Sardar Patel, Bose. Godse was no terrorist – Beyond Bollywood
Filmmaker Rajkumar Santoshi braves to question the Father of the Nation, and perhaps eulogizes his killer in his upcoming fictional historical film Gandhi Godse Ek Yudh.
By Mayur Lookhar
Time to revisit a history that will make the grand old party of India nervy. Filmmaker Rajkumar Santoshi returns after a gap of nine years with the historical fictional film Gandhi Godse Ek Yudh [2023]. It stars Deepak Antani playing Gandhi, while Chinmay Mandlekar plays Nathuram Godse, the man who killed the Father of the Nation.  With a tagline of Vicharon ka yudh [war of ideology] Santoshi throws a hypothetical situation where Gandhi survived the assassination attempt by Godse. Upon recovery, he expresses a desire to have a dialogue with the Hindy hardliner.
For over 70 years, Gandhi is idolized as a man of peace both in India and the world. Whereas Godse was forever condemned as a terrorist in history. Naturally, Santoshi's bold film is likely to incur another Gandhi vs Godse debate, and with it invite controversy and criticism.
"I have empathy for both Godse and Gandhi," Santoshi made it clear early during the trailer launch presser.
"I empathize with the latter because whilst he's been credited for many things but Gandhi has also faced many criticisms. Unfortunately, he didn't have time to defend against those allegations. Till date, people still question as to why he didn't save Bhagat Singh? Why he agreed to give Rs55 crore to Pakistan?" asked Santoshi.
Expressing his empathy for Godse, the filmmaker said, "Godse had given a statement in court [during his trial]. I feel that his words were suppressed. People have the right to know about it. What is it that we are fearing? Let people know, so they can form their own opinion. You can call it rubbish, but he can't be denied his right.  This film gives that right to both Godse and Gandhi.  We've given them that opportunity without being partial to anyone".
The director reminded all how even a convict is asked his last wish before s/he is hanged.  Santoshi wants Godse's voice to reach the people after so many decades of gaining Independence.
"This is a democracy. It is a human's birthright to ask questions. Godse was not a contract killer. He was no terrorist. He took a step [killing Gandhi]. Was it right or wrong? We even have a dialogue – [Gandhi telling Godse] that history will decide his action. We're in history today. Let the people decide after hearing Godse and Gandhi [in this film].  As a filmmaker, I've been very honest. I don't belong to any party. This is not a propaganda film. It's an honest film," quipped the filmmaker.
A tagline of Vicharon Ka Yudh, but did Godse kill his own ideology the moment he killed Gandhi ji on 3-, January, 1948?
"When you watch the film, you may learn that the act was a bigger purpose. If you see from the trailer, early on Gandhi never wanted to have any discussion on ideology. He had become too big even for the government and nation. How do you then talk to him? If you had said anything to him, then he would have gone on a hunger strike, and the world would have said, please let it go, Gandhi would die.  I think Godse was perhaps pushed to a corner. He thought that this [killing] Gandhi is the right way," replied Santoshi.
Another scribe pointed out how Godse blamed Gandhi for India's partition and being empathetic towards Muslims.
The filmmaker then braved to further raise contentious points about Mahatma Gandhi.
"Godse's resentment towards Gandhi stemmed from many things.  Sardar Patel was sidelined. Everyone had voted for Patel to become the PM. Gandhiji sidelined him. He even sidelined Subhash Chandra Bose," Santoshi says, "Gandhi's behavior was very autocratic.  We have a dialogue how Gandhi talked about democracy but didn't respect majority view.  The problem was that most people simply bowed to Gandhi."
Needless to say, that the film and Santoshi's strong views on Gandhi and Godse is likely to create discussions in social, political and media circles. Gandhi Godse Ek Yudh is set to be released in theatres on 26 January.  Watch the trailer below.
Disclaimer: This story is auto-aggregated by a computer program and has not been created or edited by filmibee.
Publisher: Source link