Celebrity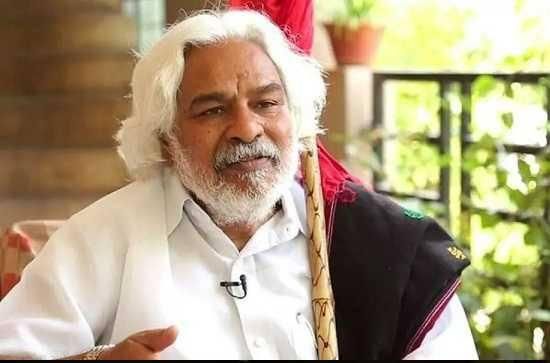 Aug 6, 2023
Gaddar passes away, Condolences Pour in for Poet
Gaddar passes away, Condolences Pour in for Poet
Gummadi Vittal Rao, popularly known as Gaddar, has left a void in the hearts of many as news of his passing broke on Sunday. The renowned folk artist and activist was undergoing treatment at Apollo Hospitals in Hyderabad when he breathed his last. Gaddar, also known as the "people's singer," had a significant impact on the cultural and political landscape of Telangana. Born in 1949, Gaddar's journey as an artist began with poetry and music. His powerful words and soul-stirring songs resonated with people from all walks of life. He used his art as a medium to address the injustices faced by the region, becoming a voice for the voiceless. Gaddar's music not only entertained but also inspired and mobilized the masses.
Before gaining popularity as a folk artist, Gaddar was a member of the Naxalite movement, a revolutionary socialist group that advocated for land reforms and social justice. However, in 2010, he decided to shift his focus and join the Telangana statehood movement. His decision to switch sides showcased his unwavering commitment to fighting for the rights and aspirations of the people of Telangana.
#Gaddar anna 🥹 pic.twitter.com/htJuBDBjyf

— KPR (@pratikreddyk) August 6, 2023
Gaddar's contribution to the Telangana movement is immeasurable. His songs became anthems of resistance, empowering the people to fight against the socio-political inequalities prevalent in the region. Through his music, he captured the essence of the struggles faced by the common man and transformed them into compelling narratives.
Beyond his artistic endeavors, Gaddar was known for his dedication to social causes. He actively participated in various campaigns and movements, advocating for the rights of farmers, laborers, and marginalized communities. Gaddar's unwavering commitment to social justice and his ability to connect with the masses made him a revered figure in Telangana and beyond.
As news of Gaddar's passing spreads, tributes pour in from all corners of the Telangana. Political leaders, fellow artists, and fans alike mourn the loss of a cultural icon. Gaddar's legacy as a fearless artist, activist, and champion of the people will continue to inspire generations to come.
#Gaddar rest in peace 🙏🏻 pic.twitter.com/vok4Yrxehi

— sandeep reddy_JSP 🔯 (@reddysandeep832) August 6, 2023
Singer and Telangana State
movement Agitator Gunmadi Vital Rao, popularly knows as #Gaddar garu passed away.. RIP 💔💐 pic.twitter.com/MhWPFp9oaK

— Twood VIP™  (@Twood_VIP) August 6, 2023
While Gaddar may no longer be with us, his music and message will forever be etched in the hearts and minds of those who were touched by his artistry. His songs will continue to be sung, resonating with the spirit of the Telangana movement and reminding us of the power of music to ignite change.
Gaddar's journey may have come to an end, but his impact on society will live on. As we bid farewell to this remarkable artist, let us remember his words, his melodies, and the indomitable spirit that made Gaddar a true legend. Rest in peace, Gaddar.
Related
Disclaimer: This story is auto-aggregated by a computer program and has not been created or edited by filmibee.
Publisher: Source link