Review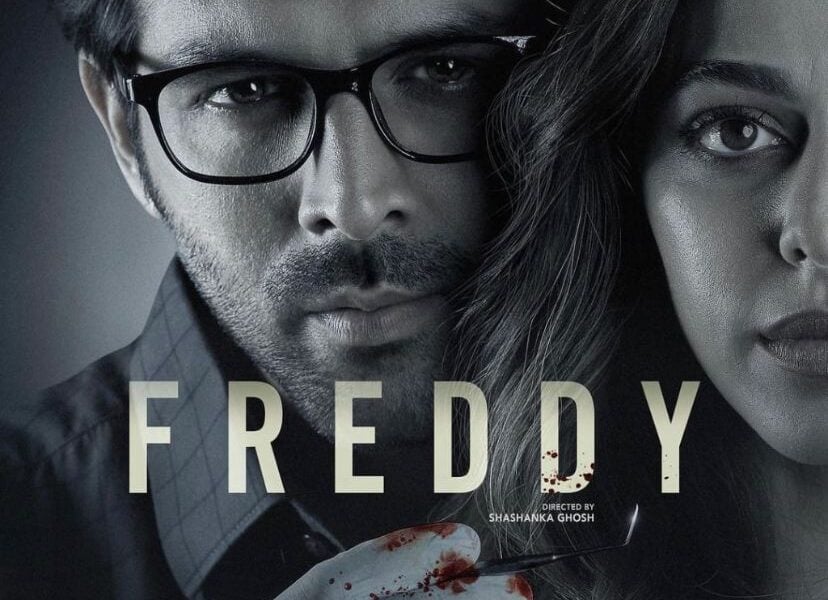 Dec 2, 2022
Freddy Review: Slightly uneven but delivers the thrills
Freddy
Director: Shashanka Ghosh
Cast: Kartik Aaryan, Alaya F
Streaming on: Disney+ Hotstar
A saying goes, "You watch a comedy; you participate in a tragedy." But when a tragedy involves lunatics, I'd rather watch it than participate. Such was the case with Freddy. Kartik Aaryan plays Dr. Freddy Ginwala, a dentist still suffering from childhood trauma. His trauma has made him introverted, anxious, and inferior, if you may. That has resulted in borderline creepy behavior. He wants to get married but has a problem communicating with girls. Until he meets Kainaz Irani (Alaya F), a pretty girl who is married to an abusive man Rustam Irani (Sajjad Delafrouz).
Kainaz comes to Freddy to remove her wisdom tooth. They start meeting often and grow closer. A passionate make-out in a movie theatre makes things clear that both of them are drawn toward each other. Kainaz's husband keeps beating her. Your sympathy is with Kainaz and Freddy. Freddy's father shot his mother and little Freddy saw it in front of his eyes. Freddy is convinced that he can kill Rustam for Kainaz. She approves the plan after initial reluctance. Kill him or keep getting beaten, Freddy tells Kainaz.
So, Freddy skilfully kills Rustam by making it look like an accident. Happy that now he can be with Kainaz, Freddy visits her at her house to be shocked and humiliated. Things change drastically after this 'nice guy' decides to take revenge for his humiliation and heartbreak. There's always a point in a film when the film 'kicks in' or picks up pace. This happens in the latter part of this film. Kainaz and Freddy try to one-up each other. Kainaz is egotistic whereas Freddy keeps his cool. In a moment of thinking meta in the Bollywood movie-verse, I wondered whether Vijay Salgaonkar from Drishyam and Freddy had met someday. You can add Sanjay Mishra's character from the yet-to-be-released Vadh to make it a trio of skillful killers who kill to protect themselves or their families.
Pacy editing could have helped the film better because there are moments in the first hour or so when the film's tempo falters. It was good to see a film set in an urban setting, Mumbai, no less, after a long time. The old charm of Parsi neighborhoods in Matunga is amped up by the monsoons. The film uses a lot of blues to keep it a cold-blooded crime/psychological thriller.
The pretty, sweet debutante from Jawaani Jaaneman Alaya F is equally promising as a cunning woman. She and her co-actor Kartik Aaryan are blessed with an affable screen presence. Kartik has managed to shed the stiffness in his body language and in turn his acting. Although he doesn't completely succeed in making his performance look effortless, there's a significant improvement.
Some scenes may seem bizarre but I guess if someone has killed someone or conspired to kill, then he/she might do anything. And since you have signed on to this film for more than one and a half hours, you might go all the way to the end. That brings me to the end of the film which seemed to end abruptly or confusingly as to what are we supposed to take away from this culmination. Well, I didn't take away anything as such from this film. Although it is not an absolutely unmissable film, it is a good one time watch.
Disclaimer: This story is auto-aggregated by a computer program and has not been created or edited by filmibee.
Publisher: Source link