Review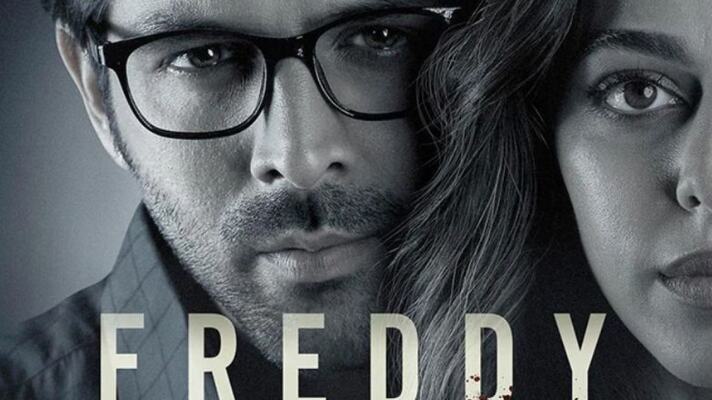 Dec 2, 2022
Freddy Movie Review – Bollymoviereviewz
Average Ratings: 2.86/5
Score:57% Positive
Reviews Counted:9
Positive: 4
Neutral:2
Negative:3
Ratings: — Review By: Taran Adarsh Site:Twitter
Loved Freddy for most parts… The twists-and-turns, double crossing and the sinister plan – this is no routine, predictable thriller… The biggest takeaway is KartikAaryan, who delivers his career-best, superb act… Refreshingly different from the characters he has portrayed.Would like to make a special mention of AlayaF, another fine talent that does complete justice to her character.PS: Freddy would've found an audience at multiplexes, had it opened in cinemas… KartikAaryan's enormous popularity would've ensured sufficient footfalls.
Visit Site For More
Ratings: — Review By: Komal Nahta Site:Zee ETC Bollywood Business
On the whole, Freddy is a good OTT watch. It is nice that it has been premiered on a digital platform as its theatrical business would not have been much.
Visit Site For More
Ratings: 2.5/5 Review By: Shubhra Site:Indian Express
How a fumbling introvert falls in love with an unsuitable girl, and the things that happen thereafter: this one-line premise, which must have been how millions of movies take birth, is fleshed out with a very Mumbai-Parsi detailing in 'Freddy'.Dental surgeon Freddy Ginwala (Kartik Aaryan) takes one look at the lovely Kainaaz Irani (Alaya F), and is smitten. But the lady is not his to conquer. What happens next takes up two hours of screen time, filled with ambitious women, foolish men, wisdom teeth that belong to the not-very-wise, and dollops of nasty twists.
Visit Site For More
Ratings: 3/5 Review By: Renuka Site:Times Of India
Freddy is fairly engaging and unsettling but it wavers to go all out. The film starts off well but doesn't reach its full potential. It skims through issues of mental health, childhood trauma and its impact on an individual, something that deserved a deeper understanding. You can watch this for Kartik though and his successful brave attempt.
Visit Site For More
Ratings: 2/5 Review By: Saibal Site:NDTV
The dentist is playing with our dimaag, says one character when matters come to a head. That is a bit of an overstatement. Dimaag is the last thing that has any chance of showing up in a film that banks upon hackneyed means to piece together a revenge tale that wants to be something removed from the run of the mill but is unable to shake off the indolence that holds it back. Freddy is a steady downhill ride.
Visit Site For More
Ratings: 4/5 Review By: Soumya Site: Times Now
My only critique, the film takes time to build up, and a few minutes on the edit bay for the first half, can do wonders for the narrative. The movie is not meant for the big screen. It is a niche watch, that those who love the genre will relish it over a cup of coffee, while journeying with our hero into the heart of darkness, as he blurs the line between what is gallant and perhaps, outright psychotic.
Visit Site For More
Ratings: 3.5/5 Review By: Smrity Site:BollywoodLife
Watch Freddy to witness Kartik Aaryan in a never-seen-before avatar. The actor is getting better with each project and outdoing himself. With Freddy, he has taken a definite risk by trying something new and difficult where lay a vast scope and danger of faltering with every scene. He has put in his dedication and hard work into playing Dr. Freddy and it shows. One extra star just for Kartik for choosing a role out of his comfort zone and doing complete justice to it.
Visit Site For More
Ratings: 3/5 Review By: Tushar Site:India Today
Freddy is dark and twisted. Watch it if you want to take a break from the candy floss version of Kartik Aaryan and see him attempt something different. You might not like Freddy, but you will still end up discussing it after the end credits.
Visit Site For More
Ratings: 2/5 Review By: Anupama Site: Bollymoviereviewz
Freddy is a movie showing the revenge saga of an introverted dentist played by Kartik Aryan. Freddy is a shy and socially introverted dentist who is searching for love and his soulmate but ends up finding love in a married woman Kainaz played by Alaya F who is in an abusive relationship.

In an attempt to free her, Freddy turns into a killer only to find that Alaya F used her and she is in love with a chef Raymond and wanted her husband killed so she can take over his restaurant with Raymond. Freddy gets devastated and starts plotting revenge and the movie is the saga of how he achieves his revenge with some twists.

Kartik Aryan is good  in a grey role while Alaya F is an average performer

Overall It is a decent revenge saga falling in the neo-noir genre but it is nothing special since it is on OTT you can watch it if you have a subscription to Hotstar if it was released in theaters I would not have recommended it
Also Try:
Upcoming Web Series & OTT movies
Ayushman Khurrana Upcoming Movies
Varun Dhawan Box Office Collection
Freddy Story:
Introverted and awkward Dr Freddy Ginwala desperately searches for a soulmate. When he finally finds her, the relationship becomes as painful as a root canal.
Freddy Release Date:
2 December 2022 Staright to Disney + Hotstar
Freddy Cast:
Kartik Aaryan
Alaya F
Freddy Director: 
Shashanka Ghosh
Freddy Producer: 
Ekta Kapoor
Shobha Kapoor
Jay Shewakramani
Gaurav Bose
Freddy Production Companies:
Balaji Motion Pictures
NH Studioz
Northern Lights Film
Freddy Distribution Companies:
Failed To Release in Theaters
Freddy Run Time: 
2 Hour 3 Minutes (123 minutes)
Read More About Celebs:
Salman Khan | Shahrukh Khan |Aamir Khan | Ranbir Kapoor 
 Hrithik Roshan | Akshay Kumar
Rajeev Masand , Taran Adarsh, Komal Nahta , Anupama Chopra Reviews are awaited for this movie
Disclaimer: This story is auto-aggregated by a computer program and has not been created or edited by filmibee.
Publisher: Source link