Sonam Kapoor Ahuja, Bollywood's original fashionista, wore a beautiful blue gown at the Hugo Boss fashion show during Milan Fashion Week. Check out her glam pics!
Sonam Kapoor is a name that continuously stands out as an embodiment of grace, style, and elegance in the sparkling world of fashion! The actress is noted for her ability to not only follow but also create fashion trends.
This Bollywood legend recently entered the hallowed halls of Hugo Boss' Milan Fashion Week event, captivating the hearts of fashion aficionados all around the world. The Blind actress made an unforgettable debut in a stunning midnight blue gown.
Sonam Kapoor is unquestionably Bollywood's reigning fashion queen. Nothing the diva can't pull off, from exquisite gowns to trendy street clothing. So, when Sonam came to Milan, Italy to attend the ongoing Milan Fashion Week for the fashion label Hugo Boss, we knew she'd bring her A-game. So it happened when she showed up dressed head-to-toe in Boss.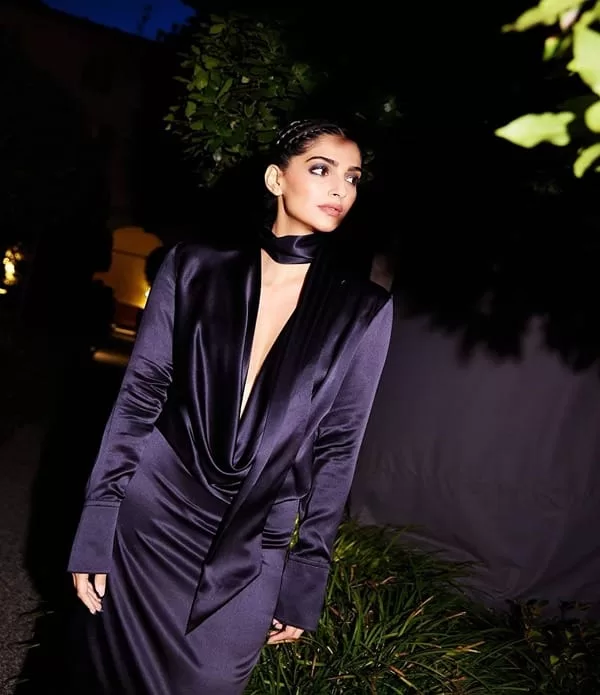 The fashion icon walked the runway in a black silk gown with a plunging cowl neckline. She left an everlasting impact on the hearts of fashion aficionados with her regal costume, validating once again that she is a true fashion icon.
This ensemble donned by the beautiful diva was more than simply a fashion statement; it was a tribute to her standing as B-Town's first fashionista. Take a closer look at her fashionable attire.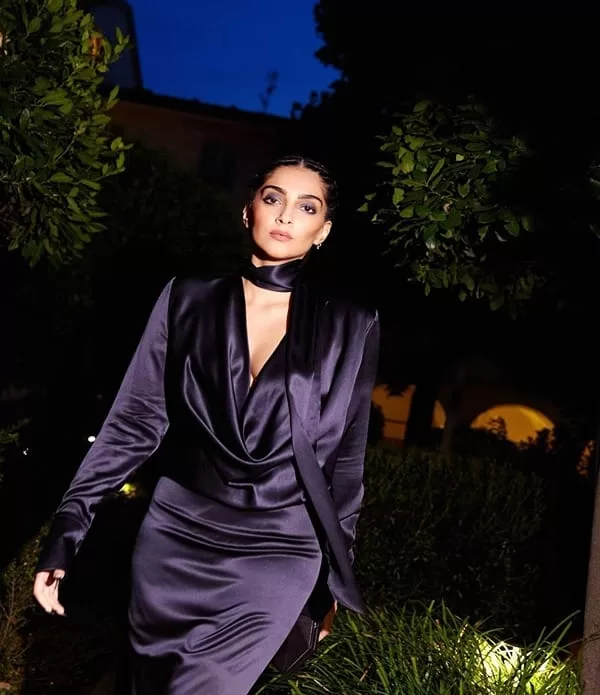 Outfit Details.
Sonam Kapoor's Ahuja looked stunning in a lovely midnight blue gown. The actress created a lasting impression with her choice of outfit. She wore a stunning dark-blue silk regal floor-length and full-sleeved gown with a plunging, cowl neckline and a fitted, body-hugging silhouette that wrapped around her curves like a charm, revealing her well-toned frame. Hugo Boss's risqué piece featured a ruched appearance and a stunning matching scarf that was undoubtedly sassy.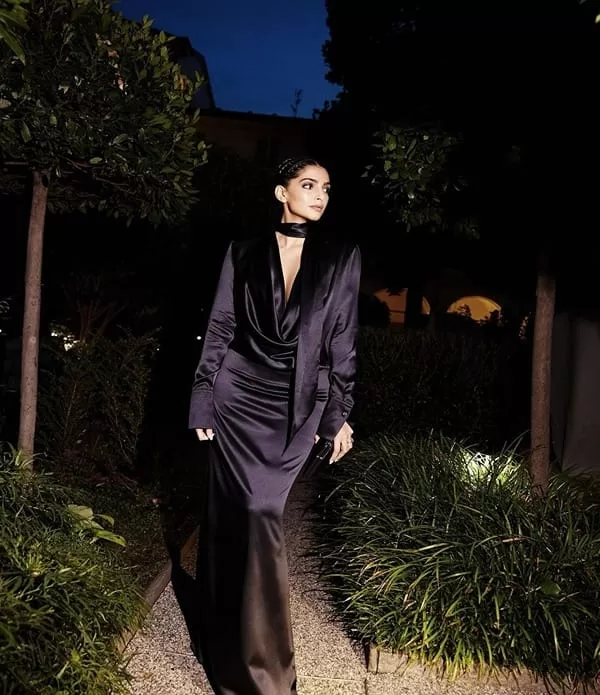 Decoding Accessories.
Sonam Kapoor wore amazing matching heels that gave stature and dignity to her gorgeous yet risqué diva look. Her choice of lovely and tiny Gen-Z-approved hoop earrings added to her overall attractiveness. Her finger was adorned with a magnificent statement ring that exuded opulence. The gorgeous actress carried a stylish box clutch, enhancing the attractiveness of her attire to a whole new level. Her hair was fashioned in a center-parted bun with crown braids to complete her outfit.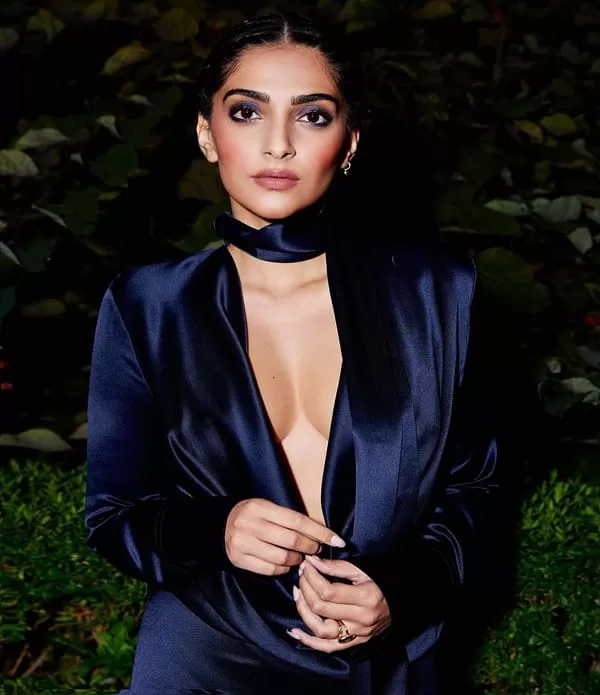 Glam Picks.
Finally, for the glam options, she chose sparkling black eye shadow, kohl-lined eyes, winged eyeliner, on-trend brows, reddened cheeks, dazzling highlighter, contouring, blush pink lip tint, and mascara on the lashes with the help of makeup artist Namrata Soni.