Movies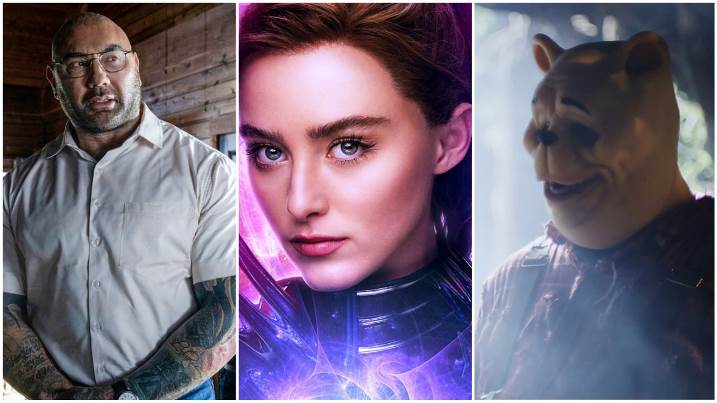 Feb 3, 2023
Every Hollywood Movie Coming To Theaters In February 2023!
February 2023 will see the release of some exciting movies like M. Night Shyamalan's Knock at the Cabin, Mike Lane's final movie, MCU's Ant-Man and the Wasp: Quantumania, and more.
February is an oddball month since we put our mental arithmetic and memory to the test when determining whether or not it is a leap year. It's the only month of the year that has a day dedicated to aggressively force-feeding us the ideals of commercialised Love and being locked in a temporal loop. The so-called "month of love" heralds the end of the dark, frigid, and gloomy winter and heralds the newfound hope, light, and warmth of spring. With January frequently considered a "dump month" for theatrical releases, February sees the steady release of several anticipated, exciting projects that, at their finest, will have us talking for the rest of the year. Let's have a look at every Hollywood movie coming to theatres in February 2023.
Knock at the Cabin
Release Date: February 3, 2023
Cast: Dave Bautista, Jonathan Groff, Ben Aldridge
Knock at the Cabin is the latest psychological thriller by M. Night Shyamalan, based on the 2018 novel The Cabin at the End of the World, by Paul G. Tremblay. A family of three is kidnapped by four armed strangers while on vacation at a rural cabin and forced to make an impossible decision to prevent the apocalypse.
The Amazing Maurice
Release Date: February 3, 2023
Cast: David Thewlis, Himesh Patel, David Tennant, Gemma Arterton
Based on Terry Pratchett's 2001 novel The Amazing Maurice and His Educated Rodents, The Amazing Maurice is an animated movie directed by Toby Genkel. It tells the tale of Maurice, a silly street-smart cat who concocts an ideal money-making scheme by becoming friends with a bunch of self-taught talking animals. When they all arrive in the town of Bad Blintz, they encounter a little girl named Malicia, and their con quickly fails.
Magic Mike's Last Dance
Release Date: February 10, 2023
Cast: Salma Hayek Pinault, Ayub Khan Din, Vicki Pepperdine
Magic Mike's Last Dance is a comedy-drama movie helmed by Steven Soderbergh and the third and final movie in the Magic Mike trilogy. After a business venture went wrong, leaving Mike Lane destitute and working as a bartender in Florida, Magic Mike's Last Dance will see him return to the stage. Also, Mike travels to London with a wealthy socialite who seduces him with a tempting offer and her purpose.
Seriously Red 
Release Date: February 10, 2023
Cast: Daniel Webber, Rose Byrne, Bobby Cannavale, and Todd Lasance
Seriously Red is a rom-com directed by Gracie Otto. The movie follows Red, a former realtor, who decides to pursue her dream of being the best Dolly Parton impersonator, after being fired from her job. She is swiftly propelled into the top tier of copycat artists when she attracts the attention of an Elvis impersonator and a formidable booking agent, becoming the onstage and loving companion of the best Kenny Rogers impersonator.
What About Love
Release Date: February 14, 2023
Cast: Sharon Stone, Andy Garcia, and Jose Coronado
What About Love is a drama movie directed by Klaus Menzel. It is the tale of Tanner and Christian, two young lovers who spend the summer together in Europe, making a movie about people's perception of love, without knowing that they are actually filming their own love story. They were also unaware that that movie would save Christian's life after tragedy struck them, impacting their parents' lives and their relationship.
Swallowed
Release Date: February 14, 2023
Cast: Jena Malone, Mark Patton, Cooper Koch, and Jose Colon
Directed by Carter Smith, Swallowed is a horror thriller which follows two friends on their final night together. In order to get some extra money, they decide to do a drug run. Things go terribly wrong as they get stuck in a living nightmare of drugs, bugs, and horrific intimacy.
Winnie-the-Pooh: Blood and Honey
Release Date: February 15, 2023
Cast: Nikolai Leon, Craig David Dowsett, Chris Cordell, Maria Taylor
Winnie-the-Pooh: Blood and Honey is a slasher movie written and directed by Rhys Frake-Waterfield in his directorial debut. It is based on the characters from A.A. Milne and E.H. Shepard's Winnie-the-Pooh books. After being abandoned for years by Christopher Robin, Pooh and Piglet, have now become wild and bloodthirsty serial killers. They begin to terrorize Christopher Robin as well as a group of young women staying at a remote house.
Marlowe
Release Date: February 15, 2023
Cast: Jessica Lange, Alan Cumming, Adewale Akinnuoye-Agbaje, Danny Huston
Based on the 2014 novel The Black-Eyed Blonde by John Banville, Marlowe is a neo-noir crime thriller directed by Neil Jordan and Marlowe. Set in 1939 Los Angeles, is about detective Phillip Marlowe, hired by gorgeous heiress Clare Cavendish to trace her ex-lover. Marlowe gets embroiled in an investigation with a wealthy family in Bay City, California.
Ant-Man and the Wasp: Quantumania
Release Date: February 17, 2023
Cast: Paul Rudd, Evangeline Lilly, Michael Douglas, Michaelle Pfeiffer
Ant-Man and the Wasp: Quantumania, directed by Peyton Reed, is the next instalment in the Marvel Cinematic Universe's Multiverse Saga. Scott Lang, Hope van Dyne, her parents Hank Pym and Janet Van Dyne, and Cassie, Scott's daughter, will all be transported into the Quantum Realm in Ant-Man and the Wasp: Quantumania. When they arrive, they will explore this mysterious realm and battle Kang the Conqueror, a time-travelling, multiversal foe who is the most formidable foe they have ever faced.
Of an Age
Release Date: February 17, 2023
Cast: Elias Anton, Hattie Hook, Thom Green, Jack Kenny
The Australian arthouse film Of an Age, an LGBTQ+ love drama that had its global premiere at the Melbourne International Film Festival, is set in part in the warm Summer of 1999. The movie tells the tale of two young men who fall in love for a day before breaking up—one is an amateur ballroom dancer from Serbia, and the other is his friend's older brother. After ten years apart, they reunite and discover that a lot has changed since they last spoke.
Jesus Revolution
Release Date: February 24, 2023
Cast: Joel Courtney, Kelsey Grammer, Anna Grace Barlow, Jonathan Roumie
Jesus Revolution, based on a true story, tells the tale of a national spiritual awakening in which a bunch of hippies invaded a Christian church in 1970s California and inspired change. The more traditionalist conservatives in the US started to express unhappiness during the Charles Manson era of the 1960s when the seeds of the hippie movement started to sprout. The Manson murders added gasoline to the fire as the 1960s gave way to the 1970s, and those hippie flowers blossomed into something altogether different.
Cocaine Bear
Release Date: February 24, 2023
Cast: Keri Russell, Brooklynn Prince, O'Shea Jackson Jr.
Cocaine Bear is a dark comic thriller written and directed by Elizabeth Banks, based on a true tale. It is the story of an American black bear who consumes a duffel bag full of cocaine. As a result, the beast goes on a deadly spree in a small Georgia town, where a group of locals and visitors band together to survive the savage attacks.
Disclaimer: This story is auto-aggregated by a computer program and has not been created or edited by filmibee.
Publisher: Source link