Movies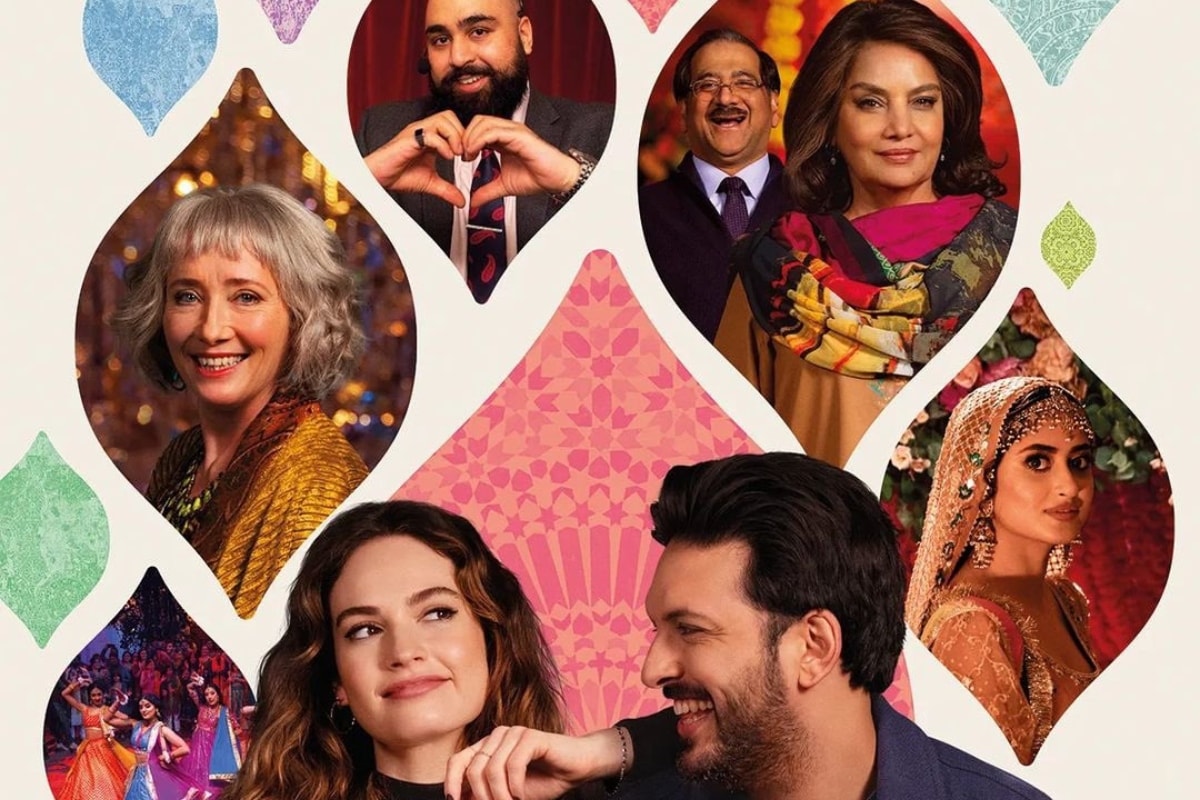 Mar 16, 2023
Emma Thompson Is Real Star; Shabana Azmi Brings Grace to Shekhar Kapur Film
Back in 1990, Chitra Banerjee, a writer of Indian-origin based in California, penned a poem titled Indian Movie New Jersey. It explored the experience of being a desi immigrant in the United States of America and how nostalgia about their home country is still an integral part of their new life. A couple of years later, filmmaker Gurinder Chadha brought the immigrant life to the big screen with Bhaji On The Beach (1992) and followed it up with many more. The common motif in her work has been Indian women living in the UK and how they struggle to converge the culture and traditions with which they grew up in their desi households and the modernity instilled in them by the West.
It is no secret that films about the sub-continental diaspora have a sacrosanct template. Characters dealing with multi-ethnicity and interracial relationships, and borderline compulsive parents hell-bent on getting their children married to the most eligible bachelor or spinster from within their own community as they struggle to keep their traditions alive in an alien, modern land and leave no stone unturned to protect their adult children from the evils of modernity are some of the ingredients that form a part of the mould. Bend It Like Beckham (2002), It's A Wonderful Afterlife (2010), The Big Sick (2017), Namaste Wahala (2020) and Wedding Season (2022), for example. The latest to join this league is filmmaker Shekhar Kapur's What's Love Got To Do With It.
Touted as a romantic comedy, it revolves around the Pakistani-origin Khan family settled in London. The mother Aisha tries her best to get her younger son, Kaz, get married to a Pakistani girl, more specifically, a girl from Khyber Pakhtunkhwa, after her daughter brought shame to the family by marrying a non-Pakistani. Aisha, along with her husband, takes Kaz to a local version of Sima Taparia, who calls himself 'Mo The Matchmaker' and runs an agency called Matrimonial Advice Bureau. Soon, Kaz begins speed dating to look for a potential wife, but in a more traditional set-up. When that goes in vain, he finally succumbs to meeting a demure and reserved Maymouna from Lahore over a video call. And soon their marriage gets fixed.
Living next to the Khans is Cath and her daughter Zoe, who happens to be best friends with Kaz. Zoe is an award-winning documentary filmmaker and as part of her next assignment, she decides to chronicle Kaz's arranged marriage. And so, together everyone flies to Lahore to get Kaz married. But complexities of various relationships soon surface amid the colourful wedding rituals and the conflict and interplay between insisted marriage and assisted marriage forms the rest of the narrative.
It's true that the onscreen portrayals of love stories, elaborate weddings and family drama never go out of vogue. But Kapur takes these motifs – rather tropes – too seriously. The story is predictable from the word go and lacks novelty. As unfortunate as that may be, What's Love Got To Do With It is a good looking mishmash of every diaspora-themed film that we have seen so far. While there's a parallel narrative running that gives us a glimpse into Zoe's relationship with her mother and men, it gets massively overshadowed by Kaz's struggle to stay afloat and convince himself that he has found the right partner amid his impending wedding. In fact, what would have been interesting is a subplot which offers a sneak peek into Maymouna's life prior to her big day.
On paper, a tiff between a British girl not believing in the idea of an arranged marriage set-up by parents, and a Pakistani man, who has been conditioned to marry the stranger his mother chooses for him, might have been scintillating. The same British girl taking in the essence of Lahore in a crowded local market and experiencing an inexplicable emotion after listening to Sufi singers for the first time might also have appeared interesting on paper. But they don't translate on screen. What you are left with is a hollow feeling, similar to the emotion many first generation desis growing up in London experience.
What's Love Got To Do With It tastes like an under-baked cookie with miso and white chocolate chips from London or maybe a stale Khalifa style nan khatai from Pakistan. Even with a 1 hour 49 minutes run time, the film seems long. The linear narrative without hardly any exciting and dazzling moments adds to it. If you really want a taste of diaspora in all its glory, you may revisit Chadha's films which touched chords with their simplicity, tenderness and honesty. Because neither does this rom-com make any insightful statement about arranged marriages and family relations nor does it leave a mark with its sweet and simple treatment.
But what helps the film is the performance by the cast, which boasts of some phenomenal actors. Shabana Azmi plays Aisha and her character partly seems to be an extension of her portrayal of Mrs Sethi from It's A Wonderful Afterlife. Here too, she is obsessed with getting her child married come hell or high water. She brings an incredible grace to the table. Nonetheless, an artist of her stature and calibre deserved a better written character. Shazad Latif as Kaz is charming and likeable. He's quite the boy-next-door and plays with the various moods and tangents in his character with ease.
Zoe is played by the versatile Lily James. In What's Love Got To Do With It, she might not have had the opportunity to project a plethora of intense emotions or play around with diverse shades like in War & Peace (2016), Baby Driver (2017), The Guernsey Literary And Potato Peel Pie Society (2018), Rebecca (2020) or Pam & Tommy (2022), but as Zoe, she seems comfortable in her skin. She's beautiful, effortless and earnest. She shares some of her best moments with the inimitable and prolific Emma Thompson, who plays her mother, Cath. Needless to say, their camaraderie and banter hits the right notes.
Speaking of Thompson, she is the biggest highlight of the film. The narrative might not circumnavigate around her but she steals the show every time she appears on the screen. Some of the most humorous scenes in the film belong to her, and her comic timing deserves all the applause. Her impeccable delivery of one-liners and situational wit and easy-going demeanour catches your attention every time. Her Cath is sometimes quirky and extremely loving towards and enthusiastic about the Khan family, and she plays the part to a T. Watch out for that one scene where she performs to a Bollywood number at a wedding!
Yet another good thing about the film is Sajal Aly, who essays the complicated and taciturn Maymouna like a seasoned performer. Hers is perhaps the most layered and nuanced character and she manages to convey a lot merely through her subdued body language. The twinkle in her smouldering and beguiling eyes is palpable and so is her broken heart. She might not be a rebel but she knows when to resign, defy the norms and swim against the tide, silently. She leaves you wanting for more.
But the same can't be said about the trite What's Love Got To Do With It because the dynamic duo of Kapur and Azmi deserve a story as avant garde and trailblazing as their first collaboration, Masoom (1983).
Read all the Latest Movies News here
Disclaimer: This story is auto-aggregated by a computer program and has not been created or edited by filmibee.
Publisher: Source link