Celebrity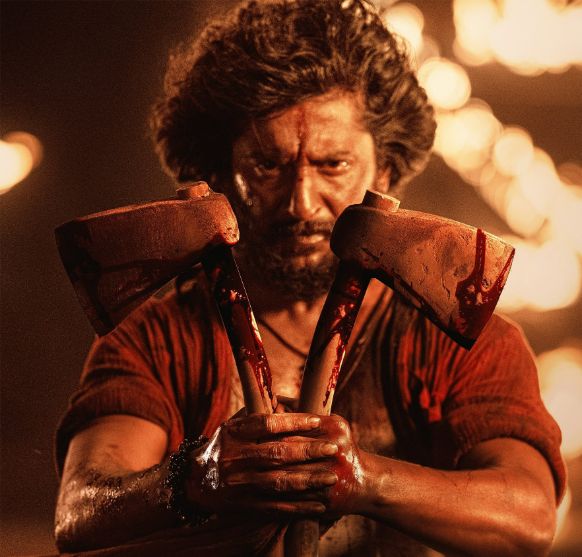 Mar 31, 2023
Dasara Review: Going to be Memoabe film in Nani's Career
Dasara Review: Going to be Memoabe film in Nani's Career
Natural Star Nani's latest outing Dasara released with much fanfare on Thursday and has been receiving rave reviews from fans and critics alike. Movie buffs who have watched movies with similar aesthetics in the recent past, like Asuran, Karnan, and Rangasthalam, said the movie has a predictable plot but performances elevate it. look at our review.
Story:
In Godhavarikhani's village of Veerlapalle, Dasara takes place. Dharani (Nani), his friend Soori (Dheekshith Shetty), and others are addicted to alcohol. They have known Vennela (Keerthy Suresh) since they were young. Son of Shivanna (Samuthirakani), Chinna Nambi (Shine Tom Chacko) is chosen as the Sarpanch and is responsible for the Silk Bar. After assisting Soori and his pals in a situation, Rajanna (Sai Kumar) was chosen to serve as their Sarpanch. After that, on the eve of Soori and Vennela's wedding, someone kills him. Who murdered Soori? What is next for Vennela? What then did Dharani do? 
Analysis:
Nani has been a renowned actor in the Telugu film industry for quite some time now. All these years, he has been entertaining audiences with his boy-next-door roles. But this year, Nani took a bold step and challenged himself by accepting to play the role of Dharani in the film, Dasara. His performance in the movie was truly exemplary.
From his attire to his body language and dialogue delivery, Nani took utmost care in the portrayal of Dharani and he shone in the emotional scenes of the movie. Nani's performance was outstanding in the film and it is definitely one of his career-best performances.
National Award-winning actress Keerthy Suresh also got a good role in the movie and her performance as Vennela was flawless. After Mahanati, this was the best film and she certainly delivered a great performance in the movie. Her natural performance and dialogue added another dimension to the film.
Dheekshith Shetty, who is no lesser than the other two leads, also delivered an impressive performance in the movie. 
Malayalam actor Shine Tom Chacko was also cast in a good role and he did justice to the role. The other actors like Sai Kumar, Samuthirakani, Purnaa, and others were also okay in their respective roles.
The majority of the first act of the movie is devoted to Srikanth setting up the Veerlapally universe and its inhabitants. He gives the little things plenty of attention. You anticipate Srikanth to give it his all in the second half after something significant upends everyone's life. He allows his characters to experience their feelings instead. This may or may not result in scenes that hold your attention throughout. Some don't keep your interest, while others are too heavy.
Verdict:
Overall, Dasara is a well-made action thriller that is sure to keep you engrossed. There are a few laggy portions in the second half, but the overall pacing is good. So, if you are looking for a good choice to enjoy your weekend, Dasara is a perfect option. With Nani's outstanding performance, you can be sure that you'll be entertained throughout the film.
Moviezupp Rating: 3/5
Related
Disclaimer: This story is auto-aggregated by a computer program and has not been created or edited by filmibee.
Publisher: Source link