Review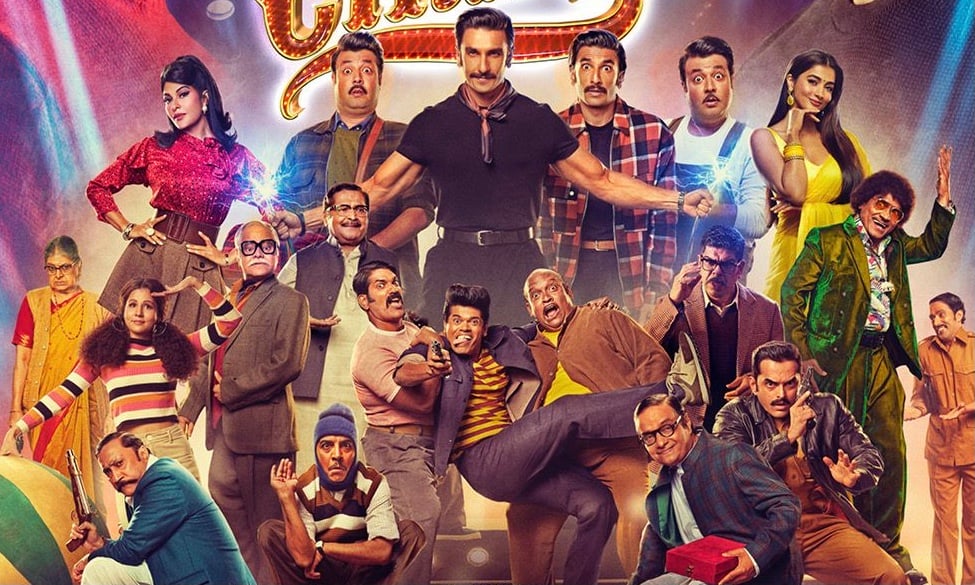 Dec 23, 2022
Cirkus Review: Cir-dard! – CineBlitz
Cirkus
Director: Rohit Shetty
Cast: Ranveer Singh, Varun Sharma, Pooja Hegde, Jacqueline Fernandez, Sanjay Mishra, Siddharth Jadhav, Johnny Lever
Released in cinemas
It's a cardinal sin when a comedy does not produce laughter. It just defeats the purpose of the film. Rohit Shetty's Cirkus is adapted from Gulzar's Angoor starring Sanjeev Kumar and Deven Verma in double roles. In Cirkus, Ranveer Singh and Varun Sharma double up as Roy and Joy. Both Ranveers are Roy and both Varuns are Joy. Both twins are born on the same day. A doctor Roy Jamnadas (Murali Sharma) exchanges one of each with the other when two couples adopt two babies at the same time. They both name their adopted sons Roy and Joy based on the names of Roy Jamnadas and Joy Jamnadas (Udaay Tikekar), two brothers who run the Jamnadas orphanage.
One pair of Roy-Joy is brought up in Bangalore and the other pair of Roy-Joy is brought up in Ooty. Doctor Roy wants to test a theory that people are products of not their bloodline but their upbringing. To prove this theory right, Shetty takes 138 minutes of stale comedy to finally deliver a message that doesn't land. The twins are supposed to come face to face 'bees or tees saal baad' is a given. Shetty keeps the brothers guessing and living in confusion. But the screenplay by Yunus Sajawal is amateurish and the dialogue by a team of three writers simply doesn't produce any spark or laughter.
One of the Ranveers is called an electric man who is able to hold a live current without getting shocked. But whenever he holds the live current, the other Ranveer and anyone who touches him gets shocked. There's a song Current Laga Re where Deepika Padukone makes a guest appearance as Vrindamma, supposedly an ancestor of Meenamma from Chennai Express. Cirkus is apparently attempted as Rohit Shetty's comedy-verse where the Golmaal Gang and Chennai Express will collide. As tempting as it might sound, this is a forced effort to bring everything together, still banking on the success of the Golmaal franchise. Because of this, Shetty's ambitious film lacks innovation or reinvention of his own style of filmmaking. This was a good chance to do that. Instead, he has relied on easy usual tropes that have worked so far for him. But so much has changed in the last two years of the pandemic, hasn't it?
To give credit where it's due, the film is ambitiously mounted and shot entirely at Ramoji Film City in Hyderabad. With technology, you can create any wonderland that you can imagine. And in that regard, Cirkus is spotless in terms of cinematography, production design, VFX, and even music. But there are simply no laughs. I don't remember laughing at all in the first half. The second half produces a couple of chuckles and that's the best you can get in the film.
When the writing is so uninspiring, there's no scope for performances. Everyone just walks in and out of the frame. Sanjay Mishra does his best but we have seen him doing a version of yesteryear's actor Jeevan before. Siddharth Jadhav gets a punchline or two but his performance is too loud to digest. And Siddharth is usually in control of his loud performances but this time it doesn't land. Johnny Lever's self-respect gesture produced laughter in the trailer but by the time it appeared in the film, it had lost its punch. The film features Shetty's usual cast members Ashwini Kalsekar, Manoj Tiwary, Vijay Patkar, etc.
I still enjoy slapstick comedy and I firmly believe that the genre can still survive provided that slapstick comedy is driven by emotion, which is lacking here. As a saying goes, "you look at comedy, but you participate in tragedy". But in the second half, Cirkus becomes too tedious to even look at. I went to watch this film with a clean slate, wanting to enjoy myself at the end of the year with whatever best the film can offer. But I was disappointed.
Although I haven't liked every film by Rohit Shetty, I admire him for his conviction. His underrated and forgotten film Sunday (2008) is still way better than Cirkus. I still remember watching Golmaal: Fun Unlimited with my college friends sitting in the front row. That insanely hilarious film is still funny even if you have watched it ten times. All The Best (2009) was super cheesy and super fun. Sanjay Mishra was the star of that film despite the presence of Ajay Devgn, Sanjay Dutt, and Johnny Lever, no less. I have clapped and marveled at the heroism while watching Shetty's Singham. But after that, I haven't thoroughly enjoyed a Rohit Shetty film. When I walked into the theatre to watch Cirkus, I wished that, even if the film is bad, I hope that it's so bad that it's good. But no luck there too.
Disclaimer: This story is auto-aggregated by a computer program and has not been created or edited by filmibee.
Publisher: Source link