Review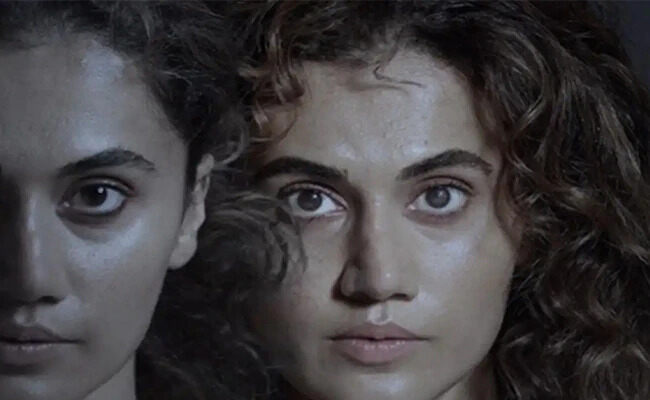 Dec 9, 2022
Blurr Movie Review (Zee5) – Bollymoviereviewz
Average Ratings: 2.78/5
Score:67% Positive
Reviews Counted:8
Positive: 4
Neutral:2
Negative:2
Ratings: — Review By: Komal Nahta Site:Zee ETC Bollywood Business
Unless the audiences are given a fair chance of guessing who the culprit is, it doesn't give them satisfaction. In this case, the viewers realise that they could never have guessed the identity of the culprit, and this feeling is very counter-productive to the film. Besides, the drama appears long and boring. Overall, the film hardly has a happy moment and is, in fact, depressing to the core, the heavy rains and the darkness only adding to the depressing feel of the film. The duo's dialogues are alright.. On the whole, Blurr is a dull fare and will not find much patronage.
Visit Site For More
Ratings: 2/5 Review By: Roktim Site:India Today
The storyline sounds promising on paper, but this counts for nothing as the execution is quite underwhelming.To sum up, Blurr is an underwhelming thriller that can be watched only if you have nothing better to do this weekend.
Visit Site For More
Ratings: 3/5 Review By: Saibal Site:NDTV
Blurr never loses sight of its primary purpose – delivering a thriller that makes the most of its resources while staying within its chosen parameters – and delivers thrills and intrigue every split second of the way. It is a solid genre movie that is well worth a watch.
Visit Site For More
Ratings: 2/5 Review By: Shubhra Site:Indian Express
The official remake of the Spanish language 'Julia's Eyes', directed by Guillem Morales and produced by Guillermo del Toro, has Taapsee Pannu in a double role. All the elements that are part of a successful horror thriller are piled up swiftly enough. Much too soon, and this is the trouble with most Bollywood thrillers, the plot gets far too stretched, the run time becomes too long, and the film flattens.
Visit Site For More
Ratings: 3.5/5 Review By: Dhaval Site:Times of India
The film's second half runs out of steam, and the fare loses its horror tenor frequently. Nevertheless, the movie is thrilling, suspenseful and blood-curdling and will keep you piqued throughout.
Visit Site For More
Ratings: 2.5/5 Review By: Dishya Site:News18
On paper, Blurr seems interesting, be it the concept, the twists, and even the characterizations of the twin sisters which seems to explain the reason Taapsee agreed to do the film. But the film gets blurry in the execution process. Director and co-writer Ajay Bahl seemed to be confused with not only the approach to use for narration but also the genre to focus on. The editing is also patchy in most parts of the film, leaving you confused about the flow of the film and several unanswered questions. It also felt like the film relied heavily on jumpscares, even in places it didn't fully require. Blurr had the potential of being a great film despite it being a remake but it falls short in its unsteady execution.
Visit Site For More
Ratings: 3.5/5 Review By: Mudit Site:Zoom TV
If you have been on the lookout for a thriller that doesn't allow you to predict the next move, then Blurr will most certainly put an end to your search. Apart from packing in ample twists and turns, Blurr highlights basic human emotions and how they can push a human being to extreme lengths. Taapsee Pannu has surely kickstarted her production journey with a bang!
Visit Site For More
Ratings: 3/5 Review By: Soumyabrata Site:Times Now
Therein lies the issue with Blurr. In giving the film a conclusion, makers have effectively robbed the audience of a denouement. Much like a good whodunit, it indeed plays out towards a definitive finale, but the why, remains unanswered. The issue with this blurred conclusion is that while, it may have worked for a shorted format, in a full-fledged feature with such a build-up, it leaves a lot to be desired. As I said, this Taapsee Pannu Blurr is no Julia's Eyes.
Visit Site For More
Also Try:
Upcoming Web Series & OTT movies
Ayushman Khurrana Upcoming Movies
Varun Dhawan Box Office Collection
Blurr Story:
Gayatri, a woman with a degenerative eye disorder, is slowly losing her eyesight. She, however, has to solve the mystery of her twin sister Gautami's death.
Blurr Release Date:
9 December 2022 Staright to Zee 5
Blurr Cast:
Taapsee Pannu
Gulshan Devaiah
Kruttika Desai
Blurr Director: 
Ajay Bahl
Blurr Producer: 
Vishal Rana
Taapsee Pannu
Pranjal Khandhdiya
Tony D'souza
Pradeep Sharma
Manav Durga
Blurr Production Companies:
Zee Studios
Outsiders Films
Echelon Productions
Blurr Distribution Companies:
Failed To Release in Theaters
Blurr Run Time: 
2 Hour 6 Minutes (126 minutes)
Read More About Celebs:
Salman Khan | Shahrukh Khan |Aamir Khan | Ranbir Kapoor 
 Hrithik Roshan | Akshay Kumar
Rajeev Masand , Taran Adarsh, Komal Nahta , Anupama Chopra Reviews are awaited for this movie
Disclaimer: This story is auto-aggregated by a computer program and has not been created or edited by filmibee.
Publisher: Source link