Movies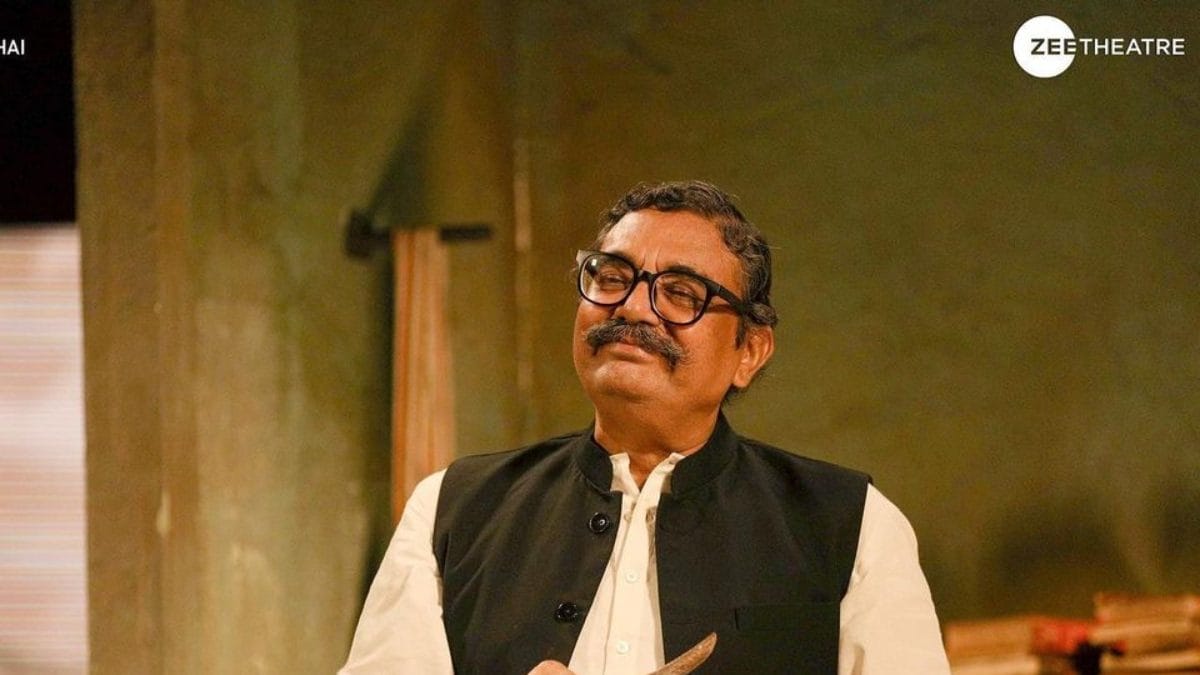 Apr 11, 2023
Bholaa Actor Vineet Kumar on North vs South Debate: 'People Are Hailing SS Rajamouli Now But…'
Last Updated: April 11, 2023, 09:34 IST
Vineet Kumar in Zee Theatre's anthology series Koi Baat Chale
In an exclusive conversation with News18.com, Gopal Datt and Vineet Kumar spoke about their show Koi Baat Chale. The latter also spoke about the North and South divide.
Actor Gopal Datt who has been in showbiz since 1999 is often associated with his humorous roles or comic skits. The actor has starred in hit films such as Tere Naam, Samrat & Co. and Filmistaan among others and is now a bankable face in the OTT space. Recently, the actor along with several others was a part of Zee Theatre's anthology Koi Baat Chale, a series of dramatic readings directed by Seema Pahwa, where he narrated Hari Shankar Parsai's famous tale 'Ek Film Katha'. Joining him was noted actor Vineet Kumar who narrated the story of Saadat Hasan Manto's 'Mammad Bhai'.
In an exclusive conversation with News18.com, Gopal and Vineet spoke at length about their stories and how they find relevance in recent times. They also spoke about their personal line of work and other burning topics such as the North and South divide.
Excerpts:
How was the experience of working with Seema Pahwa?
Gopal Datt: My experience was great because I know Seema ji for a long time through theatre and she is as good on stage as she is in films. We have been watching her plays for so long. I always wanted to work with her so when she narrated the story to me, I said yes instantly.
Vineet Kumar: What's special about Seema ji is that she has a strong hold on whatever she is dealing with. She has a clear vision so there has been no conflict during the shooting. If the director has clarity in the way they look at their characters, then it is communicated properly to us. And conflict rises when there is no clarity. So there was no confusion with her. She is a very clear director.
Talking of 'Ek Film Katha', what does the story say about cinema and life in general?
Gopal: The story is sort of a review of the films that were made in the 1960-89s. There was a set formula for those films. There was a certain type of hero, a heroine and a villain and all the films churned out at that time were based on the same formula and they got predictable. But the funny thing is, Parsai ji has written it in a way that some things in it are relevant even today. There are certain masala films which follow the same formula. You would feel that he has not written it about films in the 60s but about films of the present time. The story is so entertaining and relevant that you will think that it is written about films releasing now. This is the greatness of a renowned writer that they are relevant even now.
Talking about balancing between theatre and films, Vivaan Shah had earlier told us that actors who find success in films turn their back to the theatre. Would you agree?
Vineet: It is his opinion and I can't say much about it but when you get into films, you get into a trap. There is no trap in theatre. It is your understanding and your culture but cinema is a trap and when an actor gets into that business, no one knows what they go through. You don't know what problems they have to face or what their mental state is. They might not be in the mind space to do theatre. Only fortunate people can balance theatre and films. I can't do theatre now because there is no theatre nowadays. There is just drama and I am not interested in that. People's capabilities and capacities differ and they live their lives based on that.
Some people are strong and they have more tolerance power and better facilities so they can do it but some can't. I can't do plays now but I help in other ways and try to stay connected to the theatre.
Gopal, people generally associate you with comic roles. Do you see that changing?
Gopal: I do try to do different things and my upcoming projects are quite different from each other. Time is money so if someone sees that a certain actor has done something well, they will take them for similar things to save time. As an actor, you have to experiment and I am in that phase currently. I have realised that people do associate me with comedy roles so I have started to change things.
Vineet, you have done so many shows on TV. Do you ever feel like going back to it?
I neither hold on to things nor let them go. In my life, I have followed my heart. If I feel like doing anything then I do it, otherwise, I don't. Television is not going to change anytime soon. There is a certain mentality in the television industry where you have to reach sets by a certain time and go on and on. Now I don't have the energy and strength to do that. Everything has its own joy, and so do TV shows.
Vineet, you have done several South films besides Hindi ones. What would you say about the divide between the two industries which is seemingly diminishing now?
This divide is created by you guys, not by us. People are hailing SS Rajamouli now but name one of his films which have been a flop. Did people not realise that before? Rajamouliji has made around 10-11 films and none of them have flopped. Yes, not all of them are as the same grandeur as say a Baahubali but his films have been good all along. I did a film in 2006 titled Vikramarkudu which was later remade as Rowdy Rathore. That film was a blockbuster and I became equivalent to Gabbar Singh there. So it has always been like that. This divide is created because people have no content so they pinpoint something and make a controversy out of it. This topic has been tossed way too much exactly like how people toss the topic of nepotism.
Read all the Latest Movies News, Entertainment News
Disclaimer: This story is auto-aggregated by a computer program and has not been created or edited by filmibee.
Publisher: Source link