Review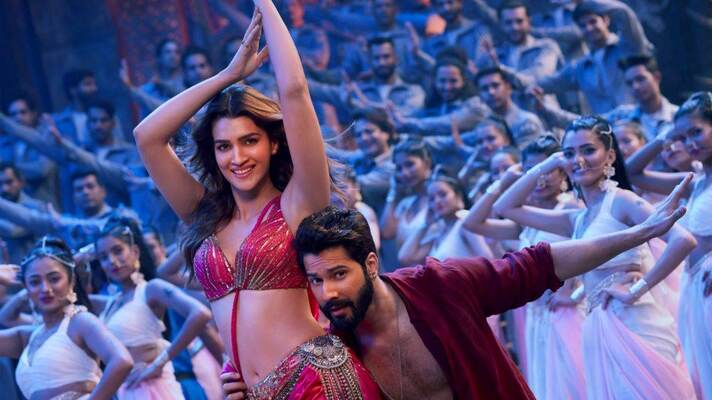 Nov 25, 2022
Bhediya Review – Bollymoviereviewz
Average Ratings: 3.38/5
Score:100% Positive
Reviews Counted:9
Positive: 9
Neutral:0
Negative:0
Ratings: 3.5/5 Review By: Taran Adarsh Site: Twitter
Director Amar Kaushik gets it right yet again… Novel concept. Cutting-edge VFX. Super finale… An entertainer that's meant for big screen viewing… Recommended! Bhediya could've done with a gripping narrative in first hour, although the director plays on his core strength: balances humour and drama delightfully… The goings-on are stretched in this hour, but the terrific interval block more than makes up for the hiccups.
Visit Site For More
Ratings: — Review By: Komal Nahta Site: Zee ETC Bollywood Business
On the whole, Bhediya is an enjoyable entertainer which also gives two messages (one of which is lovely) to the public. Having said that, it must be added that it will not realise its full potential because of the craze of last week's super-hit, Drishyam 2.
Visit Site For More
Ratings: 3.5/5 Review By: Saibal Site: NDTV
Bhediya, thanks to the inventive and intriguing ways that it adopts with a genre that has spawned many a movie over the decades from Paul Schrader's Cat People and John Landis' An American Werewolf in London to (closer home) Rajkumar Kohli's Jaani Dushman and Mahesh Bhatt's Junoon (both which find a mention in this film), has a own unique footprint that makes watchable all the way
Visit Site For More
Ratings: 3/5 Review By: Shubhra Gupta Site: Indian Express
Amar Kaushik is most confident, given that he's given us similar characters in his earlier 'Stree', and 'Bala'. And given that these guys are on screen most of the time, peak silly idiocy performed with sureness is pretty much what we get. A couple of moving moments, shared between Sanon and Dhawan, break the ha-ha-hee-hee, and provide a bit of depth. But so determined is the film to not get 'serious', that those moments come and go, making you wish there were more of them.
Visit Site For More
Ratings: 3/5 Review By: Nikita Thakar Site: Bollywood Life
The first half of the film progresses at a slow pace and it appears a little stretched in a few scenes. However, by the second half, the drama picks up and then it's pure entertainment. Bhediya is a one-time watch film but only if you watch in 3D. BollywoodLife gives Bhediya 3 stars.
Visit Site For More
Ratings: 3.5/5 Review By: Tushar Joshi Site: India Today
Bhediya's werewolf act isn't perfect and has several issues. One being the long first half, takes too much time to cut to the chase and introduce us to the wolf. The second being, the somewhat preachy and over-the-top messages on conservation that at times get in the way of the story picking up pace. But if you leave aside these flaws, the rugged wolf on the full moon night is a howling entertainer. Watch this in 3D to get the full bang for your back.
Visit Site For More
Ratings: 3.5/5 Review By: Dhaval Site: Times Of India
Horror and comedy are, on their own, tough genres to pull off. Unless one has a tight grip on storytelling and cinematic treatment, a film in either category can fall flat. And this is where Bhediya comes up aces. Director Amar Kaushik, who helmed the horror-comedy Stree by the same banner, handles both genres skillfully in his latest outing and strikes a fine balance to deliver a movie that's spine chilling in some instances, ribtickling in almost all, and leaves you with something to think about
Visit Site For More
Ratings: 3.5/5 Review By: Sanchita Site: Zoom
100 marks for the originality that the team has brought. At times when everyone keeps complaining about remakes, it is truly on us to give such films a chance. Rest assured to be greeted with good cinema with this movie that lasts for a little over 2 hour and 30 minutes.Oh, don't forget the SURPRISE!
Visit Site For More
Ratings: 3.5/5 Review By: Hungama Site: Bollywood Hungama
On the whole, BHEDIYA works due to the novel idea, memorable performances, captivating climax, and VFX which matches global standards. At the box office, it will have a slow start, but it has the merits to show huge growth thereafter.
Visit Site For More
Also Try:
Varun Dhawan Box Office Collection
Bhediya Story:
Bhaskar finds himself changing after being bitten by a wolf in the forests of Arunachal. While Bhaskar begins to transform into a shape-shifting werewolf, he and his friends look for answers amid many twists, turns and laughs.
Bhediya Release Date:
November 18, 2022 ( India) straight to Theaters
Bhediya Cast:
Varun Dhawan
Kriti Sanon
Deepak Dobriyal
Abhishek Banerjee
Shraddha Kapoor reprises her role from Stree
Bhediya Director: 
Amar Kaushik
Bhediya Producer: 
Dinesh Vijan
Bhediya Production Companies:
Maddock Films
Jio Studios
Bhediya Distribution Companies:
Jio Studios
Bhediya Run Time: 
2 Hour 36 Minute (156 minutes) out of which 16 minute is post credits Thumkeshwari song
Read More About Celebs:
Salman Khan | Shahrukh Khan |Aamir Khan | Ranbir Kapoor 
 Hrithik Roshan | Akshay Kumar
Rajeev Masand , Taran Adarsh, Komal Nahta , Anupama Chopra Reviews are awaited for this movie
Disclaimer: This story is auto-aggregated by a computer program and has not been created or edited by filmibee.
Publisher: Source link