Movies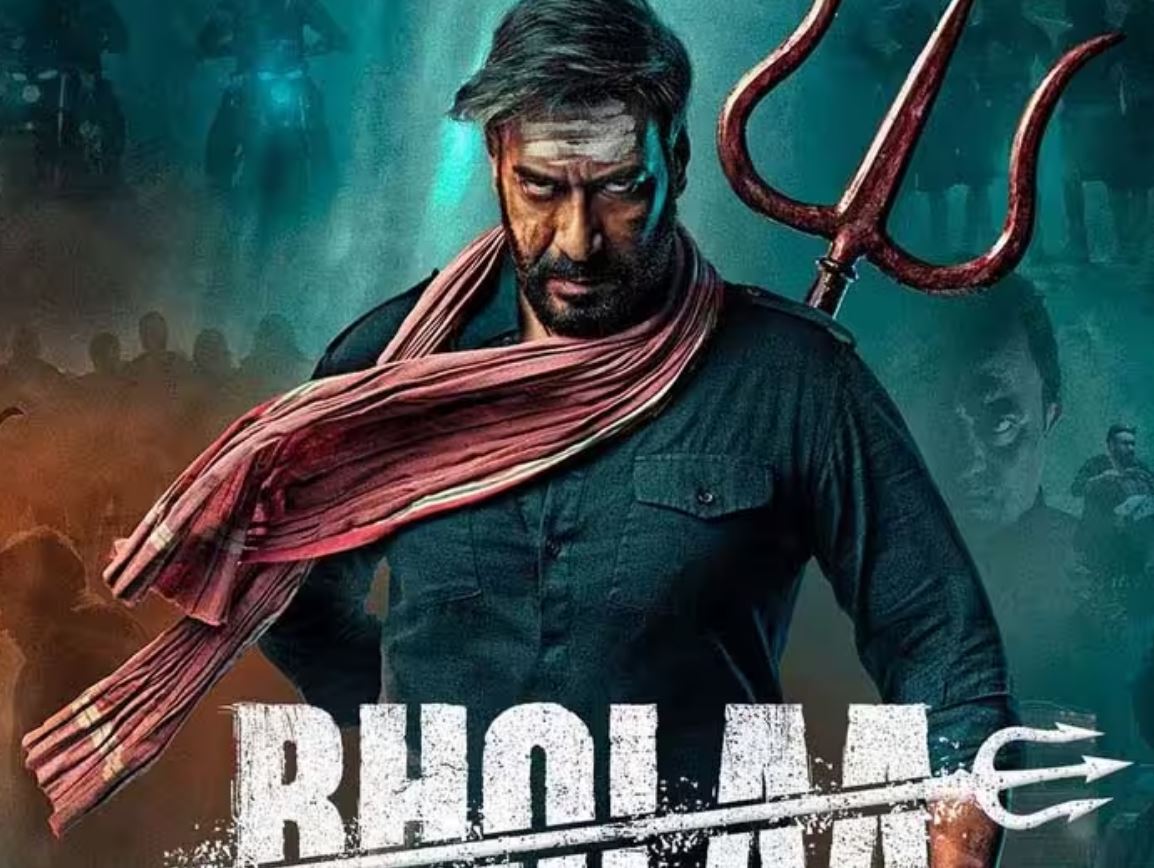 Mar 30, 2023
Another frustrating action-thriller by actor-director Ajay Devgn – Beyond Bollywood
In UP parlance, this Hindi remake of Kaithi [2019] pays the price for its bakaiti [over smartness]. Ajay Devgn fails to do justice to Lokesh Kanagaraj's impressive Tamil action thriller.
Rating: 1.5 / 5
By Mayur Lookhar
Ajay Devgn, the director began his journey in 2008 with U Me Aur Hum. Naturally, he cast himself in the lead. Eight years later, the actor did the same with the action thriller Shivaay [2016]. Add six more years and he acted and directed in the aviation thriller Runway 34 [2022]. Thankfully, it's not a eight-year wait for his next directorial – Bholaa [2023]. Note, this one is a remake of Karthi's Kaithi [2019].
The Tamil flick was much acclaimed for its gripping writing, screenplay performances and propelled writer-director Lokesh Kanagaraj into limelight.  As often, Hindi remakes of South Indian films are set in a North Indian landscape. Actor, director Ajay Devgn takes his Bholaa to Uttar Pradesh. It's size, large population, high crime rate makes the state a natural habitat for a crime thriller. The chase sequence also helps in giving a state tour.
Much like Tamil Nadu in Kaithi, Devgn's Bholaa presents a neo dystopian world within Uttar Pradesh. The land is ravaged by the Sikka gang, led by Ashwatthama [Deepak Dobriyal] and his phantom-like big brother Nithari [Vineet Kumar]. The first name has its mythological significance, while the name Nithari rekindles the horror memories from the 2006 Noida serial murders.  Ashwatthama is a psycho, while Nithari is infamous for being the 'devourer of khakee' [cop killer]. They suffer a blow when SP Diana Joseph [Tabu] seizes their 1000 kg drug [cocaine] consignment.
What follows next is akin to a bounty hunt where Ashwatthama summons all the dangerous gangs in the region, promises a hefty reward to anyone who retrieves the drug consignment and bring Diana alive. They get info that the drug consignment has been kept in the palatial British made Lalgang police station. More than a police station, this resembles like an upscale college from the British times.
Ashwatthama and co. head to the police station, while the various gangs hit the road to hunt Diana. Little did these evil men imagine that they will encounter their biggest hurdle in the form of this larger-than-life stranger, later revealed to be Bholaa [Devgn].
Gives its plotline, the many gangs, that are chasing Diana and Bholaa, come across like a pack of wolves, hyenas, lions. One gang even brings a leopard. The moment he sees Bholaa, the poor feline retreats with its tail between the legs. The multiple action scenes here are all about bringing that animal instincts as the gangs try to take Bholaa down with bare hands, sticks, and other objects.  That serves as fodder for plenty of over-the-top action. As always, it comes with its mass appeal. While one cares two-hoots about logic, this reviewer has always stood his ground.
The film's tone is rooted, more appealing to its target audience. The (writers) quartet of Aamil Keeyan Khan, Ankush Singh, Sandeep Kewlani, Shridhar Dubey churn a fairly decent script. Where does Bholaa then go horribly wrong? Pin the blame on an underwhelming performance from much of the cast, and average direction. 
Ajay Devgn's record as an actor-director is anything but impressive. Barring the odd change, Devgn and his writers have largely stuck to the original plot. Devgn's reputation is built around action. However, 30 years later, it's a challenge to pull off dare devilry, unless you are a Tom Cruise. We don't mind the OTT action, but Bholaa is another frustrating Ajay Devgn directorial. Meanwhile, Devgn, the actor is regrettably elementary. During a promotional event, the actor-director revealed that any action without emotion is no good.
Despite an action film, Kaithi [2019] impressed more on its emotional quotient. A father [Shiva – played by Karthi] looking to meet his daughter after 10 years. There was genuine camaraderie between the good cops. Then there are the four students caught up in the crossfire in the police station. Even the petrified constable all showed the vulnerability of the common man, but the dangerous scenario unleashed a hero in all of them.
While Bholaa largely stays true to the original, it's nowhere close to creating the Kaithi impact – both in terms of action and emotion.
Sadly, the usually dependable Tabu, too, looks out of place here. Having a female cop was a right call, as only a lady can relate to Bholaa's anxiety in meeting his daughter. Three of Devgn's four hits in the last decade – Drishyam franchise, De De Pyaar De [2019] have all featured Tabu. It would be unfair to the great actress to be labelled as any lucky charm. However, Devgn has now perhaps run out of luck as Tabu puts up a rare disappointing show. Amala Paul, the other lady in Bholaa has a cameo. More than any acting, the Bollywood viewer will label her as a poor Deepika Padukone clone.
Deepak Dobriyal is menacing. He blows hot and cold much like his character.  He is fairly consistent in his madness but occasionally goes a bit over the top. Vineet Kumar's Nithari is built up as the cop-eating monster, but after the initial scare, he ends up giving a ham fest. So, too, Gajraj Rao who plays the corrupt South Indian cop in Uttar Pradesh.
Sanjay Mishra earns his stripes as the 55-year-old constable Angad Yadav who encounters trouble on his first day at Lalganj police station.  The lone consistent performer is the unheralded Amir Khan [not the super star] who provides some humour as Kadchi, the caterer who, like Bholaa, gets dragged into this mess.  
The background score is good in parts, but it largely tests your eardrums. The Imax experience makes it visually immersive. You wish the action choreography was more convincing.  Devgn also errs on few fronts which were a hallmark of Kaithi.  First is his failure to present the truck as an indestructible force. Second, the events in Kaithi all took place in the night, serving as the perfect atmosphere for the gripping action, tense situation. Devgn opted to film the final action sequence in bright sun light but it lacks conviction.  Karthi's Shiva fought in a shirt and dhoti all along. The sight of Shiva wielding the heavy artillery in a dhoti, slippers, with a tripund gave viewers goosebumps. Devgn's Bholaa initially wears a black kurta, but later steals a shirt from a coward gang leader. The action in a western attire [shirt- jeans] lacks the same appeal.  
While the traditionalists will welcome the tripund, but how would they react to a man named Bholaa feasting on a parat (big tray) full of Tandoori chicken? Hey, isn't there a legend of a Bheel devotee offering meat to Lord Shiva? Besides, there are places in the country that still offer meat to the deity.
We're tired of repeating how Bollywood needs to curb its remake urges. Kaithi deserved to be told to Hindi audiences. Yes, Drishyam 2 [ 2022] was highly successful, but Bholaa is way below the mark. In UP parlance, bakaiti [over smartness] hurts this Hindi remake of Kaithi. Ajay Devgn, the director needs to do some serious inspection.
Disclaimer: This story is auto-aggregated by a computer program and has not been created or edited by filmibee.
Publisher: Source link