Interviews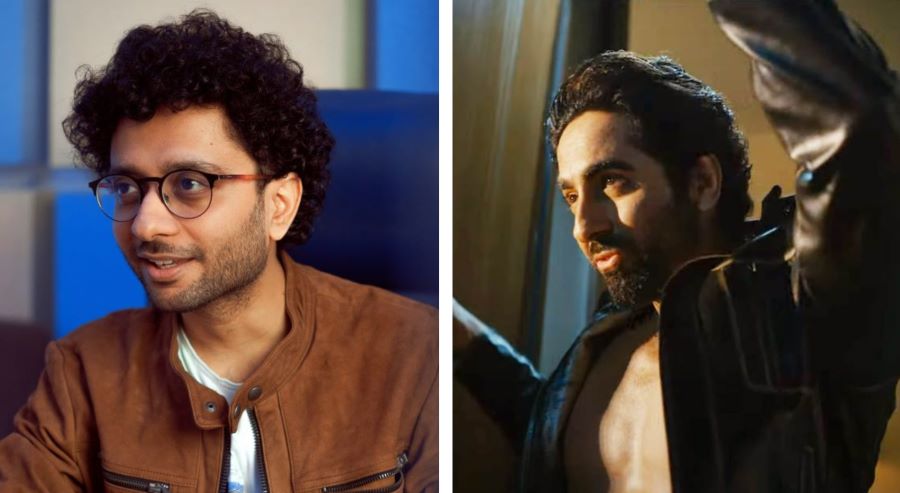 Jan 9, 2023
"An Action Hero is a film I feel proud to be associated with" – Parag Chhabra – Planet Bollywood
In 2022, Parag Chhabra left a mark with his compositions for the Jahnvi Kapoor starrer 'Good Luck Jerry'. 'An Action Hero', his second release of the year which featured Ayushmann Khurrana and Jaideep Ahlawat in principal roles, was one of the best reviewed films of the year. For the Aanand L Rai – T-Series production, Parag composed all the original tracks including the theme song.
In this interview, the young composer talks about putting together the original soundtrack for the film, the process of creating an 'action theme', the difference between making music for a theatrical film and one made for a streaming platform, experiments with sounds and more.
'An Action Hero' had a very fresh and unusual script. There was no romantic track either. Music, however, was very used very well in the film. Was it a difficult task to find situations where songs could be used?
I was involved in the film right from the scripting stage. Ani (Anirudh Iyer, director) already had some situations in his mind where songs could be used. He wanted to ensure that the music complements the narrative of the film. The title track plays when Maanav (Ayushmann Khurrana) is extremely stressed about how things are turning out for him. There is a variation of the title track that you hear towards the end of the film when he is in a different space of mind. It has a different set of lyrics and has also been structured differently from the original track. Ani decided to create an alternate title track when the film was being edited. I fell in love with the script of the film as soon as I read it. It's a film I feel proud to be associated with.
Worldwide, action films are known to have popular theme tracks. Did you feel the pressure to make a memorable theme song for 'An Action Hero' as well?
Yes, we started working on the soundtrack with that thought. Ani, who has directed the film, hadn't heard much of my work. He suggested that we start with the theme music and then, figure out whether we are on the same page or not. It was a fairly new experience for me as I hadn't really worked towards creating a theme music or track for a film in the past. I haven't seen a lot of action films, so I didn't have too many references in my mind either. Ani wanted a theme song that would not only encapsulate the thrill element in the film but would also give listeners a glimpse of the dark comedy and quirkiness in the plot. Once the track was created, Ani really liked it. Aanand sir liked the melody but suggested us to try some other arrangement. I created a fresh set of arrangements for the track and it got approved.
'An Action Hero' is your second collaboration with Aanand L Rai after 'Good Luck Jerry'. How involved was he in the music making process of the film?
Aanand sir was hugely involved throughout the process. While Ani and I were in touch regularly, Aanand sir would hear everything I would create and give his feedback on it. He has a wonderful sense of music and his inputs have always been helpful. Neeraj Yadav, the writer and Ninad Khanolkar, who has edited the film, were an integral part of the entire process of putting together the soundtrack.
Apart from using electronically produced sounds, you have also used instruments very well. While classical and electric guitar have been used in 'Ghere'. A plucked instrument is almost like a character in 'Asli Action Chaalu' and 'An Action Hero Theme'.
We had the melody for the title song ready. It was a melody that could have been played on a guitar. However, I wanted the track to feature a slightly unusual instrument. Tapas (Roy) da introduced me to this Chinese stringed instrument called pipa. Tapas da has this amazing customized duitara. I got him to play the melody on both instruments. I layered the two tracks together and that's what you hear in the song.
Vivek Hariharan has sung 'Ghere' incredibly well. The song also boasts of some quirky lyrics by Vayu.
Vivek is one of my oldest friends in the industry. We have been working together right from the time I was doing independent films. He is one of the most versatile singers I have come across. He keeps growing as a singer with each song and that's a very rare quality. He keeps trying to learn and adopt different styles. Working with Vayu was a great experience. Since he is a musician himself, I didn't have to explain the arc or scanning of the melody to him. Whenever he writes something, it gets approved immediately. We never had to do multiple drafts.
Two of your films ('Waah Zindagi' and 'Good Luck Jerry') have released on streaming platforms and two ('Jai Mummy Di' and 'An Action Hero') have had a theatrical release. As a composer, how do you differentiate between these two mediums?
Theatres offer a community viewing experience. When you are creating the music for a film that would be watched in theatres, you have to ensure it has a larger-than-life feel to it. The advanced music systems and high-end speakers installed in theatres also make the process of listening to songs or a soundtrack more enjoyable.
You were the solo composer in 'Waah Zindagi' and 'Good Luck Jerry'. All the original tracks in 'An Action Hero' have been composed by you. However, you have been also a part of a multi-composer album like 'Jai Mummy Di'. Are you open to doing more films where multiple composers are involved?
Trends in the music industry have changed drastically in the last few years. I prefer composing an entire album on my own. However, I am willing to be a part of a multi-composer setup if there is a proper plan to promote and release each and every song in the album properly.
A while back, you composed the background score for a Marathi film named 'Y'. Do you plan to do more regional films in the near future?
Absolutely! The lines are blurring now and films made in different languages are doing well across the country. I would like to do films made in any language as long as the subject or script is interesting.
Songs or background score – what do you enjoy creating more?
I enjoy both processes equally. If I end up doing too many songs over a period of time, I feel the urge to do a background score (laughs). 
Disclaimer: This story is auto-aggregated by a computer program and has not been created or edited by filmibee.
Publisher: Source link