Movies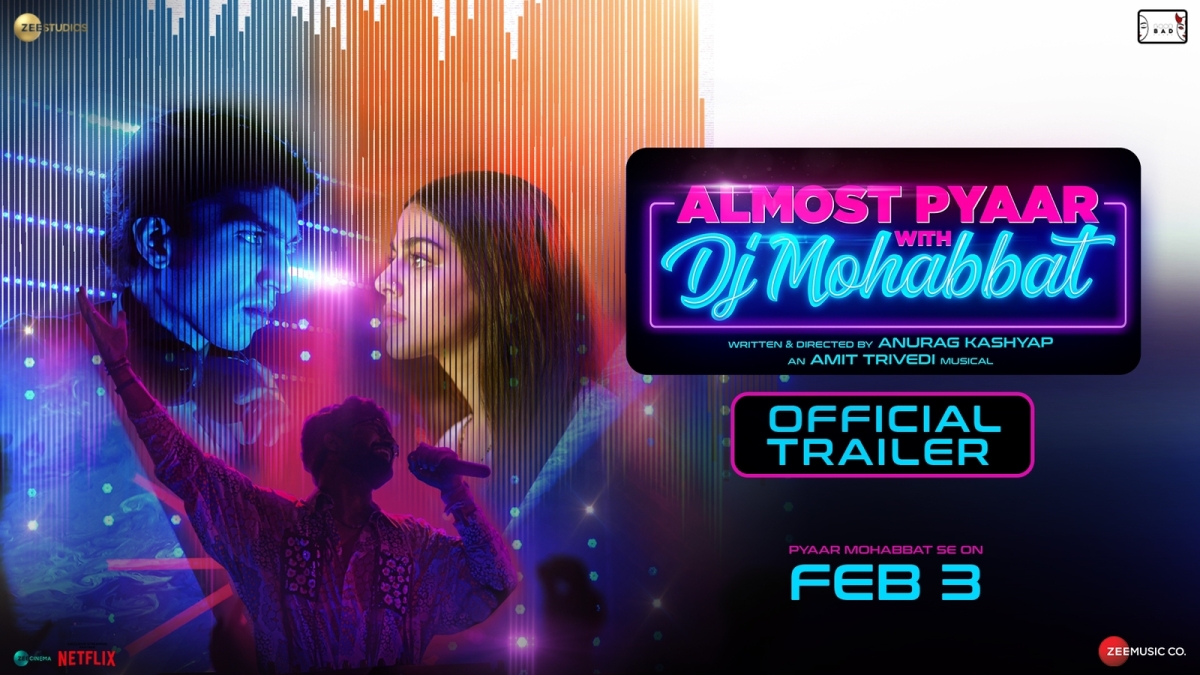 Jan 19, 2023
Almost Pyaar with DJ Mohabbat trailer! Anurag Kashyap eyes a kranti via his two love stories – Beyond Bollywood
A cleverly woven trailer hints at a double role for Alaya F. More than an inter-faith love saga, the romantic drama aims to speak the voice of the youth.
By Mayur Lookhar
Anurag Kashyap is ready with his next release. No, it is no noir, but a new age love story. The trailer claims two. Simplicity is essential for the humble desi viewers.  An Anurag Kashyap film though is never straight. It took multiple viewings and we're still not dead sure about the plot here.
The mention of two stories, and two shades to Alaya F suggests that maybe the young actress is playing a double role. Almost Pyaar with DJ Mohabbat [2023], what a unique name. During the trailer launch director Kashyap disclosed how the title is actually the name of a podcast show in the film. And it's the show that attracts the desi girl Amrit [Alaya F] to it. She befriends a local [Dalhousie] Muslim man Yakub, who takes her out for cinema, and promises to get her DJ Mohabbat's number. Who is this DJ Mohabbat? We can't make out from the early grainy visual. His identity is a suspense.
On one hand we have the desi girl, then on another we see Alaya in an urban avatar trying to impress the local DJ Sameer [Karan Mehta].  Are they both inter-faith love stories? The cleverly woven trailer, the rapid visuals build great element of uncertainty around the film. The one thing certain is that Kashyap wants to bring a kranti [revolution] through his two love stories.
The inter-faith angle is bound to invoke the ire of the 'love jihad' brigade. But a Muslim man drinking liquor will also not amuse their hardliners. More than that though, Kashyap's film aims to hear the voice of the youth, highlight the generation gap between parents and kids in small towns. That bald father of Amrit, is that Vivek Mushran?
The burkha-clad Amrit borrows her social media wit from popular social media character Saloni Ammi, creation of Saloni Gaur. Freddy [2022] showed how Alaya can handle two shades with elan. Here there appears to be three shades to her.  The men will have their say, but it is apparent that Alaya will be the heart and soul of this film.
Almost Pyaar with DJ Mohabbat [2023] is set to be released on 3 February. Watch the trailer below.
Disclaimer: This story is auto-aggregated by a computer program and has not been created or edited by filmibee.
Publisher: Source link