Movies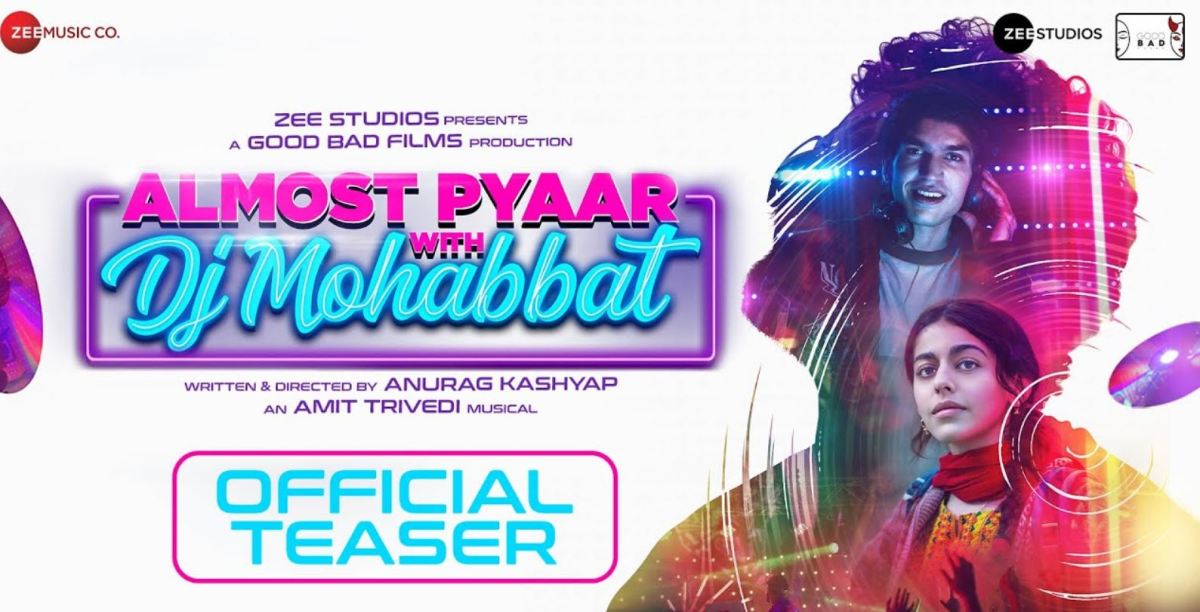 Feb 3, 2023
Almost done with Anurag Kashyap's love stories – Beyond Bollywood
Cliché plot, dull screenplay and a regressive ideology unlikely to win audience's mohabbat. Alaya F's lone efforts in three different shades can't save this dour drama.
Rating: 1.5 / 5
By Mayur Lookhar
Once the cash cow genre, today Bollywood struggles to a tell a decent romantic story. We've repeated this line umpteen times that it's now become a cliché. But when filmmakers pass off cliché in the garb of new age cinema, a certain sense of deja vu does creep into the critiquing.
Anurag Kashyap, once hailed as a maverick filmmaker, has experimented in his recent films. The desi noir filmmaker partly shocked his viewers first with Manmarziyaan [2018] a chaotic love triangle saga. Despite it's time travel theme, Dobaara [2022], the Hindi remake of Spanish film Mirage [2018], also had its elements of romance. He'll never be mainstream, so trust Kashyap to raise a storm in a love story too.
During the promotions, the director stated that it was his daughter Aaliyah who sowed the seeds of Almost Pyaar with DJ Mohabbat [2023]. The story idea stems from Kashyap's admission to not knowing his daughter and her generation well enough.  She's perhaps the spiritual creator of the so-called Generation Z film.  Kashyap has Gen Z talent Alaya F as his lead. Aaliyah, Alaya and Anurag coming together, what's in it for the audience? The preceding line is filled with alliteration. Anurag Kashyap's Almost Pyaar with DJ Mohabbat [2023], though feels like a oxymoron.
The endeavor is mohabbat (love), usher in a kranti (revolution) through love, but the method is regressive like the cliched class/creed conflict love stories of the yore.
Two inter-faith friendships blossom simultaneously – one in Dalhousie (Himachal Pradesh) and the other in England. It features two 16-year-old girls, and two adolescent men. What's also common is how they [Amrita-Ayesha, Yakub-Harmeet] look strikingly similar. 
In Dalhousie, Yakub [Karan Mehta], a local humble Muslim young man likes the company of 16-year-old Amrita [Alaya F]. He's promised to take the minor/school girl to DJ Mohabbat's upcoming concert on Holi.  In the United Kingdom, DJ Harmeet [also played by Mehta] has no feelings for Ayesha [also played by Alaya ], but the latter is smitten by the struggling musician. Both friendships have an 'almost' love characteristic about them. Though poles apart, Yakub, Amrita, and Ayesha's impetuosity creates more than adequate drama in their respective world.
Mohabbat se kranti aayegi (Revolution through love). That's the motto of the film. Similar concepts were popular in the 80s, 90s. While communal harmony is vital to any society, why are Bollywood filmmakers hell bent on a kranti through inter-faith love stories? Shouldn't the primary focus be on promoting shanti (peace) which requires mutual respect for one another? The rebellious approach is perhaps no longer cutting much ice with the audience. On the contrary, it accentuates the divide. It's not Amrita, Harmeet, but Yakub and Ayesha who are carried away in their manmarziyaan. Kashyap doesn't misses the Amrita Pritam reference in the Amrita-Yakub story.
The 'love jihad' bandwagon will naturally see red but Kashyap and his film escape that charge by balancing it with the Pakistani girl Ayesha and Indian musician Harmeet's story.  Hey, but wouldn't that be chauvinism, ethnocentrism? In some way, the Anurag Kashyap film makes a pitch for 'Aman Ki Asha'. Unfortunately, this peace initiative has remained just an asha (hope), let down by consistent ground realities. Kashyap's film challenges cultural boundaries, but like Abhishek Kapoor's Kedarnath [2018], it eventually allays the fears of the majority.  Disturbingly though, the Abrahamic faith pays a double price here [Almost Pyaar…]. 
Kashyap's Gen Z protagonists lament how the society equate inter-faith love/friendship as a khandan ki naak kaat di act (bringing shame to family]. As a liberal, we empathize with Amrita-Yakub, Ayesha-Harmeet, but we don't condone their silly actions. And why does this conversation often occur over a bottle of liquor? Woke liberalism is unhealthy.
The thin cliched plot, and the extremely dull screenplay makes it an almost suffocating experience. Despite the weak fundamentals, it's Alaya F who wages a lone battle. As Amrita, she gives a fine portrayal of the Punjabi from Himachal. Raised in a family where even the youngest member [little brother] despises Yakub being around his sister, how has 16-year-old Amrita turned out to be so liberal?
The British Pakistani Ayesha might be the stuff of Bollywood fantasies. Nevertheless, Alaya holds her own in this character. There's a third shade as Amrita acquires the alter ego of Saloni Ammi – based on popular TikTok sensation Saloni Gaur. She has to bear the brunt of bad dialogues, but Alaya still impresses in her Saloni accent.
Germany born Karan Mehta makes his debut. His silky hair is appealing, but he comes to Bollywood undercooked. Harmeet is largely subdued, but Karan looks listless as Yakub. There's a thin line between innocence and daftness. Yakub oscillates between the two. He's very annoying with the bray-like laughter. it's also surprising that while the educated, privileged family of Amrita is shown as conservative, but Yakub and his Muslim debout father harbor no so such bias against the majority. Harmeet is a man of few words who simply takes everything in his stride – be it Ayesha's obsession, or his boss' close affection for him. Though unseen, the Rainbow flag tries to flow in this 'straight' story.
For a film on love, friendship and set in picturesque Himachal Pradesh, England, Kashyap, his cinematographer Sylvester Fonseca, surprisingly opt for a dark hue. In fact, barring the leads, most of the other actors largely have a shadowy presence. Unfortunately, some of the finest background dancers – desi and videsi – aren't quite visible in their electric moments. Despite the cultural conflicts, the law enforcement official(s) in Kashyap's film are sincere in their efforts to avert any tragedy.
Lyricist Shellee and music director Amit Trivedi gave majestic, poetic numbers in Manmarziyaan.  The music, rather the lyrics of Almost Pyaar with DJ Mohabbat can be described as Gen Z. Netflix and Chill, Woman Desi, Maintenance, Ghanghor Connection. These song titles don't ring a bell, but they have their own flavour – both musically and visually.  The key track is Mohabbat Se Kranti, but this is also countered by the materialistic numbers Maintenance, Netflix and Chill.
Last but not the least. Vicky Kaushal was likable as the immature, funky DJ in Manmarziyaan, but he flatters to deceive as DJ Mohabbat. As a filmmaker, Kashyap is well within his rights to usher in a kranti through love. It's a view that might be shared by his young daughter Aaliyah too, but does Almost Pyaar with DJ Mohabbat reflect the voice of the youth? Ah, we're not making any sweeping statement. But we don't hesitate in saying that we're 'almost' done with Anurag Kashyap's feeble love stories.
Almost Pyaar with DJ Mohabbat [2023] is set to be released in theatres on 3 February.
Disclaimer: This story is auto-aggregated by a computer program and has not been created or edited by filmibee.
Publisher: Source link