Movies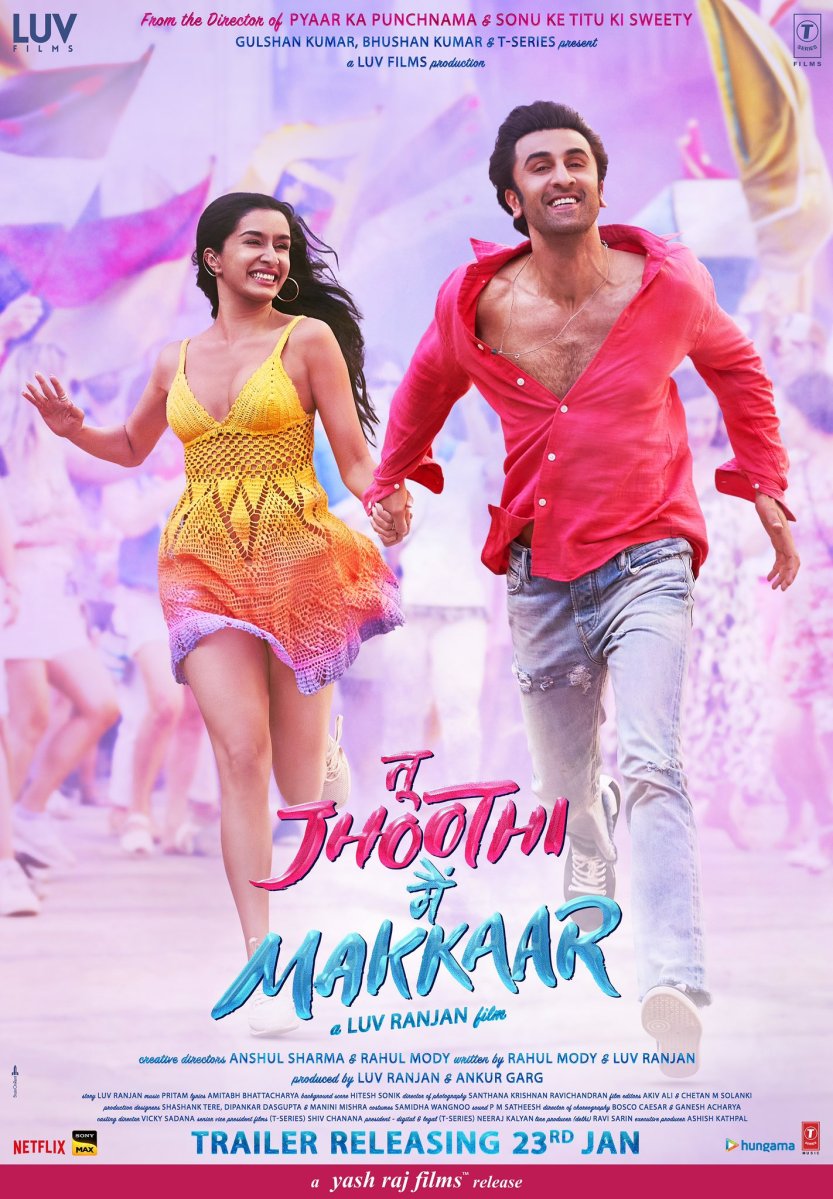 Mar 7, 2023
Ajab Mickey ki ghazab prem/breakup kahani – Beyond Bollywood
Writer-director Luv Ranjan probably gets rid of the 'M' tag but the 'breakup' business model has become creatively unviable. Ranbir Kapoor acts well, dances brilliantly, but any jhoothi tareef (false praise) would earn us the ignominy of being a makkaar [fraud].
Rating: 2 / 5
By Mayur Lookhar
A third-generation actor from a revered film family. Highly gifted, a natural actor who is prepared to go the extra mile to achieve perfection. Ranbir Kapoor's best works haven't always yielded the desired box office numbers. But his most successful films – Sanju [2018] and last year's fantasy action, love drama Brahmastra [2022] – have lacked the quality of his finest works. Jeez, it's tough being a Ranbir Kapoor.
Sanju stemmed the rot for Kapoor in 2018. It didn't quite fit into the mainstream category. Perhaps a Shamshera [2022] fits that billing. We're not even telling what happened to the latter. However, post Jagga Jasoos [2017], Kapoor embraced an artform that he perhaps didn't rate much in the early years of his career.  So, what if a Sanju was slammed by a few critics as a whitewash film, and reeking of certain misogyny. A struggling Ranbir Kapoor merrily embraced Sanju's humongous success. 
It was perhaps around 2019 when the news of Ranbir Kapoor doing an untitled film with director Luv Ranjan started doing the rounds. It was confirmed soon, and Shraddha Kapoor was roped alongside him. Ranjan has made a name for himself with his rom-coms, relationship dramas but they also smack of a certain misogyny. His complex rom-coms are largely successful. Kartik Aaryan owes a lot to Ranjan and his films.  Maybe, Ranbir Kapoor felt that a Luv Ranjan film was missing in his resume. 
A Luv Ranjan directorial naturally has his critics up in arms waving the misogyny flag.  After the Pyaar ka Punchnamas, Sonu Ke Titu Ki Sweety [2018], the filmmaker certainly seems to have acknowledged the noise.  Now comes Tu Jhoothi Main Makkaar [2023]. It's not a simple title. Yes, the girl is the jhoothi (liar) again, but perhaps for the first time, Luv's hero is a makkaar (fraud) too.  
The M word does rear its ugly head intermittently, but at the end of 164 minutes, Ranjan succeeds in getting rid of the misogyny tag. Unfortunately, Tu Jhoothi Main Makkaar has a timid story. The 'too-good-to-be-true' is also acknowledged by some of the leading characters.  So, how does Ranjan and his resident writer Rahul Mody expect the cinephiles to be forgiving?
Mickey [Ranbir Kapoor] and his family run some businesses in Delhi. Principal among them is the 'breakup business' which Mickey runs along with his brother-like pal Dabas [Anubhav Singh Bassi]. We're not sure whether Mickey's family members are aware of this breakup business, but his little niece Sweetu [Inayat Verma] seems well informed here. Remarkably, the little child even gets a fair share of the profits.  In one scene, Mickey and Dabas sip their whiskeys, while the little child is sitting on the bed sipping her apple juice and carrying a bundle of cash. Does this scene make for an ideal family viewing?
Mickey's success, modus operandi has perhaps made him suspicious of most girls. It's been a long time since he fell in love.  Surprisingly, this breakup specialist is instantly smitten by one Delhi girl Tinni [Shraddha Kapoor] during Dabas' bachelorette party tour in Mallorca, Spain. Dabas's fiancé Kinchi [Monica Chaudhary] is accompanied by Tinni.  What follows next can best be described as Ajab Mickey ki ghazab prem/breakup kahani.
What causes this breakup? That's for the viewers to decipher. However, the methodology/ madness behind the fracas is bizarre to say the least.  It's a choppy ride all the way, seriously testing the sane minds. The eternal Bollywood romantics might be enamored by Mickey and Tinni's shenanigans but it's hard to make sense of the timid plot, and the below-average screenplay.
We recall Ranbir Kapoor telling during Shamshera promotions that at 40, it would be difficult for him to be playing the romantic, college boy. Mickey is certainly no chocolate boy. His chivalry is anything but classy. Mickey and Tinni's opening conversations are the stuff of only Bollywood fantasies.  There's no organic flow to this relationship.
The courting is bizarre, but the breakup communication is loud and clear.  It's also the moment where we get to see the chauvinist, momma's boy Mickey. Ranbir Kapoor makes a sincere effort to build engagement. The shoddy screenplay though drags him down.  Ranbir's more than competent as an actor. But he also mesmerizes with his dancing.  The actor has perhaps never got enough credit for his dance skills.  We saw the happy feet in Jagga Jasoos. Ranbir, the dancer doles out another tour de force in the Luv Ranjan film.
How do we sum up Shraddha Kapoor's effort? She's been around for over a decade and has seldom impressed.  "I need to go home, prepare, go to sleep then get up early, as I have a meeting in office at 9.00 am. I have a job, a boss. I have performance appraisal too," Tinni tells Mickey and his family. An artiste is usually the best judge of his/her performance. We leave it to Shraddha to rate her Tu Jhoothi Main Makkaar effort.
Child artiste Inayat Verma displays better confidence than some of the adults in the film.  Veteran actors Dimple Kapadia, Boney Kapoor, Jatinder Kaur try their best but you are never really drawn to their unimpressive characters – Renu, Ramesh, Dadi, respectively.  The gifted Hasleen Kaur has limited presence as Mickey's sister Minny.  The family palace mirrors the opulence of Karan Johar's Raichands in Kabhi Khushi Kabhie Gham [2001].  The Aroras are a loving family, but their tone, antics are annoying.  The family comedy that plays out in a cliché (airport) climax is funny though.
The music is mixed bag. Save for the Tere Pyaar Mein and the closing track (also crooned by Arijit Singh), there is nothing much to say about Pritam's music here. Much like Nushrratt Bharuccha in Sonu Ke Titu Ki Sweety [2016], Shraddha Kapoor, too, gets to show her love for alcohol. However, the Maine Pi Rakkhi hai song is no match for Chhote Chhota Peg from Sonu Ke Titu Ki Sweety. The best sound in Tu Jhoothi.. doesn't come from any lyrics, but through the two lone instrument renditions of Tere Pyaar Mein. The first one is probably the saxophone, with the other a piano-like sound from a keyboard.  The former lights up Mickey's proposal to Tinni. 
It's been twelve years since Luv Ranjan began with his brand of romcoms. The Pyaar Ka Punchnama films, Sonu Ke Titu Ki Sweety is very successful. Let's not forget the Ranjan-penned and produced De De Pyaar De [2019] too. It's common in Bollywood to milk a formula. We can't predict the box office for Tu Jhoothi Main Makkaar, but Luv Ranjan's cinema is increasingly getting monotonous.  No, we're not referring to the monologues alone. [They (monologue) built Kartik Aaryan's identity. Though Ranbir does a fair job, that will be not be his legacy]. It would be no harm if Ranjan gets out of his comfort zone. There is much to life than just Luv, Mr.Ranjan.
Disclaimer: This story is auto-aggregated by a computer program and has not been created or edited by filmibee.
Publisher: Source link