Movies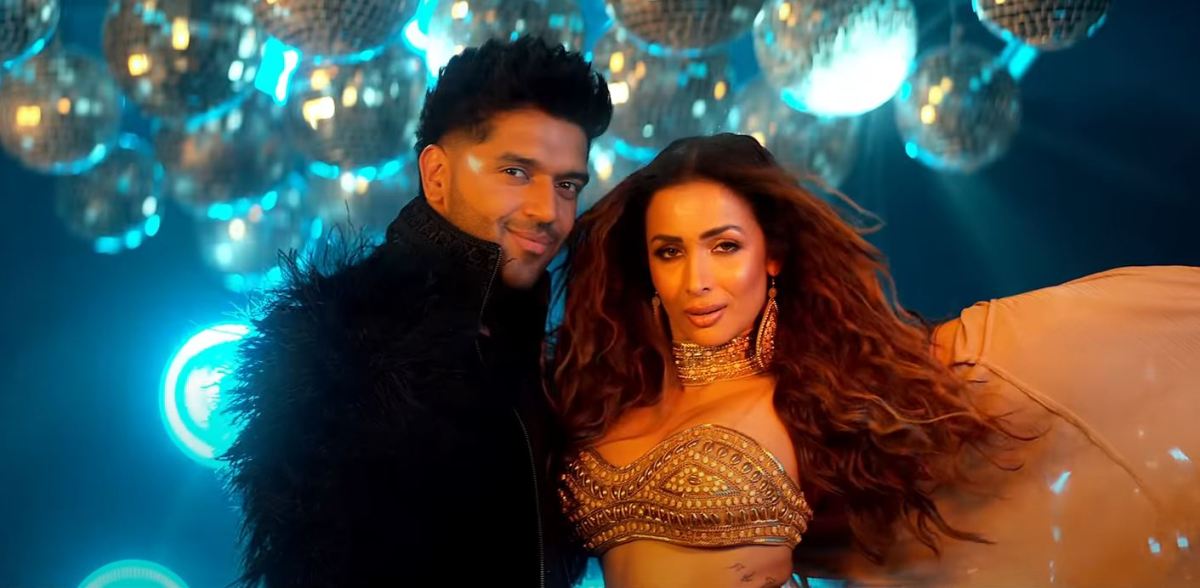 Apr 4, 2023
After Nora Fatehi, Guru Randhawa now shakes a leg with Malaika Arora – Beyond Bollywood
India's first VR music video is great to watch with technology, and also fun to listen.
By Mayur Lookhar
Change is constant in life. There always is a certain fascination whenever a new technology comes in. Visual Reality experience through Oculus Quest 2 [VR glasses] is a cutting-edge technology. Social media giant facebook was perhaps the first to give such experience. Any path breaking tech can bring the child out in adults. This writer felt overjoyed like a child whilst experiencing a desi single through the VR glasses.
The song in question is the T-Series produced Tera Ki Khayal single, crooned by Guru Randhawa, who also gets to groove with seasoned dancer Malaika Arora. The latter has kept a low profile in the last few years, especially from the time she ended her marriage to actor, producer Arbaaz Khan. Malaika has always been loved for her dancing. Her fans will welcome this long due return to the entertainment space. We saw her briefly in An Action Hero [2022], but Tera Ki Khayal enables Arora to dazzle on the dance floor.
The VR experience is a celestial one, as Guru Randhawa gets to be the Man of the Moon. Randhawa puts on the Oculus Quest 2 to watch Malaika's sizzling moves. The singer imagines himself to be in this world as he joins Malaika and other dancers on the glitzy floor.
Royal Maan is the leading lyricist, with Randhawa aiding him in penning fairly elementary lyrics. As often, Randhawa's lyrics are seldom any classic poetry, it is his voice quality that appeals to his fans. What works for the song though is the groovy pop score by composer Sanjoy. Man, it feels very heavy on the Western music front. The song's high points emanate from its techno beats. That's a unique experience for Guru Randhawa and his fans too. However, the Western music doesn't overpower Randhawa's tone. The singer leaves his strong imprints in the low notes.  A certain tech modulation partly distorts the tone, but it adds a whole new dimension to the track.
As for the visuals, Malaika Arora puts on a show, but it's not an encore with the seasoned dancer having to make do with limited electrifying moves which mainly play to the techno beats. She enchants with her expressions while sharing screen space with Randhawa, and also in solo shots. She enters the fray prowling like a cat ready to pounce on the dance floor. There's a visual storytelling to this song where the moves complement the corresponding lyrics.
Randhawa had experimented with dancing with the Dance Meri Rani single in 2022. That song featured Nora Fatehi as the exotic mermaid. Randhawa goes a notch higher here with some nimble foot movement to match up to the seasoned pro – Arora. Bosco Leslie Martis's choreography is best enjoyed in the hook tunes.
If anyone gets a chance to watch Tera Ki Khayal through Oculus Quest 2, that will be a surreal experience. The lyrics aren't great, but the peppy score, Randhawa's tone and Arora's expression, dance moves make this single a fine number. It sure will beat in desi discotheques.
Watch the Tera Ki Khayal single below.
Disclaimer: This story is auto-aggregated by a computer program and has not been created or edited by filmibee.
Publisher: Source link