Movies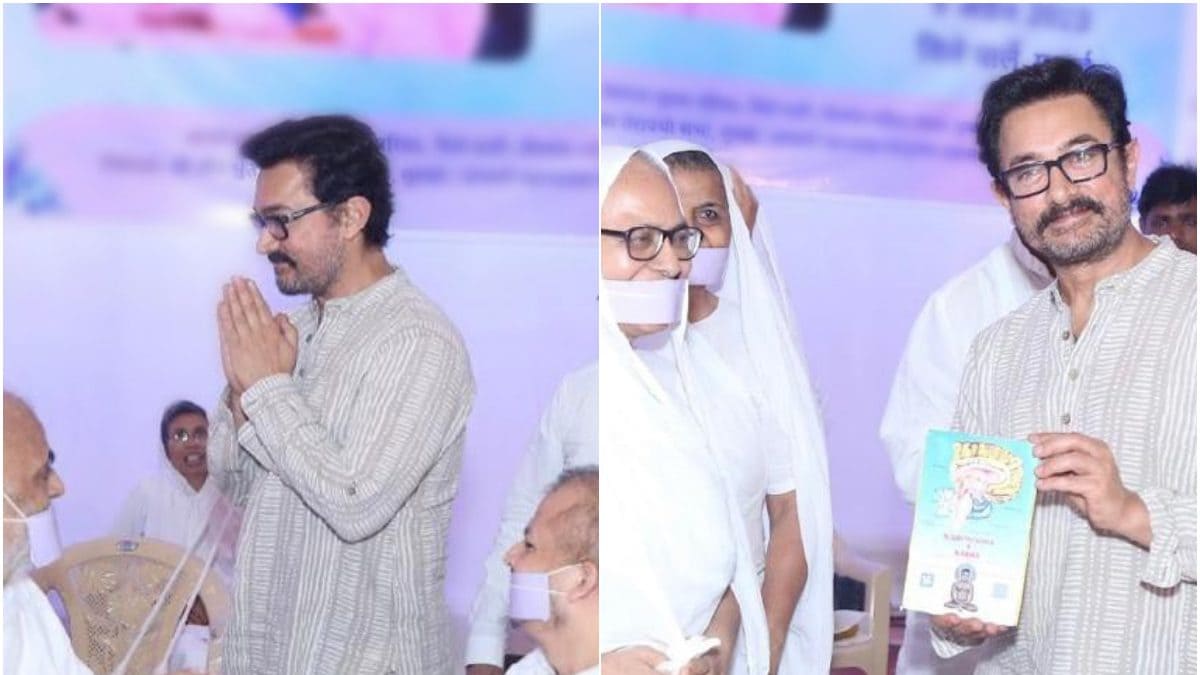 Apr 11, 2023
Aamir Khan Attends Scientist Professor Muni Mahendra Kumar's Prayer Meet To Offer His Respects
Last Updated: April 11, 2023, 20:02 IST
Aamir Khan attended the prayer meet of Dr Mahendra Kumar Ji.
Mahaveer Jain and Ashok Kothari shared that Aamir Khan himself admires and follows Jain principles.
Professor Muni Mahendra Kumar died on April 6 in Mumbai. Bollywood actor Aamir Khan recently met with Muni Mahendra Kumar and had a long conversation about Jain's philosophies, spirituality, and science. Producer Mahaveer Jain and Sr IRS Ashok Kothari were also present for the same. Yesterday, on April 10, Aamir attended the prayer meeting organised for the renowned professor.
In a letter shared by Muni Mahendra's team, they said, "Muni Mahendra Kumar was often referred to as Human-Computer. He has had a close connection with Sir Roger Penrose (Stephen Hawking's guru) and has been a pioneer in the study of ancient science and wisdom."
"The Jain Muni & Aamir Khan have had deep conversations about Jain philosophies, Spirituality & Science. At the prayer meet, Producer Mahaveer Jain said that Aamir Khan admires and follows Jain principles like Anekantavada (Respect different perspectives), Ahimsa (Non-Violence) & Aprigraha (Non-possessiveness). We are touched by this heartfelt gesture of Mr. Khan to join us at the tribute ceremony. Munishree was a disciple of Jain Terapanth Acharya."
Professor Muni Mahendra Kumar had demonstrated Avadhana Vidya, the rare ancient science of memory power and oral mathematical calculations, at several universities and international conferences. His book "The Enigma Of Universe" was launched by respected late-ex-president, Dr. APJ Abdul Kalam.
Meanwhile, on the work front, Aamir Khan might began work for another adaptation in the form of Campeones but only as a producer, reportedly. The actor had also approached Salman Khan to headline the film.
Sources told Bollywood Hungama that Salman had shown his inclination toward the subject of the film and if things go well, they might take the film on floors in the coming months. The source revealed, "Salman too has liked the subject and is sitting with Aamir to decide on multiple aspects – from the shooting schedule to the locations and other aspects. Both Salman and Aamir are planning to take the film on floors in June 2023."
Read all the Latest Movies News, Entertainment News
Disclaimer: This story is auto-aggregated by a computer program and has not been created or edited by filmibee.
Publisher: Source link