Movies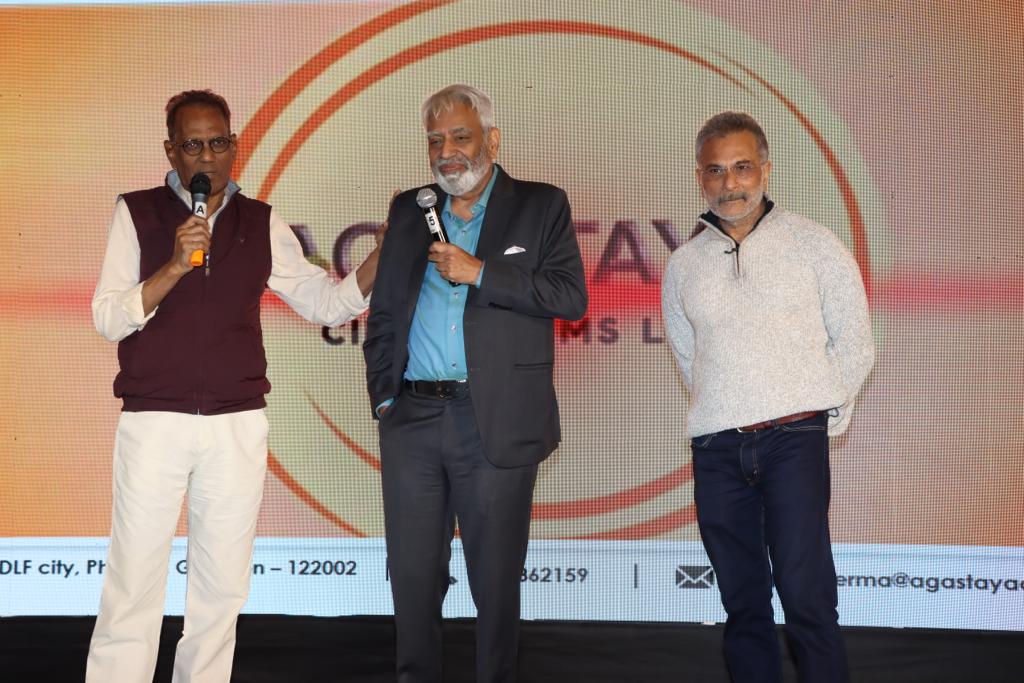 Jan 14, 2023
A Winter Tale at Shimla! Yogesh Verma turns filmmaker, producer at 65 – Beyond Bollywood
Thespian, former corporate caused tension in his family by investing a huge chunk of his life earnings into fulfilling his long-cherished dream.
By Mayur Lookhar
Success comes to those who take risks. Maybe, it is easier to say for those who don't pump in the money. Thespian and former corporate Yogesh Verma has taken a huge risk by investing a sizable chunk of his life earnings into achieving his long-cherished dream. In an inspiring story, Verma has turned writer, filmmaker, producer at the age of 65.  
A BITS Pilani alumnus, Verma is a postgraduate electronics engineer. An actor by passion in his young days, Verma wished to pursue his career as an actor, however family responsibilities got the most of him and his passion took a back seat. Now after leaving behind a forty-year long successful management career as head honcho with prestigious corporates in India, Verma is set to release his film A Winter Tale at Shimla [2023] soon.
Verma launched the poster, trailer, and the music of the film in Mumbai last evening [13 January].  He'd invited his close friends such as Virendra Saxena, Pavan Malhotra, and Shankar Mani, who is his childhood friend. It is unusual in a presser that a close friend mocks a filmmaker-producer. Mani felt that his friend had taken a huge risk by investing Rs4-5 crore from his savings into making a film.  Verma also disclosed how his ambitious dream caused tension in his family too.
"My wife felt that I was throwing away the legacy of our children. Even they questioned as to why I want to do this at my age? My children live abroad. They had advised me to sell the story, direct it, but were against me producing it.  I was firm though that if I don't do it, this dream will not take off," said Verma.
Now that the film has been made, has the tension eased in the family?
"My wife has seen the film about 1000 times. She is no film buff, but a simple housewife. I'm satisfied that a simple person like her can see it so many times and not get bored. So, the film is engaging. I ask her why do you see it so many times? She replies saying that she likes it," said Verma.
The filmmaker, producer added that his children haven't been able to see it yet as they live abroad. He hopes that they too like it.
For a man who has spent decades in the corporate world, didn't Verma ever think of sourcing finances from corporates?
"No. I've always felt that once you walk out of a door, you never go back to ir. It's awkward because you ruled that place, you laid down the command, and then to go back there asking for a ten-minute meeting and then someone says no. I didn't want to go through that disappointment," clarified Verma.
A Winter Tale at Shimla [2023] is borne out of his interesting life journey. His narration combines both the vintage and the modern metaphor as he spins a tale of classic love. Living-happily-ever-after is not on the table. The film has Indraneil Sengupta, Gauri Pradhan Tejwani, Deepraj Rana in leading roles. Interestingly, it is a maiden film for popular TV actress Gauri.  Nikitha Chopra too makes her debut.
The revolves around Chintan a Vedic philosophy professor, and a housewife Vaidehi [Gauri Pradhan]. The duo were lovers in their youth, but destiny had other plans for them. Years later they bump into each other again. Chintan is left injured in an accident. The subsequent care shown by Vaidehi irks her abusive DIG husband Uday Singh [Deepraj Rana]. Nikitha Chopra and Angad Ohri play the young Vaidhei and Chintan, respectively.
The poster and the trailer were revealed yesterday. Three songs were also launched, Noted singers Udit Narayan and Palak Muchhal have lent their voices to the music. No release date has been announced but Verma is confident of releasing the film in the next 6-8 weeks.
Watch the trailer below.
Disclaimer: This story is auto-aggregated by a computer program and has not been created or edited by filmibee.
Publisher: Source link