Movies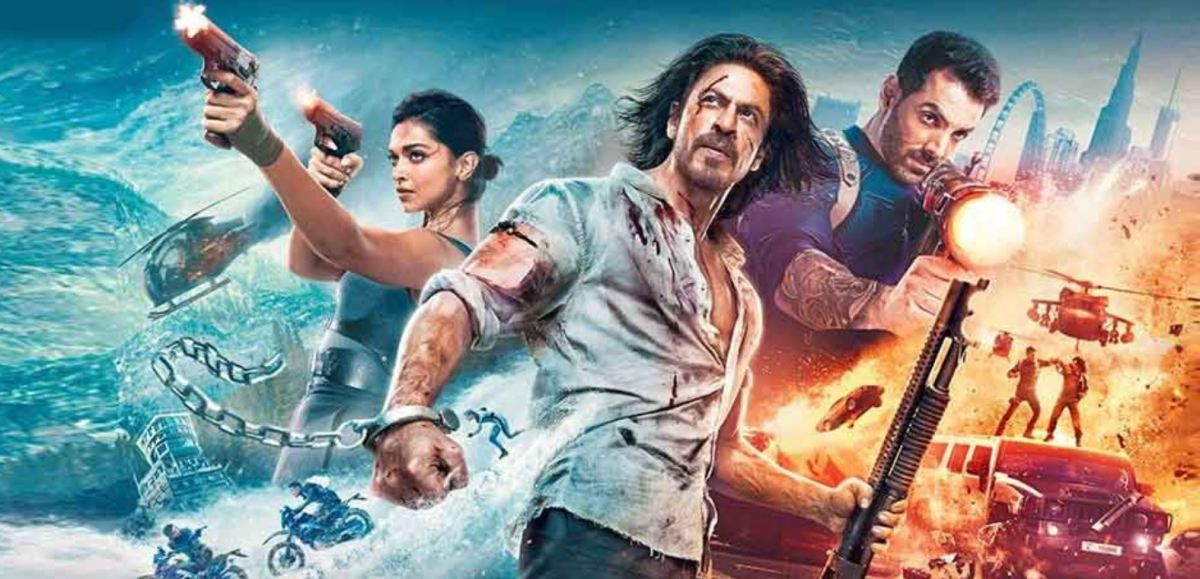 Jan 25, 2023
A Pathan so distant from SRK's lineage and image – Beyond Bollywood
Though the Siddharth Anand directorial presents Khan in a unique action hero avatar, the thin plot and unconvincing action leaves us disappointed.
Rating: 1.5 / 5
By Mayur Lookhar
King of hearts aiming to become King of action. Though his legacy is built on romantic dramas, early in his career, he did play a Fauji [armyman] in the 1989 TV series. His first big blockbuster had him play an avenging anti-hero in Baazigar [1993]. He was the dangerous stalker in Darr [1993], went few steps ahead in Anjaam [1994]. Years later, he played the smiling, lovable army man in Main Hoon Naa [2004]. Just one family romantic drama changed the landscape for Shah Rukh Khan. He is much loved for Dilwale Dulhania Le Jayenge [1995] because that film, that character [Raj Malhotra] broke the trend of the guy taking the girl, but with full consent of her parents, breaking away from the regressive runaway trend.

So, the man isn't averse to breaking barriers. Why should then one be shocked to see the man try his hands at hardcore action at 57? What shouldn't be surprising either is the man playing a Pathan. Afterall, the Delhi man has Pathan lineage. After playing the romantic hero for near three decades, Khan, too, sensed that change was the need of the hour. His lean phase has now extended to a decade. Better to gamble than go out on a whimper playing the cliched roles.

"Pathaan ke ghar party ho, toh Pathaan toh mehmaan nawazi ke liya toh aayega, aur pathaake bhi laayega." this one line in the trailer was indicative of an all new Shah Rukh Khan. Not your traditional pathan, but Shah Rukh Khan has a new tone, new swag to him.

Yash Raj Films gave him DDLJ. The same production house unleashes an uber cool action-packed avatar in Khan. Director Siddharth Anand transformed King Khan into Pathaan [2023]. But does his Pathaan pack a punch?

Long perceived to be dead by the enemies, and unimportant for the Indian intelligence agency, Pathaan throws a surprise to an old foe in Africa. The long hair, sexy moustache makes him look more like a rockstar than a free agent. Nevertheless, Pathaan makes an action-packed entry that draws whistles from the gallery. Soon he has a meeting with his former reporting officer Nandini [Dimple Kapadia]. Pathaan has a unique proposal wherein he seeks the agency, ministry's nod to form a covert division comprising of forlorn agents. He calls it JOCR [Joint Covert Operation]. Agency chief Col. Luthra [Ashutosh Rana] labels them as stinky eggshells. He reluctantly assigns Pathaan and other eggshells to a security mission in Dubai.
Unit X, one private contract killing machine has threatened to blow off proceedings at the science conclave that will be graced by the Indian president. The head of this Unit X is Jim [John Abraham]. There's an ultra motive behind Jim's actions with the seed of resentment lying in a tragic past.
The early clashes between Pathaan and Jim feel like He-Man and Skeletor, where they fight hard, but live on to fight another day. Unfortunately, until the final blow, the action has a similar feel to it. Maybe, not He-Man, but Pathaan certainly has nine lives like Tom [iconic cartoon character]. He owes one such life to a 'Tiger'. YRF fans don't need any explanation. This and a parting Tiger-Pathaan conversation produces the largest cheer. It celebrates the Khan bond, but more importantly champions the cause of YRF spy universe. Maybe, the last words are also tinged with subtle digs at the gen-next, both cinematically and politically? Ah, let's not run our imagination wild, it is simply the aging stars saying, "Don't write us off ".
What attracts our curiosity is the hullabaloo over the Besharam Rang song, in particularly the reservation over Deepika Padukone's skimpy saffron outfit. Thanks to the CBFC, who didn't give in to popular demands of fringe groups. Director Siddharth Anand and YRF do nothing that undermines any ideology or its symbol. On the contrary, the Saffron flies high from Delhi to Spain, and even Islamabad to Afghanistan. In between, the film has pit stops in Africa, Dubai, and Russia. The KGB has no mention, but certain actions in a friendly country highlight the director and producers' creative liberty.
Pathaan is sexy, sports fab abs. There is history behind the name, one that celebrates India's cultural diversity, inclusivity. He is well travelled but what's missing is a robust plot and a gripping screenplay. Here's another big-ticket Bollywood project that perhaps scored high in its sales pitch, but the final product lacks quality ingredients. The Western inspiration in action scenes is all fine, but the deja vu here stems from the domestic tropes. Even director Anand and his Pathaan echo the 'here's another Zoya meets Tiger' line. The ISI [Inter-Services Agent] here is Rubina or Rubaiya Mohsin [Deepika Padukone]. Doesn't the second name ring a bell? Why should any patriot complain over an ISI agent wearing a saffron colour skimpy outfit?
Padukone makes a decent attempt as a desi female Bond [not Bond girl]. Unlike the leading quinquagenarians, the tricenarian Padukone at least pulls off some moves on her own. She brings the right energy but could have wished for better writing to her character.
Khan makes an initial impression in his new action-packed avatar, but is then weighed down by the drab screenplay. He has some witty lines, especially while taking digs at our noisy neighbour, and the 'gupshup' with Tiger. The desk conversations reflect Khan's natural wit and charm but a poor 'booble' joke on Russian currency is unexpected from the family man star. Khan shows that he can mold himself into a new age Bollywood agent, but this Pathaan is distant from his lineage and image.
The Jim-Pathaan action is such where the guns are loaded for them, but the final trigger shot has their face. The overall action though needed more convincing. The most bizarre action is how a patriotiotic missile heading into an Indian passenger aircraft is 'aborted' at the last second.
John Abraham not promoting or sporting a long face at media events has become a norm. He has our empathy, but a lot of the shoddy work is his own doing. Jim is either dressed in tight bodysuits or proudly roaming in shorts. Is that the reason behind the group being called Outfit X? Be it the six-pack abs or the shorts, the camera knows the money shot. The cold nature of Jim should ideally have worked in favour of woody Abraham, but the seasoned actor fails to intimidate. He mutters the best line though, "Joh dikhta hai, wahi biktha" (What is seen is sold].
As an ardent follower of this genre, it is tough for this reviewer to buy into populist tropes of Pathaan. If he is honest to himself, director Siddharth Anand must introspect on the way forward in this YRF Spy Universe journey. The sexy bodies of Khan, Abraham, Padukone will appeal the Instagram/TikTok generation, but the weak plot, screenplay compelled us to say alvida (goodbye) to this Pathaan.
Disclaimer: This story is auto-aggregated by a computer program and has not been created or edited by filmibee.
Publisher: Source link