Movies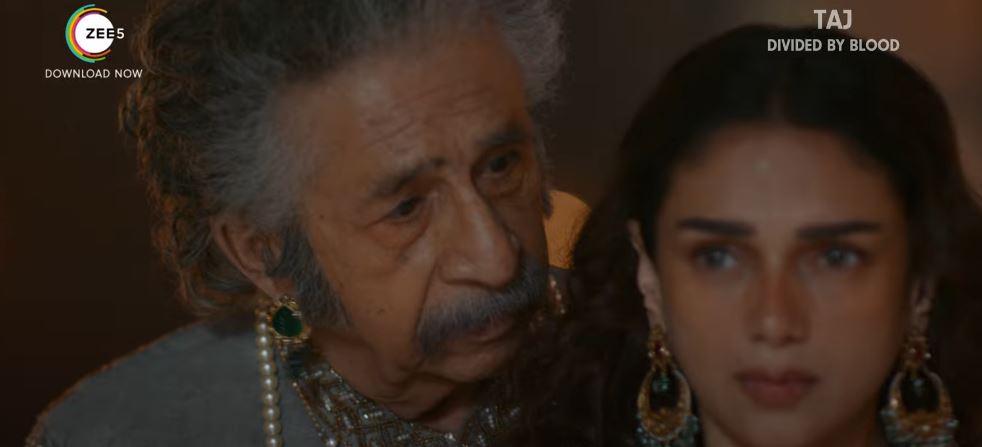 Feb 18, 2023
A never seen before representation of the Mughals? – Beyond Bollywood
A brave call by Zee5 to pick a part of history that is now increasingly abhorred by the ultra-nationalists, but creators Abhimanyu Singh, Roopali Kadyan probably have a series that could get a nod from the same critics.
By Mayur Lookhar
A conducive environment is vital for a historical drama. It wouldn't be entirely wrong to say that representation of history, historical figures have also been co-related to the prevalent social, political milieu. For over six decades, Mughal representation in Indian cinema has largely been positive. Their bravery was celebrated, their love stories became the stuff of romanticism.
India has seen a paradigm shift in its social-political environment since 2014. Hindu pride is a source of nationalism.  If not rewriting, there has been a clamour to rejig/ retell India, rather Bharat's history from the Vedic times. Noted new age historian Vikram Sampath was much cheered when he first declared at a conclave that India needs to reclaim her history from Delhi. We get to hear of course corrections in school text books, few additions, and perhaps few subtractions too. There's no harm per se in any country revisiting its roots.  
History debates have acquired a different tone in social-political discourse. Mere mention of Mughals is likely to evoke strong views from the nationalists. Director, creator Kabir Khan's 'Mughals were nation builders' comment received backlash. We haven't seen Disney + Hotstar's The Empire [2021] series, but social media was quick to pass its verdict. 
Forward to 2023, it comes as a surprise that Zee5, Contiloe Pictures Pvt Ltd [formerly Contiloe Films], opted to make Taj: Divided by Blood [2023], a series on an important era in Mughal history. Phew, now that is brave. Nimisha Pandey, Chief Content Officer, Hindi Originals at Zee5 cooled down the 'brave' talk.
"We aren't really doing anything brave. Though a Mughal set up, but this is the story of a family and the raita [mess] that they spread. It is not at all a risky show. It is a show about these humans. They just happened to be in stunning outfits, wonderful palace. This is simply a story of a father and his sons. It is a story of a mother, a woman who is loving, but wants her freedom. These characters from history and their stories are as relevant today as they were back then," Pandey said at the trailer launch on 17 February.
Fine words, but perhaps they'd be difficult to pacify certain nationalists. Well, after watching the trailer, we believe that Taj: Divided by Blood [2023] could well usher in a new chapter in Mughal representation in Indian cinema/entertainment history.
Pandey emphasized on the word family. The family that appears in the trailer looks all messed up. The chaos within the Sultanate is evident in the trailer. Having married multiple times, and bearing many children, Abhimanyu Singh and Roopali Kadyan pick a time from Jalaluddin Akbar's [Naseeruddin Shah] life when he is eyeing the right successor to his throne. Akbar declares that the true successor will be decided on merit than age. Vying for the throne are three princes – Salim [Aashim Gulati], Shah Murad [Taha Shah], and Daniyal [Shubam Kumar Mehra]. (Whose Jahangir though?) The siblings are poles apart.
Abhimanyu Singh's Salim is depicted as a lusty prince who loves poetry, and the fine things in life. Being king is not really a priority for him. This Salim is happy to have his hookahs, courtesans, poetry. Have we ever seen such cockiness from a Salim before in Indian cinema? Huh, such a far cry from the late Dilip Kumar's portrayal of the character in K. Asif's Mughal-E-Azam [1960],
Murad is the exact opposite. He craves for the throne, and is prepared to slay anyone who comes in his way. There's an outright evil look to Murad. Then there's Daniyal, who has a different taste than his lusty brothers. He seems mild mannered, but Daniyal could very well have other shades to him.
Clearly, the three shehzadas (princes) have no brotherly feeling for each other. Murad and Daniyal are relatively untapped characters from Akbar's reign. If given an option, the three wouldn't hesitate in beheading each other, but palace politics follows its own order. This appears like a typical pressure cooker scenario. The lid is opened when Anarkali [Aditi Rao Hydari] enters the palace.
Unlike the legendary Madhubala, Beena Rai, this 2023 Anarkali has more to her than it meets the eye.  Salim is smitten by her, but Abhimanyu and Roopali have dared to show a different dimension to the cult courtesan. That one scene of Akbar warning Anarkali to not forget who she really belongs to raises question on the character of Akbar.
The story of Anarkali is often mired in conjecture. History is subjective but as a neutral, this reviewer has wondered why many contentious aspects to Mughal history is brushed as mere conjecture. Do we need to credit our left-leaning historians from 1947?
We've come too far down the road to separate fact from fiction. Perhaps India's millennials are least interested in the invasion history. Maybe the devout Deobandis, Barelvis, Lutyens' left-liberals, political opportunists could keep a hawk eye on Zee5's Taj.
Another important thing is that though named Taj, but this series, the era didn't figure Taj Mahal. The so-called monument of love built by Akbar's grandson in the memory of his beloved wife Mumtaz came much later.
The lone character who doesn't appear to have an indifferent portrayal is that of the Sufi saint Shaikh Salim Chisti. Legendary actor Dharmendra, who loves his Urdu, seems apt for the role. The Sufi poet is said to have died at the ripe age of 94. The 87-year-old actor's presence in Taj adds some star power.
Arguably, the most stunning aspect is that this Hindi/Urdu series is directed by a British filmmaker Ron Scalpello. His IMDB bio mentions that he had once worked as an in-house director for BBC [British Broadcasting Corporation]. Argh, we Indians currently don't want to do anything with BBC.
There could be adverse reaction to the trailer, but we believe that aggrieved souls, if any, would eventually come around and even give their nod to this representation of the Mughals.
It's too early to pass judgments, but based on the trailer, this Taj: Divided by Blood could very well define the way new India thinks of the Mughals.
The series is set to stream from 3 March. Watch the trailer below.
Disclaimer: This story is auto-aggregated by a computer program and has not been created or edited by filmibee.
Publisher: Source link