Movies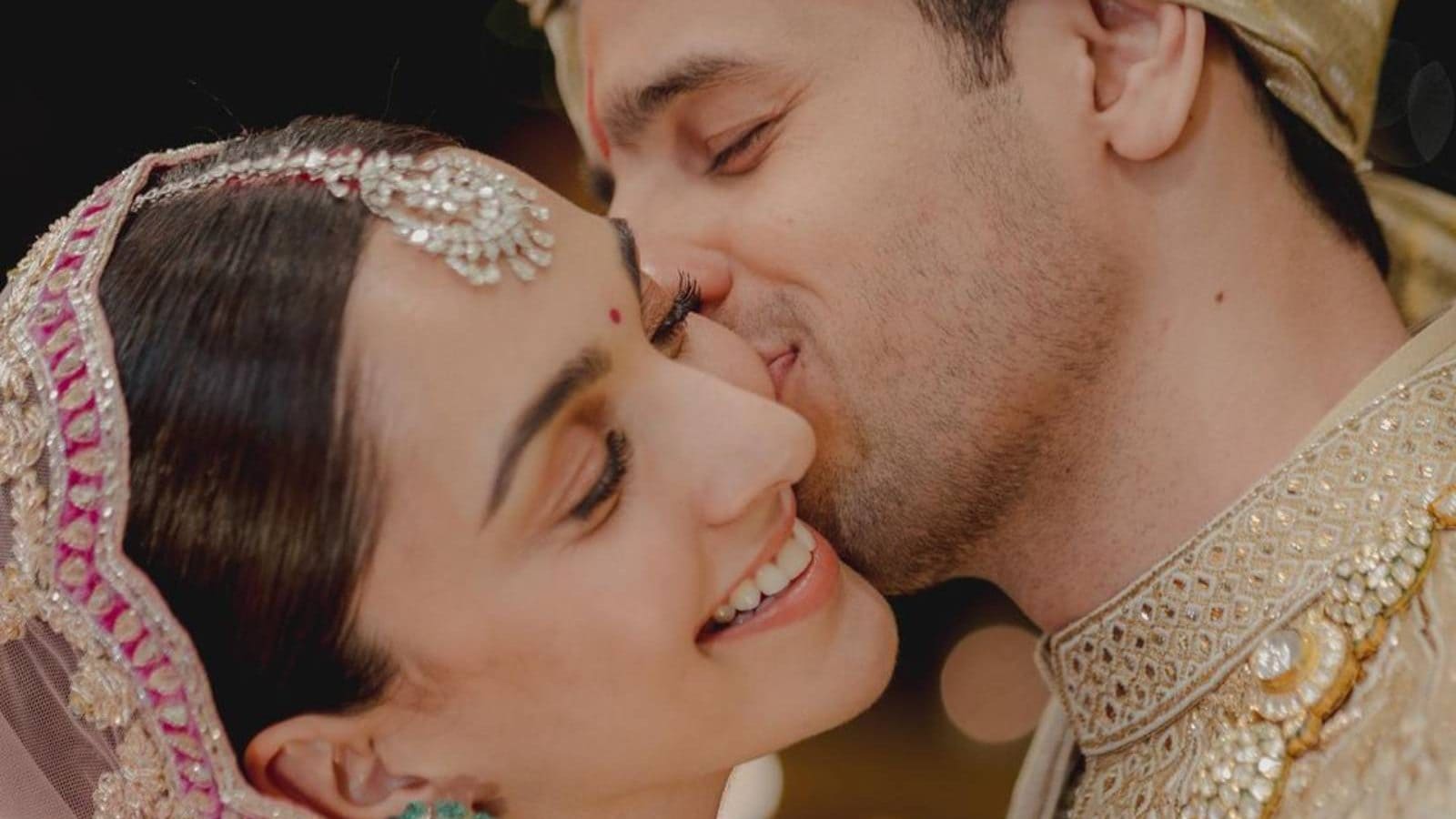 Feb 10, 2023
A Match Made In Heaven, A Marriage Of Equals
Sidharth Malhotra and Kiara Advani are now married, and we could not be more thrilled! The first set of pictures they shared from their wedding ceremony croons of the comfort, love, and respect they share.
Sidharth and Kiara posted separately — in contrast with what has been the trend. Celebrities make collaborative posts unless their partner is not on Instagram (like in Alia Bhatt's case). Both sets had three pictures each — two common and one that can even break the hardest of hearts. This third picture was that of a cheek kiss — Kiara plants one on Sid's cheek and vice-versa.
Nothing pathbreaking as of now!
But what followed thereafter was a deluge of comments and "likes". Kiara's followers, all of 25M (approx) at the time of posting the images, rushed to like these most-awaited marvels of human love. Same with Sidharth, whose follower count was 22M (approx) at the time of posting.
THE FEAT
Kiara's post is now the most-liked Instagram post in India, with over 14M likes at the time of filing this report. This beats the "likes" on Alia Bhatt and Katrina Kaif's wedding pictures (that they posted when their respective accounts boasted over 50M followers each).
That's an achievement worth taking notice of, considering how Sidharth and Kiara have never got their share of admiration.
Sidharth doesn't have flashy blockbusters to his name. Neither does Kiara. She, of course, has been a part of blockbusters, but one cannot credit the entire success to her name. But their performances speak more than the box office numbers. They both, however, have credible filmography in the OTT space — Shershaah, Guilty, Mission Majnu, and Govinda Naam Mera, going to show they are incredibly talented artists, just not lucky enough in terms of box office numbers.
It is perhaps because of this simple reason that them ruling the social media with their wedding chatter all around, and quite large at that, came as a surprise to everyone. A happy surprise…!
Sidharth, Kiara, and their wedding-related hashtags and keywords have been trending on the social media space — Twitter, Google, YouTube, and Instagram — for several days now. Every other brand's social media page has tried to fit in their marketing message with their pictures and the caption they used for them — "humaari permanent booking ho gayi hai".
There is an unprecedented amount of love outpouring from all quarters for the couple of the moment, SidKiara. And all of this is organic (you have to believe us when we say no PR has endorsed this yet).
The hype is real. But what makes them so loved then? What makes over 14M people fall in love with them? Is it because they look like a match made in heaven? Or is it because they make you believe in destiny a little more?
THE LOVE STORY
Sidharth and Kiara first met in December 2017 at a party that they both crashed — a night, Kiara admitted on the seventh season of Koffee With Karan, they would never forget. The "casual" meeting turned into friendship and they both started dating somewhere in mid-2018 — when the work on their 2021 war drama 'Shershaah' started.
Five years of privacy and one superhit movie later, Sid and Kiara are now married — goes to show sometimes you just need to go for it… take chances and let life take its own course.
All through these five years, Sidharth and Kiara never really spoke about each other or their relationship. But they never really denied it too. They heaped praises on one another, spoke highly of each other, called one another their best friend… but never made the relationship official.
Kiara and Sid are temperamentally different persons, yet they fit in so well. Those who have met them call them alike in many ways… They both are sorted, mature, dignified and extremely grounded. It's their core values that brought them together and kept them together all these years.
A UNION OF EQUALS
Their marriage seems to be a union of equals. They met when Sid's professional sojourn and personal life had become a downhill chase. And Kiara was still not an A-lister.
They saw the potential in each other, and fell for the person they both were. They grew — together and individually.
And look at them now… Kiara is one of the best actresses of the country, and Sid one of the most bankable actors.
None of them is atypically besotted with the other… you see love in Sid's eyes for Kiara, but our lady's eyes too speak volumes of the limitless love she has for her man.
Kiara's smiles talk, and Sid's blush says essays about his love — truly balancing the power dynamics.
Theirs was a grand wedding ceremony — confirming the months of elaborate planning that might have gone in, striking out the possibility of a wedding that was performed just for the tags. In fact, they went all out to celebrate their love — a rarity in today's times.
Neither of them comes with the big baggage of a past relationship or an ugly/public break-up. Sidharth and Kiara dated their respective first co-stars for a little more than a year each (that's a coincidence), and moved on. Then, found the love of their life.
Most importantly, Sidharth and Kiara are two of the most gorgeous faces of the country, and you cannot tell who is luckier! Bachchey kamaal ke hongey, like Karan Johar said…
A HAPPY COUPLE
Just one good look at the pictures or the media appearances they have made after the wedding, and you question your own understanding of worldly beauty and timelines.
Kiara is like a happy kid at a candy store… and Sid just cannot keep his hands off his wife. They both are glowing in love, and it shows!
Maybe it's these reasons that make them stand apart… There's only love in their story… and nothing else — the coming together of two lovely people, keeping it private (not a secret) for almost five years, and making it official only with their wedding pictures. And with pictures as beautiful as these — that radiate their serene energy, their inherent warmth, and the palpable chemistry!
Your heart flutters with every exchange of glances between them, your smile goes wider when you see them dance to the dhol beats like a desi couple, and your senses do a little jiggy-wiggy when they hold each other's hands… Only love can make this happen.
'SidKiara' is a love story orchestrated by destiny (and a little by Mr. Karan Johar, the matchmaker). Perhaps, the ever-increasing number of "likes" on Kiara Advani's post doesn't show how popular she and Sidharth as a couple are… It only shows how true love and love stories win over everything.
Stay in love like you are, Sid and Kiara. We truly love and "like" you for that!
(DISCLAIMER: The views expressed in this article are of the author alone and not the organisation.)
Read all the Latest Movies News here
Disclaimer: This story is auto-aggregated by a computer program and has not been created or edited by filmibee.
Publisher: Source link